With over 27 years of experience, we are proud to have helped educate over 500,000 young people from around the world
Oxford International Junior Programmes is part of the Oxford International Education Group. Oxford International was founded in 1991 as ISIS Education and Travel by David Brown and Robert Darell.
Unable to source any financial support from the banks, the founders turned to the Prince's Trust. The Trust offered a £5,000 loan, as well as two mentors to help see the business through the first 18 months. Oxford International has grown to be one of the top 10 businesses sponsored by the Trust, and still remains closely associated with it today.
Our summer programmes have grown steadily in size and popularity and we now run over 20 centres across the UK, Canada and the United States every summer.
We create life-enhancing learning experiences that help students worldwide to develop personally and professionally and that enrich their future opportunities.
Our Core Values
Our Core Values are at the heart of our business. They define who we are, how we work and guide how we act with each other and with other stakeholders. They're our DNA.
Integrity: We build relationships through trust, honesty and respect
Passion & Pride: We love what we do and strive for excellence
Care: We put our students and their goals at the heart of everything we do
Creativity: We are not afraid to be different and we celebrate innovation
Oh, and we believe that a SMILE goes a long way.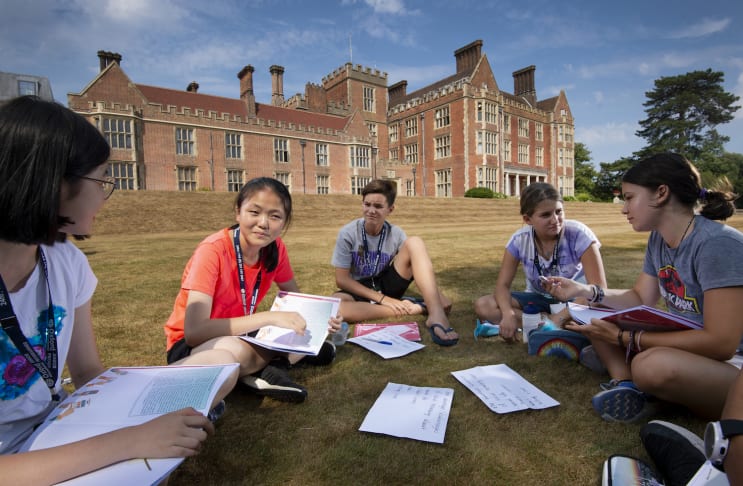 Study And Support
We are seriously enthusiastic about our junior programmes and work hard on developing engaging lessons which benefit teenage language learners inside and outside the classroom.
What Can I Expect?
Every student who visits an Oxford International Junior Programmes centre deserves to gain confidence, improve their communication skills, enjoy themselves and leave with lasting memories and friendships. All teaching and learning materials for our courses are designed in-house by our Oxford International academic team and revised according to feedback from students and teacher focus groups.
All students sit a written and oral placement test on their first day to ensure they are placed correctly in challenging classes appropriate to their level. Every student also receives an Oxford International coursebook with all necessary learning materials for their language course.
Our Approach
Teenagers are interested in a wide range of topics which are relevant to their lives, interests and development. Our aim is to provide engaging and encouraging lessons so students feel more confident. Our lessons are divided into two categories: Language Study and Language for Life.
Language Study focuses on the building blocks of the English language and aims to build students' communicative competence by refreshing the knowledge they have, enlarging their vocabulary, and putting it into practice in real-world contexts and engaging activities.
Language for Life aims to develop transferable skills that will benefit students outside the classroom. These lessons integrate a variety of topics ranging from work skills to numeracy, citizenship, cultural awareness and creative skills. In our weekly Review Lesson students recycle new language in the format of a Conversation Club (structure dependent on levels and ability). Projects focus on co-operation and creativity.
Our Materials
All teaching and learning materials for our courses are designed in-house by our Oxford International academic team. We cater to a variety of age groups, so in addition to our standard teenage syllabus, we also provide a syllabus tailored to young learners specifically. The content and design of the materials are informed by student and teacher focus groups. We frequently revise our syllabus to ensure that the next edition of course books are fresh and relevant to the students' needs.
Our Teachers
Our teachers deliver relevant and engaging lessons which challenge students in a supportive way. Our aim is to raise the students' confidence so they will feel more motivated and more inspired to engage with their language studies at home.
Zigzag Programmes
Our summer UK Residential & Homestay programmes will run zigzag programmes. This means that students will have some morning, some afternoon or even full-day lessons, mixed with weekday half and full-day excursions. There may be some weekend lessons on some campuses too.
Summer North American Residential and Homestay programmes may run on a zigzag according to arrival dates and student numbers. This will be advised upon booking.
Groups studying in our year-round schools have the option to choose AM or PM lessons upon booking, usually in closed classes.
Our Spring programme usually runs a zigzag programme, but this is dependent on arrival dates and student numbers. This can be advised on booking.
Our Winter camp in January runs a programme of the morning only lessons, but could be zigzagged should be enrolled student numbers dictate this.
Accreditation
Our centres in the UK are accredited by the British Council.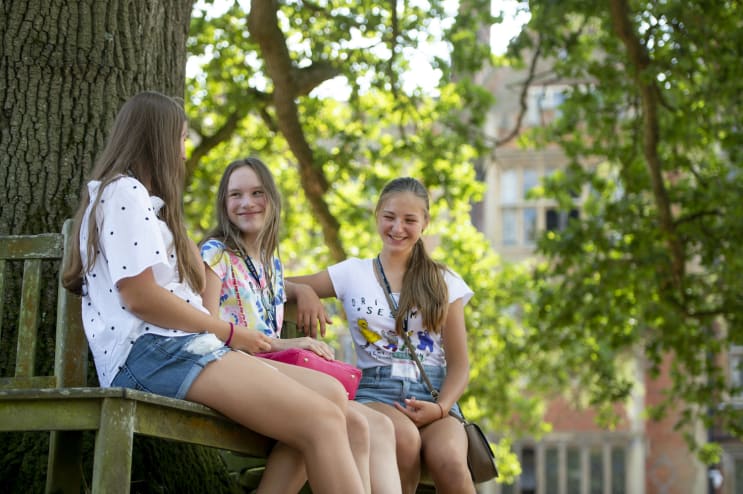 Safety & Welfare
Student welfare is our no.1 priority, and we have systems in place to make sure all students are supported, safe and protected during their stay with us.
Key Points
Every member of our staff has a criminal record check before being employed by us.
Every staff member is given safeguarding training to guarantee they have an in-depth knowledge of our child protection policies.
There are individual coordinators at all centres.
There is a designated welfare officer at every centre.
Overview
Providing a world-class residential summer school is not just about academics. It means attending to the emotional, medical and environmental needs of all our students.
Not only do we provide staff who are responsible for welfare 24/7 in every centre but we also have a dedicated 24-hour emergency number for agents, group leaders, parents and students. All students are issued with a resident student handbook on arrival and are given a full induction lesson highlighting student welfare, campus safety and British, American, and Canadian laws.
Below we have outlined some of the key information that will affect your stay.
Arrival
All students under the age of 18 are met by a member of staff – who will be highly visible in our bright red branded t-shirts and carrying a clearly displayed red clipboard. They will ensure everything goes smoothly at the airport and during the transfer to their centre. At this point, students are given an ID card with 24-hour emergency contact information – for their safety and so that they can be immediately identified as our Junior student they should keep this with them at all times.
Our Staff
Every summer centre has a dedicated safeguarding officer whose students can speak to if they have any problems. This is typically the Welfare Manager or Centre Manager.
In case of any medical matters arising, all centres have staff members trained in First Aid.
It is compulsory that all our members of staff are professionally DBS checked and trained in student welfare and safeguarding. In addition, all staff applications must be supported by a minimum of 2 references.
Risk Assessments
Our activity and excursion programme is carefully planned out ensuring the student's safety is of utmost importance. To ensure this is the case, not only are all activities and excursions fully risk assessed, but we also have a library of the risk assessments for the attractions we visit in every city.
If you would like a copy of any of our policies or risk assessments please contact us.
Medical And General Insurance
In Britain, free medical treatment is available through the National Health Service to all EU students and students from countries with reciprocal health agreements. Students who are not covered by the National Health Service are advised to take out medical insurance before leaving their home countries. We strongly advise students to take out individual personal insurance to cover personal belongings, etc, before they come to the UK, US, or Canada.
Supervision Policy
We define juniors as anyone under the age of 16 and anyone between the age of 16 and 18 who are part of a residential centre. The Department for Education and Science advises the following supervision ratio of adults to students for ages 8 to 10 as 1:10-15 and for 11+ as 1:15-20.
Group Leaders can be included in the above ratios as responsible adults. We adhere to these ratios when supervising students on leisure activities.
Students are also allowed free time on excursions. The amount of free time they are allowed depends on their age.
Under 12 years old – no unsupervised free time. Must remain with OIEG staff or group leader at all times
12-14 years old – one-hour unsupervised free time before returning to meeting point for registration (must stay in groups of min 3 students)
15-17 years old – two hours' unsupervised free time before returning to meeting point for registration (must stay in groups of min 3 students)
Individual Students
We accept individual students at a number of our centres and pay particular attention to their welfare during the run-up to and whilst our summer centres are open.
Individual students are assigned to the care of a Welfare Manager or Individuals Coordinator who will be responsible for their care throughout their stay.
Where possible we accommodate individual students in shared bedrooms. If this is not possible the students will be placed on a Staff corridor.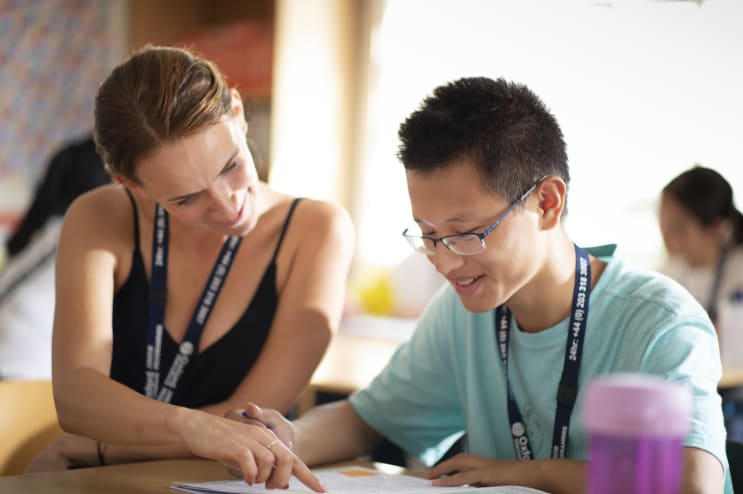 Activities and Excursions
At Oxford International Junior Programmes we pride ourselves for our unique onsite activities and exciting excursions. We believe that language learning doesn't stop when students leave the classroom and encourage students to fully immerse themselves in British culture, evening activities and socialising. Students are able to practice their spoken English, make friends and improve their communication skills as they interact with the variety of nationalities on campus.
London Excursions
A residential course isn't complete without a visit to one of the most famous cities in the world; London. All of our programmes, with the exception of our Heriot-Watt centre in Edinburgh, offer at least one excursion to London. Some offer as many as 7! Students will get the opportunity to see some of London's most iconic landmarks including the British Museum, Natural History Museum, Science Museum, Westminster and Parliament Square, Buckingham Palace, Hyde Park, Tower Bridge, the National Gallery and St Paul's Cathedral. Tell us what you want to see and we will make it happen.
Cultural Excursions
Alongside the bright lights of London, the UK has a number of interesting cultural and historic cities and towns which offer something exciting to international groups. We have tailored every excursion destination to each centre so that students have the opportunity to explore the local area. All of our winter, spring, summer and cultural programmes include specially designed and informative walking tours for each excursion.
Optional Excursions
Optional excursions and entrances at Oxford International Junior Programmes allow students to personalise their experience in the UK for maximum enjoyment. For an additional cost, students can add some exciting options to their programmes from one of four optional booklets. One is designed for some of the most popular attractions, such as Madame Tussauds, the London Eye, Thorpe Park, the Tower of London, Edinburgh Dungeons and Windsor Castle, amongst many others. There is also an Academic Booklet, a Sports Booklet and a Business booklet, which have a specialised focus, offering workshops and educational visits which allows for non-conventional language use and multi-subject.
Optional Excursions in North America
Optional excursions allow students to personalise their experience in North America. For an additional cost, students can add some of the top North American attractions to their programme. While studying in Toronto, students can travel to Blue Mountain, French Canada (Ottawa, Montreal, Quebec) & New York City. While in Vancouver, students can visit the Rocky Mountains, Victoria & Seattle. In San Diego, students have the option to visit Disneyland, Universal Studios, Sea World, Legoland, Beverly Hills & Hollywood.
Whole Campus Activities
No residential programme would be complete without the 'favourites'. Every week we offer a variety of whole campus activities including discos, karaoke, talent shows, international nights, quiz nights and treasure hunts.
Sports
Our recruitment team are busy recruiting sports coaches and enthusiasts to run our wide range of sporting activities. Alongside the more typical sports such as football, volleyball and basketball, we have some brand new sports including handball, tag rugby, yoga, Zumba, Traditional British Sports and cricket. Alongside the traditional fun sports activities, we offer structured sports coaching at a number of our centres.
Team Challenges
We want to encourage students to break the mould and step outside of their friendship group! Students can be put through their paces with a series of inter-nationality mixed team challenges including Instagram photo challenge, Egg drop Challenge or the Team Challenge Day.
Workshops
At Oxford International Junior Programmes we understand that not everyone loves sport! For this reason, we introduced our 'workshop' sessions for our programmes. The workshop sessions focus in on specific skills and hobbies and give students the opportunity to show off their creativity. Just some of the workshops offered are dance, drama, fashion, fine art, jewellery making, comic strip designing, photography, self-portrait and singing.
Locations
Greenwich
Address
Greenwich High Road,259
SE10 8NB
Greenwich
,
England
,
United Kingdom
Horsham
Address
RH13 0LJ
Horsham
,
England
,
United Kingdom
London Colney
Address
AL2 1AG
London Colney
,
England
,
United Kingdom
Hove
Address
Clarendon Villas,21-23
BN3 3RD
Hove
,
England
,
United Kingdom
Oxford
Address
Oxford
,
England
,
United Kingdom
San Diego
Address
San Diego
,
California
,
USA
Toronto
Address
Oxford International Toronto, 281 Richmond St W
Toronto
,
Ontario
,
Canada
Vancouver
Address
Vancouver
,
British Columbia
,
Canada
Steep
Address
Church Road
GU32 2DG
Steep
,
England
,
United Kingdom
Benenden
Address
TN17 4AA
Benenden
,
England
,
United Kingdom
Sheffield
Address
RG7 6AU
Sheffield
,
England
,
United Kingdom
Egham
Address
Royal Holloway, Egham
TW20 0EX
Egham
,
England
,
United Kingdom
New Cross
Address
Lewisham Way,8
SE14 6NW
New Cross
,
England
,
United Kingdom
Edinburgh
Address
Robin Smith Hall Res, 3 Heriot Watt University,
EH14 4AS
Edinburgh
,
Scotland
,
United Kingdom
Union
Address
Morris Avenue,1000
07083
Union
,
New Jersey
,
USA
Cirencester
Address
Stroud Road
GL7 6JS
Cirencester
,
England
,
United Kingdom
Toronto
Address
140 Mutual St
M5B 2K3
Toronto
,
Ontario
,
Canada
Boston
Address
Fenway,300
02115
Boston
,
Massachusetts
,
USA
Newhall
Address
The Master's University, 21726 Placerita Canyon Road
91321
Newhall
,
California
,
USA
London
Address
Stanstead Road
SE6 4TY
London
,
England
,
United Kingdom
Eastbourne
Address
Carlisle Road
BN20 7SN
Eastbourne
,
England
,
United Kingdom
Sparsholt
Address
Westley Lane
SO21 2NF
Sparsholt
,
England
,
United Kingdom
Guildford
Address
Stag Hill
GU2 7XH
Guildford
,
England
,
United Kingdom
Worcester
Address
Worcester
,
England
,
United Kingdom