OUR VISION
Headquartered in Canada since 1959, LaSalle College İstanbul is a private college made up of an international team of professionals dedicated to providing quality training for our students to reach their full potential. Specializing in fashion, the College's vision is to put Istanbul on the map of fashion cities in the world. By nurturing innovation and high caliber design, our graduates continue to gain international recognition. When the College first opened in 1993, we recognized a need to develop the local fashion industry and saw a great opportunity to train our students to become world-class designers capable of making their mark internationally as well as stimulating the fashion industry within Turkey. Today, our fashion programs focus on the design of unique yet marketable fashion collections so our students can be prepared to face the demands of the industry with an entrepreneurial edge.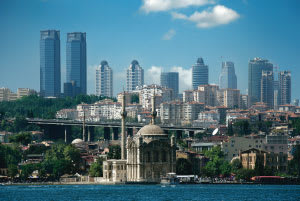 CANADIAN EDUCATION
All program curricula offered at LaSalle College İstanbul are developed by LCI Education in Montreal according to Canadian educational standards. Our dedicated team of teachers and professionals in Turkey collaborate closely with Canadian headquarters to meet the highest educational requirements. Pedagogical relevance, coherence, and adequacy of each program curriculum are three factors that are formally evaluated within all LCI Education subsidiaries. From state-of-the-art training facilities to qualified instructors, LaSalle College İstanbul boasts an international reputation for providing high-quality education.
From emperors to sultans, dynasties, and empires, Istanbul has historically been an economic hub for land and sea trade. Surrounded by the Golden Horn estuary, the Bosporus Strait, the Black Sea and the Sea of Marmara, commuter ferries are the backbone of daily transport. LaSalle College İstanbul is strategically located in the center of Istanbul at walking distance from museums, restaurants and shopping centers. Students can enjoy Istanbul's mix of Roman, Byzantine and Ottoman architecture, showcasing the city's charm. Its cultural diversity can also be seen by looking at its attractive skyline of imperial mosques, historic churches, and synagogues. Needless to say, Istanbul is a goldmine for culture and fine arts. In fact, the European Union named the city the European Capital of Culture for the year 2010. With a population of over twelve million, Istanbul is the only bi-continental city in the world being part of both Asia and Europe and LaSalle College İstanbul is proud to have a student body that reflects this plurality of cultures.
Locations
Istanbul
Address
LCI Istanbul
Gazeteciler Sitesi Dergiler Sok. No:4 - Esentepe Şişli
34394
Istanbul
,
Istanbul
,
Turkey