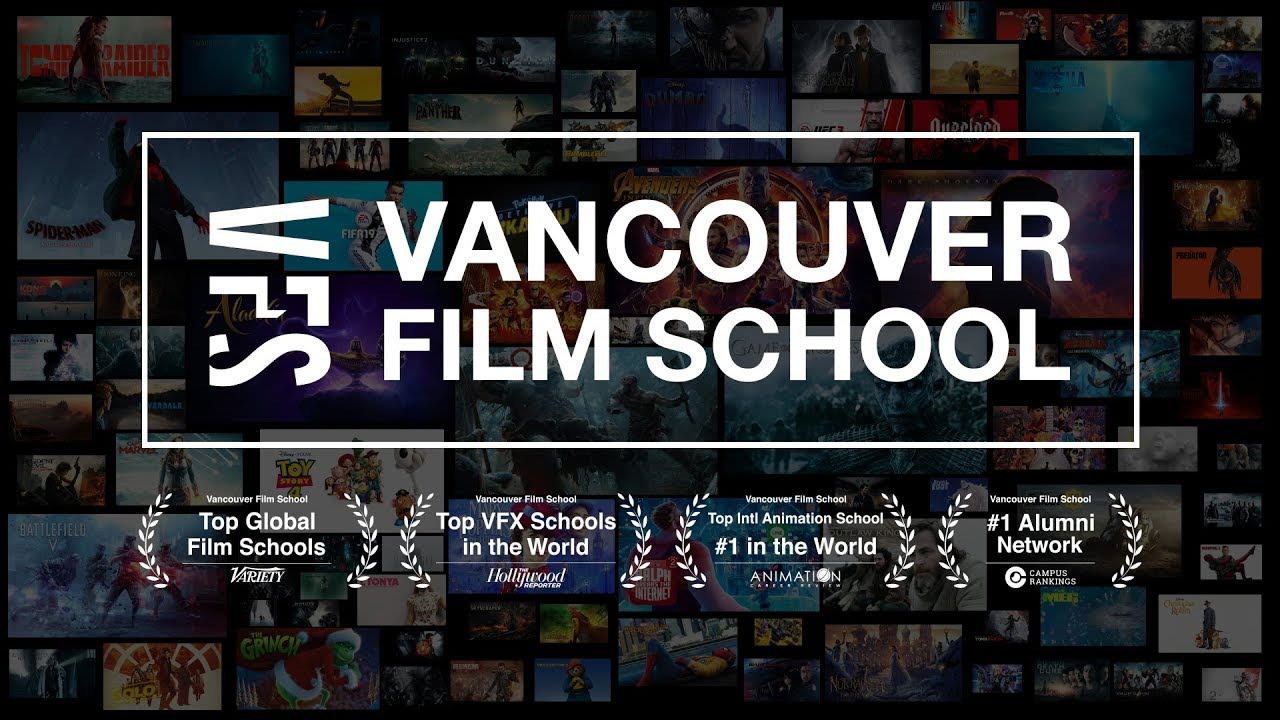 Diploma in
Diploma in Sound Design for Visual Media
Vancouver Film School

Key Information
---
Campus location
Vancouver, Canada
Tuition fees
CAD 28,950 / per year *
Application deadline
Request info
Earliest start date
23 Oct 2023
* fees for Canada region |International fees: CAD 44000
Introduction
The Diploma in Sound Design for Visual Media at Vancouver Film School (VFS) is a comprehensive program that provides students with the skills and knowledge needed to excel in the field of sound design. The program covers all aspects of sound design for visual media, including film, television, animation, games, and interactive media. Students learn both the creative and technical aspects of sound design, gaining a well-rounded understanding of the entire sound production process.
The curriculum begins with an introduction to the foundational principles of sound design, including sound theory, audio recording techniques, and sound editing principles. Students learn to analyze visual media and create sound designs that enhance storytelling and create immersive experiences.
Throughout the program, students have the opportunity to work on various individual and collaborative projects, including creating sound designs for film scenes, animation, and games. They learn to use industry-standard audio software and equipment to manipulate and create sound effects, dialogue, music, and ambient soundscapes.
Students also gain practical skills in sound recording and mixing, learning about location sound recording, Foley artistry, dialogue editing, sound effects creation, and sound mixing techniques. They have access to professional-grade recording studios and post-production facilities to develop their technical abilities in sound production.
The program includes training in interactive audio and game sound design, where students learn about implementing sound in interactive media, game engines, and audio middleware. They gain an understanding of how sound can enhance gameplay and create immersive gaming experiences.
Additionally, students learn about the post-production process and work in collaboration with other departments in the visual media industry. They gain knowledge of sound editing workflows, synchronization, and collaboration with directors, producers, and other creative professionals.
The program also emphasizes professional development and industry practices. Students learn about networking, portfolio development, and job search strategies within the sound design industry. They have opportunities to connect with industry professionals through events and guest speaker sessions.
By the end of the program, students will have gained a solid foundation in sound design for visual media and a strong understanding of the entire sound production process. They will have a portfolio showcasing their work and be prepared to pursue careers as sound designers, sound editors, Foley artists, audio mixers, and other related roles in the film, television, animation, and game industries.
In 12 months you will graduate with:
A diploma in Sound Design for Visual Media
A personal demo reel and lifetime access to the online VFS sound effects library
Access to the VFS Alumni Directory + Job Board
Attain industry connections that will help guide your career
Scholarships and Funding
VFS Scholarships
VFS is excited to announce a host of new scholarships for both domestic and international applicants in the following programs.
Women in Game Design Scholarships
VFS Scholarships, Mentorships, and Work Experience Opportunities for Women in Game Design have been Relaunched
Historically a male-dominated industry despite 44% of gamers being women, game developers recognize the need for change. Equity for women in the gaming workspace should be a priority and the best way to achieve this is by supporting more women to secure careers in the game industry. Therefore, Vancouver Film School has partnered with The Coalition, Blackbird Interactive, East Side Games, Timbre Games, Relic Entertainment, and A Thinking Ape to create a scholarship fund of over $150,000 exclusively for women and non-binary persons looking to enter the game industry.
Scholarships, mentorships, and job opportunities will be offered for the Game Design program start dates from May 2023 until January 2024.
International Talent Scholarship
Show us your talent to win a scholarship to study in Vancouver, Canada
Vancouver Film School (VFS) is offering, for the first time, up to 3 million dollars in scholarships so creatives from around the globe have a chance to apply, train, and begin their careers in Vancouver. Creatives from select regions have the opportunity to show us their best projects to earn a scholarship and study at Canada's premier post-secondary entertainment arts institution. VFS is proud to be ranked the #1 Global Animation School, the #1 Game Design School in Canada, and a Leading Film School Worldwide.
The International Talent Scholarship will be offered to talent from each of these four regions:
India
Mainland China
Europe/Australasia/Commonwealth of Independent States (CIS)
Asia-Pacific/Southeast Asia
WHAT'S AVAILABLE
One (1) full-tuition scholarship (100%) and two (2) half-tuition scholarships (50%), per region, for each program:
3D Animation and Visual Effects (12 months)
Classical Animation (12 months)
Film Production (12 months)
Programming for Games, Web, and Mobile (12 months)
Game Design (12 months)
Digital Design (12 months)
Sound Design for Visual Media (12 months)
VR/AR Design and Development (8 months)
Makeup Design for Film and Television (12 months)
Writing for Film, Television, and Games (12 months)
The deadline for this scholarship application is July 31, 2023.
Winners will be notified on August 18, 2023.
Indigenous Peoples Scholarship
Fostering Diversity and Inclusion in the Creative Media Arts Industries
Indigenous artists, performers, and storytellers are a foundational thread in the fabric of the Canadian narrative, continuing to grow stronger as key voices within our country's multidimensional creative landscape. At VFS, we are proud of the many Indigenous graduates from our creative arts programs working across the spectrum of media industries, finding audiences for their work at home and internationally. In support of the continued growth of Indigenous artists, Vancouver Film School is offering up to $162,000 in scholarships to Indigenous students looking to enroll in select VFS production programs.
Applications open: June 21, 2023
Application deadline: July 21, 2023
Winner announcement: August 7, 2023
Curriculum
Term 1
Intro to MIDI + Synthesis
Intro to Sound
Intro to Pro Tools
Team Building
Intro to Portable Recording
Portable Recording 2
Intro to Post Recording
Intro to Game Audio
Term 2
Intro to Sound Designing
Intro to Mixing
Intro to Post-Audio Editing
Production Sound Mixing
Post Recording 3
Game Audio 2
Scripting
Term 3
Pro Tools 2
Sound Designing 2
Mixing 2
Post Editing 2
Game Audio 3
Game Collab. Project
Term 4
Intro to Post Mixing
Post Mixing 2
Post Audio Editing 3
Game Audio 4
Game Collab. Project
Term 5
Intro to Professional Skills
Post Mixing 3
Game Audio 5
Game Collab. Project
Term 6
Professional Skills 2
Final Post-Production Audio Project
Portfolio Production
Game Collab. Project
Program Outcome
Term 01: Discover the current industry practices in audio, and familiarize yourself with the main audio tool of the industry, Pro Tools.
Term 02: Implement concepts, theory, and tools from the previous term in projects that involve editing background audio, Foley, dialogue, and sound effects.
Term 03: Explore more complex techniques and concepts, and gain practical knowledge in game audio while working on a Game Design-created game.
Term 04: Expand on your skill sets with practical knowledge while working on a film with students the Film program and a game from Game Design students.
Term 05: Become more self-directed as you delve deeper into sound for film and game audio.
Term 06: Present your final portfolio work to an industry panel for feedback and industry prep training to direct your path after graduation.