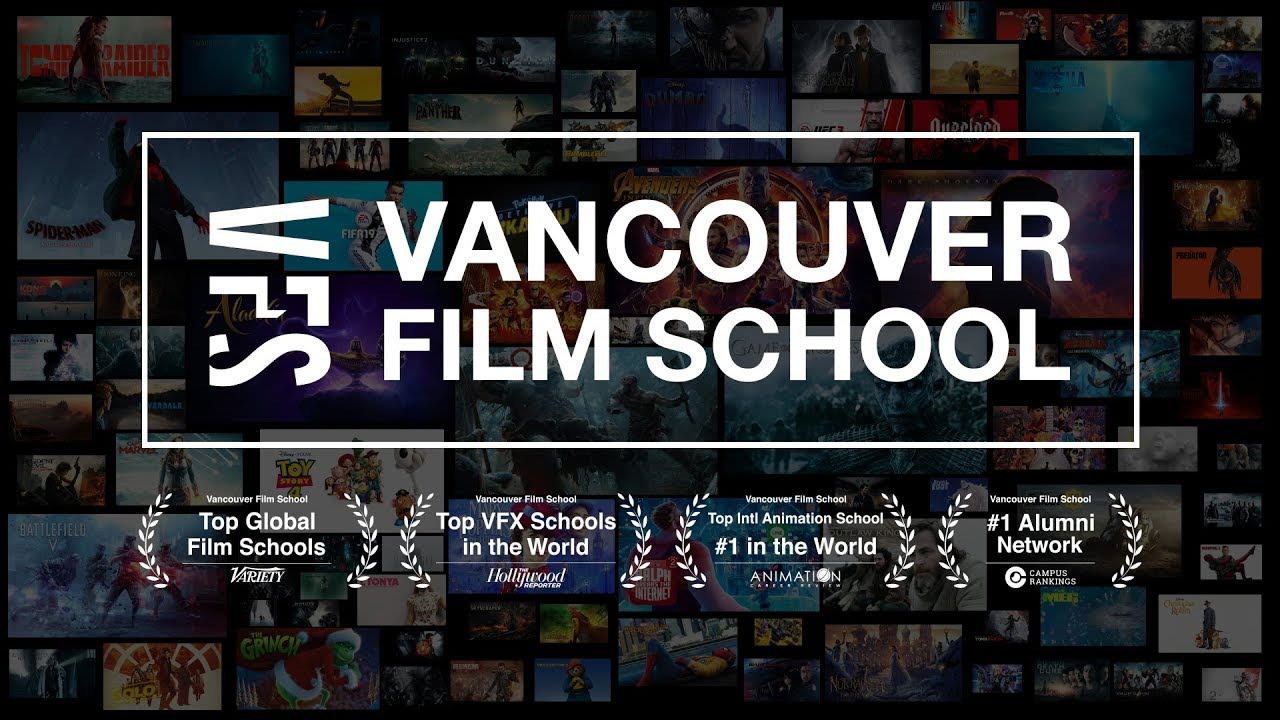 Diploma in
Diploma in 3D Animation and Visual Effects
Vancouver Film School

Key Information
---
Campus location
Vancouver, Canada
Tuition fees
CAD 35,950 / per year *
Application deadline
Request info
Earliest start date
23 Oct 2023
* fees for Canada region |International fees: CAD 54000
Introduction
The 3D Animation and Visual Effects course at Vancouver Film School is an exciting program that takes you on a journey into the world of digital art and storytelling. In this course, you'll learn the fundamentals of 3D animation and visual effects, and gain hands-on experience with industry-standard software and tools.
Throughout the program, you'll have the opportunity to explore various aspects of 3D animation and VFX, such as character animation, modeling, texturing, lighting, compositing, and more. Our experienced instructors will guide you through practical exercises and projects, helping you develop your skills and unleash your creativity.
You'll also have access to state-of-the-art facilities and equipment, allowing you to bring your imagination to life in a professional studio environment. In addition, you'll collaborate with fellow students, giving you a taste of real-world production pipelines and teamwork dynamics.
By the end of the course, you'll have a solid foundation in 3D animation and visual effects, and be equipped with the skills to pursue a career in the exciting and ever-evolving field of digital entertainment.
Scholarships and Funding
VFS Scholarships
VFS is excited to announce a host of new scholarships for both domestic and international applicants in the following programs.
Women in Game Design Scholarships
VFS Scholarships, Mentorships, and Work Experience Opportunities for Women in Game Design have been Relaunched
Historically a male-dominated industry despite 44% of gamers being women, game developers recognize the need for change. Equity for women in the gaming workspace should be a priority and the best way to achieve this is by supporting more women to secure careers in the game industry. Therefore, Vancouver Film School has partnered with The Coalition, Blackbird Interactive, East Side Games, Timbre Games, Relic Entertainment, and A Thinking Ape to create a scholarship fund of over $150,000 exclusively for women and non-binary persons looking to enter the game industry.
Scholarships, mentorships, and job opportunities will be offered for the Game Design program start dates from May 2023 until January 2024.
International Talent Scholarship
Show us your talent to win a scholarship to study in Vancouver, Canada
Vancouver Film School (VFS) is offering, for the first time, up to 3 million dollars in scholarships so creatives from around the globe have a chance to apply, train, and begin their careers in Vancouver. Creatives from select regions have the opportunity to show us their best projects to earn a scholarship and study at Canada's premier post-secondary entertainment arts institution. VFS is proud to be ranked the #1 Global Animation School, the #1 Game Design School in Canada, and a Leading Film School Worldwide.
The International Talent Scholarship will be offered to talent from each of these four regions:
India
Mainland China
Europe/Australasia/Commonwealth of Independent States (CIS)
Asia-Pacific/Southeast Asia
WHAT'S AVAILABLE
One (1) full-tuition scholarship (100%) and two (2) half-tuition scholarships (50%), per region, for each program:
3D Animation and Visual Effects (12 months)
Classical Animation (12 months)
Film Production (12 months)
Programming for Games, Web, and Mobile (12 months)
Game Design (12 months)
Digital Design (12 months)
Sound Design for Visual Media (12 months)
VR/AR Design and Development (8 months)
Makeup Design for Film and Television (12 months)
Writing for Film, Television, and Games (12 months)
The deadline for this scholarship application is July 31, 2023.
Winners will be notified on August 18, 2023.
Indigenous Peoples Scholarship
Fostering Diversity and Inclusion in the Creative Media Arts Industries
Indigenous artists, performers, and storytellers are a foundational thread in the fabric of the Canadian narrative, continuing to grow stronger as key voices within our country's multidimensional creative landscape. At VFS, we are proud of the many Indigenous graduates from our creative arts programs working across the spectrum of media industries, finding audiences for their work at home and internationally. In support of the continued growth of Indigenous artists, Vancouver Film School is offering up to $162,000 in scholarships to Indigenous students looking to enroll in select VFS production programs.
Applications open: June 21, 2023
Application deadline: July 21, 2023
Winner announcement: August 7, 2023
Curriculum
Term 01
Learn the basics of a 3D pipeline to gain insight into the different areas of production.
Term 02
Apply your 3D skills to storytelling in our Pre-visualization class as you further advance your knowledge of the craft.
Term 03
Narrow your focus by choosing one of three streams: animation, modeling or VFX while you plan your final reel in the pre-production classes.
Term 04
Enter into the studio component of the program and start production on your demo reel alongside industry mentors who will guide you to the finish line.
Term 05
Work with faculty and engage in the production process as you iterate and refine your shots. One-on-one feedback and regular group reviews make for a true studio experience.
Term 06
Light, render, and composite as you put the final tweaks on your project for industry night - your debut to local industry and beyond.
Program Outcome
In 12 months you will graduate with:
A diploma in 3D Animation, Visual Effects, and Modelling
A master demo reel of your final project
Access to the VFS Alumni Directory & Job Board
Attain industry connections that will help guide your career