Graduate Pathway in
Postgraduate Pathway in Languages, Politics and Culture
The College, Swansea University

Scholarships
Explore scholarship opportunities to help fund your studies
Introduction
Engineering at Swansea University is taught in a cutting-edge learning environment using state-of-the-art teaching facilities. The university pioneers technological progress in both traditional and emerging engineering disciplines, working in partnership with major industrial companies. All engineering activities at Swansea University are driven by, and based on, world-leading research.
Key Features
The College, Swansea University provides teaching in smaller groups, with a personalised and supportive educational philosophy that encourages students to reach their maximum academic potential. All courses are available with a choice of start dates and durations, depending on your qualifications and English Language proficiency.
When you study in The College, Swansea University, you are a full student of the University from the start of your course.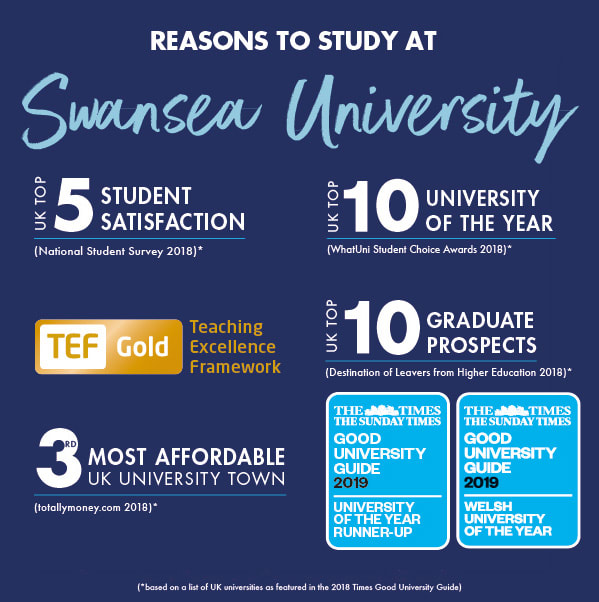 Modules
Semester 1
Interactive Learning Skills and Communication
ICT Skills
Mass Communications
Academic English Skills (1)
Semester 2
Globalisation
Swansea University Delivered Module 1 and 2
Academic Tutorial – Critical Thinking
Description
The following durations and start dates are available, depending on your IELTS Score.
Two semesters: September start.
Entry Requirements
There are both English Language and Academic Entry Requirements for Pre-Master's study.
For details please refer to our Admission Requirements by Country document.
If you do not meet the English Language requirement for direct entry to your chosen pathway, you can receive the required amount of English Language tuition at Swansea University to prepare you for successful entry into your chosen programme at a later date.
How to Apply
You can apply via our online form.
Before you submit your application, please make sure that:
You know which course you want to study and which date you want to start.
You have electronic copies of your academic transcripts, which you will need to attach to your online application. Please note: the limit for all attachments is 25MB.
Alternatively, you can download the Application Form in PDF format, fill in and send to th[email protected] with the necessary documents.
Please note: If you are a citizen/permanent resident of the United Kingdom and have not lived outside of the UK for at least three years, you may not be eligible to apply via The College, Swansea University. Admissions staff will review your application and get in touch to advise you.
Tuition Fees
Annual tuition fees for entry in the academic year 2019/20 are as follows:
| | |
| --- | --- |
| Pre-Master's | £13,000 |
| Master's Degree | £14,500 - £16,500 |
Additional Costs
Recommended textbooks for this course are available in the University libraries, but you may choose to purchase personal copies. All software needed for the course is available on the University network for use within University computer rooms. Free wireless internet access is available across the whole of the University campus, including halls of residence. Personal costs such as the purchase of stationery, photocopying costs, parking fees or travel between the campuses are not included in your tuition fees.
Degree Pathways
Successful completion of this pathway will lead to the award of one of the following from Swansea University:
MA Chinese–English Translation and Language Teaching
MA Communication, Media Practice and PR
MA Development and Human Rights
MA Digital Media
MA International Journalism
MA International Relations
MA International Security and Development
MA Politics
MA Professional Translation
MA Public Policy
MA Teaching English to Speakers of Other Languages (TESOL)
MA Translation and Interpreting
MA War and Society