Diploma in
Diploma in Accounting
Sunway University
Introduction
The Diploma in Accounting program is the first diploma program approved to offer ACCA Accelerated Pathway. This program boosts employability by equipping students with in-demand skills that cater to the modern world of business.
DACC gives students the opportunity to progress into professional accounting qualifications like ACCA and ICAEW. Alternatively, students can advance into their Accounting degrees at Sunway University or Victoria University.
Intakes
January, April, and August
Duration
2 Years
Assessments and Examinations
50% Coursework and 50% Final Examination
Progression Pathway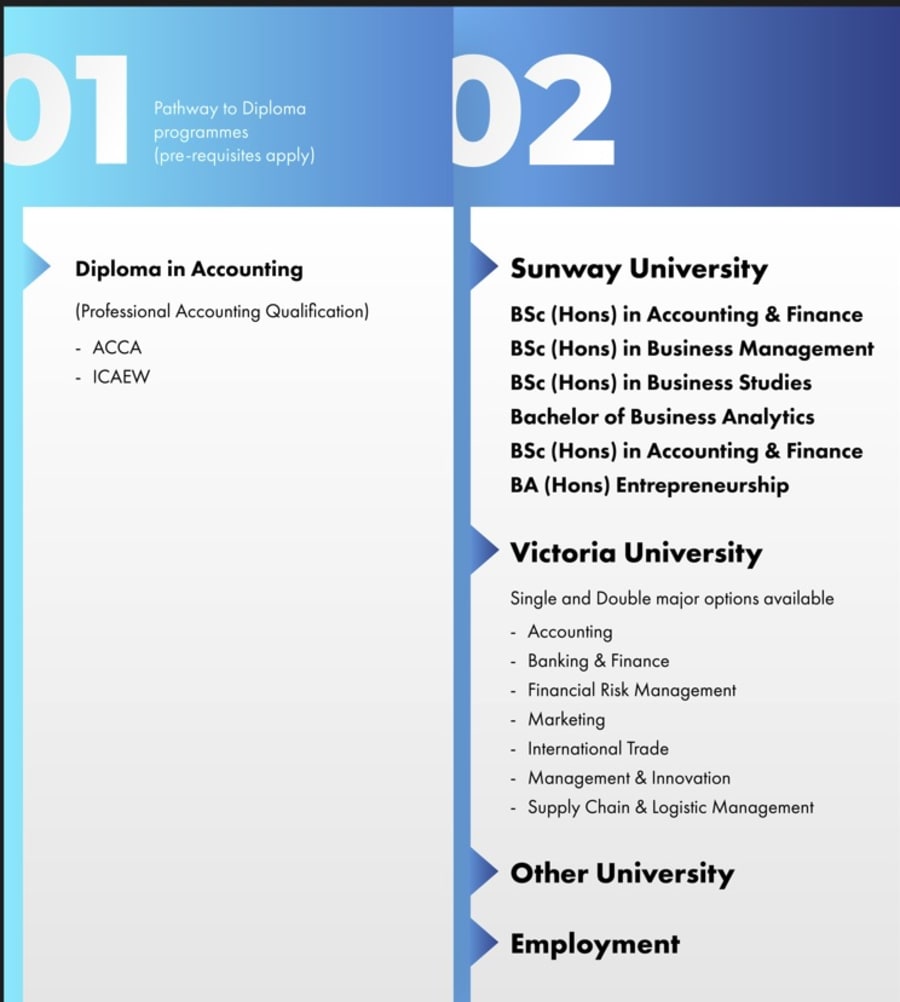 Why Study Here?
Holistic Education
The US education system is one of the most flexible in the world, offering students unlimited choices of courses and focusing on an all-around learning experience. Adopting the US liberal arts approach of inclusiveness, industry relevance, and flexibility, Sunway ADTP has a strong track record of producing well-rounded students equipped for American higher learning.
Seamless Transfer into American Universities
We engage professors from US universities to deliver parts of our academic content. Each year, more than 100 US universities visit Sunway University providing a valuable opportunity for students to engage with and seek advice from admission counselors. We also host representatives from Western Michigan University (WMU) on campus who provide counseling services to students transferring to WMU.
Academic Mentorship and Support
Each ADTP student is assigned an academic advisor who will provide academic guidance and support. Our student-lecturer engagement is high extending over and beyond the classroom. One in four of our lecturers consistently receives "excellent teaching" awards.
Extracurricular Advantage
Each semester our students engage in out-of-class activities e.g. running projects and charity programs as part of their assignments, volunteering in cultural performances, or participating in international conferences. We celebrate bank holidays like Martin Luther King, Jr. Day, Independence Day, and Thanksgiving.
University Placement Guidance
We conduct workshops on all aspects of the transfer process—from selecting suitable universities and preparing applications to transitioning abroad. Our "Freshman Seminars" equip students with skills to succeed as a freshman. Our placement team continually supports students to transfer into "best fit" colleges. We receive study-abroad-semester students from US and non-US universities each year, many of which are our alumni for summer semesters. On top of our summer semester subject offerings, we support our alumni by providing referrals, offering proctoring services, and providing internship opportunities.
Curriculum
Choice of Subjects
Year 1
Students will learn the following subjects in the first year
Introduction to Financial Accounting
Financial Accounting
Financial Accounting Application
Cost Accounting
Cost Management Accounting
Business Law
Principles of Microeconomics
Principles of Macroeconomics
Mathematics and Statistics
Introduction to Financial Management
Principles of Management
Business Communication II
English for Business Communication
Employability Skills
Year 2
Students will learn the following subjects in the second year
Computerized Accounting System
Public Sector Accounting / Ethics and Governance
Management Accounting Techniques
Principles of Taxation
Malaysian Taxation
Company Law
Principles of Marketing
Business Organisation
Introduction to Audit
Audit and Assurance
Introduction to Performance Management
Principles of Performance Management
MOHE General Studies
Students must pass these MOHE General Studies
For Local Students
Appreciation of Ethics and Civilisation
Bahasa Kebangsaan A (applicable to students who did not sit for SPM or did not obtain a Credit in SPM Bahasa Melayu) OR Creativity and Innovative Thinking Skills (for students who have a Credit in SPM Bahasa Melayu)
Community Service
Moral Education OR Islamic Studies OR Education for Sustainability Development
For International Students
Bahasa Melayu Komunikasi
Creativity & Innovative Thinking Skills
Community Service
Moral Education
Education for Sustainability Development
Career Opportunities
Career Prospect
DACC opens a myriad of doors for students. Upon completion of this program, students can expect excellent job offers, good starting salaries, and opportunities to scale the career ladder.
Join the ranks of highly sought-after professionals in the diversified fields of portfolio management, investment banking, broking, and finance as a:
Auditor
Business Development Manager
Chartered Accountant
Commercial Banker
Entrepreneur
Finance Manager
Investment Banker
Marketing Manager
Tax Consultant
Scholarships and Funding
Leadership Scholarships
The Chancellors Scholarship of Sunway University and Lancaster University
Sunway University Excellence Scholarship
Sunway - Victoria University Excellence Scholarship
Sunway College Special Scholarship
Academic Excellence Scholarship
Jeffrey Cheah Entrance Scholarship
Jeffrey Cheah ACE Scholarship
Sunway-ICAEW Global Accountant Scholarship
Sunway-ACCA Global Leader Scholarship
Sunway CIS-ECA Scholarship
Sunway University Postgraduate by Research Scholarship
SHSM Service Industry Scholarship for Postgraduate Studies
Sunway University Taught Masters Scholarship
The Jeffrey Cheah Scholars-in-Residence Programme at Gonville and Caius College, University of Cambridge
Jeffrey Cheah Scholars-In-Residence Programme at Brasenose College, University of Oxford
Postgraduate Research Scholarship For Collaborative Project With the University Of Cambridge
Need-Based Scholarship
Jeffrey Cheah Foundation Community Scholarship
Jeffrey Cheah Foundation Scholarship
Sunway-Teach For Malaysia Scholarship
SEG-Elena Cooke Education Fund
The Star Education Fund
Sin Chew Education Fund
Talent Based Scholarship
Sunway Sports Scholarship
Tun Dr. Siti Hasmah Mohd Ali Scholarship For Creative Arts And Music
Sunway Music Scholarship
Sunway University Art And Design Scholarship
Sunway University Young Chef Scholarship
Sunway College - STYLO Fashion Design Technology Hub Talent Scholarship
Sunway Awards
Jeffrey Cheah Scholastic Award
Sunway ECA Achievers & Sports Award
National Prizewinner Awards