Graduate Certificate in
Graduate Certificate in Audio Post-Production
Fanshawe College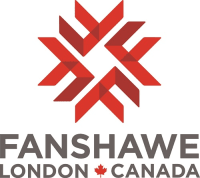 Introduction
Turning a sound into something real and powerful requires a unique skill set, passion, and creativity. Audio post-production is an in-demand, rewarding, and valued career that could take you to video and online game creation, television, film, and music production industries. In Fanshawe's Audio Post-Production program, you'll receive exceptional training and specialized skills in all aspects of the creative and technical processes of post-production.
Your Learning Experience
From the pre-production phase to the intensity of in-studio creations, this Ontario Graduate Certificate program builds on your previous experiences in the music industry and sound production.
Our industry-trained and award-winning faculty teach digital audio, digital video, and multimedia theory, and you'll receive hands-on training with advanced audio technology equipment in our state-of-the-art post-production studio. Working independently and in collaboration, students learn Dolby ATMOS immersive sound, sound design, mixing, field recording, ADR, Foley, and game sound techniques in the production studio.
Time spent learning the practical elements of post-production results in graduates who have a dynamic, diverse, and professional portfolio to successfully enter the industry. Career opportunities in post-production are as diverse as your skills - anywhere that sound production and/or mixing is required!
This is a highly specialized, advanced program in the theory and practice of all phases of producing creative sound for film, television, gaming, web animations, live audio, video, and all new media forms. Concept building is emphasized through various means: audio production and surround sound design and mixing, field recording, ADR, Foley, live sound, and game sound techniques. Students are engaged in individual and collaborative projects involving practical and process-oriented instruction, working with other graduate certificate programs and departments within the College, as well as an independent lab time.
Industry linkages and competitive portfolios are built based on high-level team-building skills and intensive problem-solving. This specialization prepares students well for career opportunities within the audio production and post-production industry.
Curriculum
Courses
Level 1
Take all of the following Mandatory Courses:
DIGL-6001 ---- Audio Post Production Theory 1
DIGL-6002 ---- Audio Post-Production Practical 1
DIGL-6003 ---- Audio Post-Production Lab 1
Level 2
Take all of the following Mandatory Courses:
DIGL-6004 ---- Audio Post-Production Theory 2
DIGL-6006 ---- Audio Post Practical 2
DIGL-6005 ---- Audio Post-Production Lab 2
Program Residency
Students Must Complete a Minimum of 7 credits in this program at Fanshawe College to meet the Program Residency requirement and graduate from this program
Program Outcome
The graduate has reliably demonstrated the ability to:
Practice leadership in all areas of pre-production, production, and post-production in the audio industry.
Initiate and maintain professional working relationships with clients and related program professionals within the College and/or community.
Develop and generalize industry-specific advanced technical and problem-solving skills.
Plan audio sound design through project management, the scope of the project, and vision for pre-production, production, and post-production.
Manage multiple audio and video projects of various types simultaneously while assuming different roles.
Produce market-ready materials with a focus on audio for picture, live production, and broadcast including mixing, editing, capture, script-writing, casting, and budgeting.
Create a business plan for entrepreneurial, freelance, and corporate work in the fast-paced audio-post production field.
Career Opportunities
Graduates of Fanshawe's Audio Post-Production program can find career opportunities in audio and video post-production, location audio recording, game audio, independent production houses, television and film audio, sound recording studios, web audio design, industrial and corporate media, live audio production and anywhere else that sound production and/or sound mixing is required.
Here are some examples of career opportunities for graduates of Fanshawe's Audio Post-Production program:
Sound Editor
Organize, edit, and link segments of narration, music, and sound, which can be paired with original video content.
Sound Designer
Create engaging and detailed sound designs for various elements of video games, television, film, and multimedia.
Mixing Engineer for Film, TV, and Video
Mix all the elements of audio for the final mix for film, TV, and video games
English Language Requirements
Certify your English proficiency with the Duolingo English Test! The DET is a convenient, fast, and affordable online English test accepted by over 4,000 universities (like this one) around the world.