Course in
Courses in Group Language Learning Worldwide
Eurolingua Institute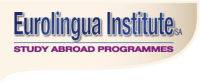 Scholarships
Explore scholarship opportunities to help fund your studies
Introduction
Take part in a language learning group with Eurolingua.
Group Language Programs
Group language learning programs are available at one of Eurolingua's year-round institutes in Europe, North America, Latin America, South Africa, Japan, Australia, and New Zealand. There are over 200 different destinations in more than 40 countries. This means students can enjoy a multi-location study program, either within the same country or, in the case of some languages, several countries. Our institutes are open all year, with special programs during the summer months. Students/clients (aged between 16-75 years) benefit from tuition in small friendly groups from 1 to 50 weeks, with a minimum of 15 hours (20 lessons) per week, plus local social and cultural activities.
School Group Language Study
We offer tailor-made educational programs for school groups during the school year and holidays. Take advantage of an unforgettable and unique cultural and academic experience in fascinating and historic locations. Inclusive Group Language Learning Tours are organized for schools, colleges, associations, clubs, and company incentives.
Summer Groups
Our summer language learning group program starts in early June and is available until late August, thanks to our long Mediterranean summer climate! Join us for one or more weeks or even the whole summer. Be taught in small, friendly groups between 5 to 8 students.