Course in
Courses in Eurolingua Language Homestay Immersion Programs
Eurolingua Institute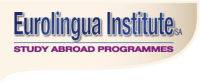 Scholarships
Explore scholarship opportunities to help fund your studies
Introduction
Welcome to the celebrated Eurolingua Institute language homestay immersion programs in countries where the language is spoken nationally: Arabic, Dutch, English, French, German, Italian, Portuguese, Russian, Spanish.
If you are a discerning language learner looking for one-to-one immersion 24/7 in any of your target languages, this is the program for you.
"Eurolingua Language Homestay Immersion Programmes" has been a significant success since 1993 because it involves you in a total linguistic and cultural immersion with native speakers, living as a guest in the 'homely' surroundings of your own tutor's private family residence. You receive professional, structured, and personal attention with the daily practice of your target language. This is the perfect way to learn and enjoy an authentic 'study abroad program' experience.
What a Eurolingua Language Homestay offers:
Total linguistic and cultural immersion;
Available any time of the year;
Students of any age (16-75 years old), and any level beginner to advanced;
Learn with an experienced and qualified native speaker and his/her family
Quality homestay accommodation in your tutor's private residence
Individual tuition, 15, 20, 25, or 30 hours per week, structured and planned to fit your preferred schedule (mornings, afternoons, early evenings, weekends, etc.);
Learn at your own pace, covering subjects and topics which are of interest to you;
Practice through informal conversation with your host family, friends, neighbours, and professional colleagues, etc.;
Visit the local community (shopping, post office, bank, bakery, museums, exhibitions, art galleries, etc.);
Cultural activities such as theatre, cinema, sports events, fiestas, or parades;
Social activities with your tutor and family, neighbours, friends, and professional colleagues;
Touristic activities such as visiting castles, ruins, lakes, coastline, rivers, etc. (client pays their entrance fees where applicable);
Surround yourself with fluent native speakers, and you will become fluent, just like you did with your native language. Put yourself on the fast track to rapid foreign language learning success with a Eurolingua Complete Language Immersion Program and learn to speak like a native!
ENGLISH Language Homestays in the United Kingdom (or Australia, Canada, Malta, New Zealand, South Africa, USA)
ARABIC Language Homestays in Oman (Muscat)
FRENCH Language Homestays in France
GERMAN Language Homestays in Germany
ITALIAN Language Homestays in Italy
PORTUGUESE Language Homestays in Portugal
RUSSIAN Language Homestay Immersion in Russia and Latvia
SPANISH Language Homestays in Spain or LATIN AMERICA (Argentina, Costa Rica, Ecuador, Mexico).