Delaware County Community College (DCCC) is an accredited, public two-year college located in Media, Pennsylvania. The College serves 12,500 students, including more than 200 international students from over 50 countries. DCCC students enjoy a safe, high-tech campus surrounded by nature, with easy access to the dynamic and historical city of Philadelphia, 22km away. The College offers 40+ degree programs to international students. Students can complete a 2-year Associate degree and transfer to a 4-year Bachelor's degree program if they wish. Our Transfer Office has partnered with over 40 colleges and universities to form dual and guaranteed admission agreements and core-to-core articulation agreements. Our location in suburban Philadelphia gives students to opportunity to visit these and many other schools on the East Coast of the U.S. DCCC gives international students access to an excellent ESL program; individual attention from professors through small class sizes (20 students on average); and one-on-one advising for academic, immigration, and personal issues.
Open Admissions Policy
To be admitted to the College, TOEFL, IELTS, SAT, and ACT scores are NOT required. During Orientation, students will be tested and placed in the appropriate levels of English and Math classes. We offer an ESL program for students who may need additional English-language studies. Although they are not required for admission, if you do have test scores, they may be used for placement purposes. Scores must be current within 5 years. - A TOEFL iBT score of 80+, TOEFL PBT score of 550+, or IELTS score of 6.5+ will qualify you to take the English placement test (and not the ESL placement test.) - An SAT Reading score of 500 or ACT Reading score of 18 qualifies students to register for English Composition I (ENG 100). - An SAT Math score of 500+ or ACT Math score of 20+ qualifies students to register for Math classes at the appropriate level.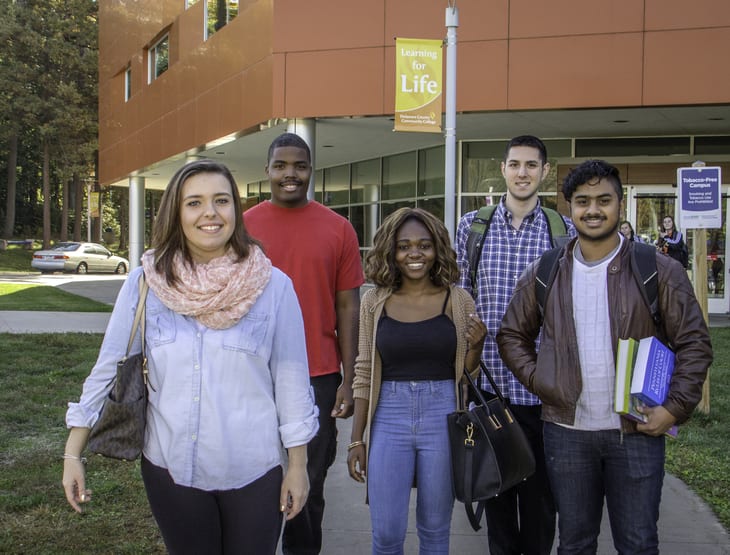 Campus Life
Media, Pennsylvania is a comfortable suburban community known as "Everybody's Hometown." It is safe and quiet with convenient shopping, theaters, restaurants, and apartments. Easy-to-use public transportation from Media links you to the vibrant city of Philadelphia. Philadelphia is famous for its history and is one of America's important global centers for business, healthcare, education, and culture. The city offers historical and cultural treasures such as the Liberty Bell and world-class museums, including the Philadelphia Museum of Art, the Constitution Center, and the Barnes Foundation. From DCCC, students can explore New York City (2 hours), Washington, D.C. (2.5 hours), Baltimore, and Boston, as well as beautiful beaches and mountains. A well-rounded education that includes activities, sports and community involvement impresses potential transfer schools, increases your opportunities for transfer scholarships and appeals to future employers. That is why Delaware County Community College offers an array of activities to help enhance your learning experience, bolster confidence and give you a true sense of community. Extracurricular activities, from athletics to academic clubs and student government, bring you together with people from all walks of life—people like you who are transforming their lives and opportunities through the pursuit of new knowledge and skills.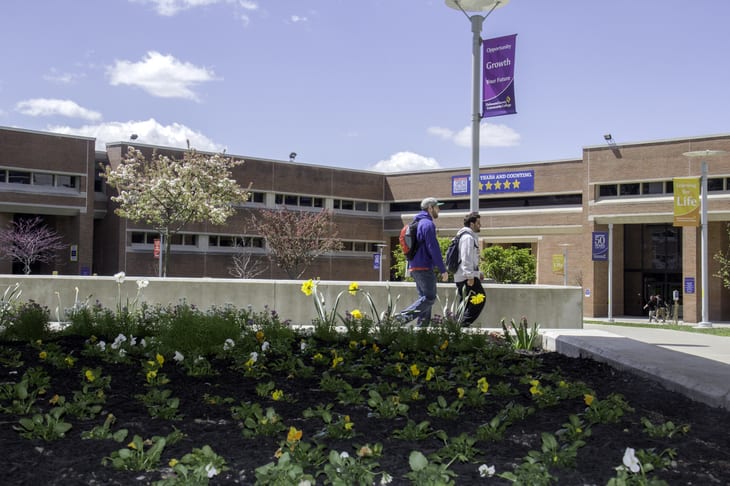 Student Housing
DCCC is proud to offer a number of housing options to students including the assistance of the Housing Coordinator who works in the International Student Services office. Students who want to true American experience of living with a family can choose our Homestay Program. Students in the program will live with a host family and will have a private furnished bedroom, use of the home's facilities, and interaction with the host family. Bedding, towels, all utilities and 2 meals per day are included. In addition to regular host family placements, there are a limited number of homestay placements without meals available. These placements provide all of the above except meals. The student will be responsible for his or her own grocery shopping and cooking. Some students prefer to live in independent, shared housing with other students and no host – which is known as student house-share. The house is fully furnished and equipped. Each student has a private bedroom and shares all other rooms, including bathrooms, living and dining areas, and kitchen. Students are responsible for their own meals. The specific arrangement and monthly fee are determined by the homeowner. There are also numerous options for apartment living in the communities surrounding the College. Towns near the College include Media, Newtown Square, Broomall, and Havertown.