Graduate Certificate in
Graduate Certificate in Computer Animation - Motion Graphics
Conestoga College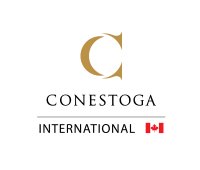 Introduction
Conestoga's Motion Graphics program is a one-year graduate certificate program that focuses on helping students expand their video and animation skills to pursue a career as a motion graphic designer, post-production editor, or interactive media editor.
The program offers a modern learning environment for creating captivating 2D and 3D digital media for online and mobile applications. The courses are taught by industry-experienced faculty and cover a broad range of topics such as advanced image capturing and editing techniques, typography, colour theory, green screen techniques, rendering, digital compositing, and post-production.
The program includes both individual and team-based projects, design iteration, professional design briefs, and budget considerations, and a field placement where students can apply their skills to real projects.
Scholarships and Funding
The Ontario Student Assistance Program (OSAP) is a needs-based program designed to help Ontario students cover the cost of post-secondary education. Funded by the federal and provincial governments, OSAP is intended to promote equality of opportunity for post-secondary studies through direct financial assistance for educational costs and living expenses. These interest-free loans are intended to supplement your financial resources and those of your family. The majority of students apply for loan assistance via the OSAP website. Students can also print the application booklet through the OSAP website.
Curriculum
Level 1
Conestoga 101 CON0101
Digital Design DSGN8070
Digital Image Editing I DSGN8080
Digital Media Production I DSGN8090
Vector Graphics GRDN8010
Motion Graphics I GRDN8020
Safety in the Workplace OHS1320
Level 2
3D Animation and Modelling DSGN8100
Digital Image Editing II DSGN8110
Digital Media Production II DSGN8120
Motion Graphics Capstone DSGN8330
Field Placement (Animation and Motion Graphics) FPLT8010
Motion Graphics II GRDN8030
Program Outcome
Design and execute kinetic type and infographics sequences using typography, style and visual communication.
Communicate effectively with colleagues and clients to complete animation and infographics projects using communication, problem solving and critical thinking skills.
Script, complete production and manage digital media projects to enhance interactive and non-interactive viewer experiences.
Manage the production of motion graphic content and its deployment via mobile devices, broadcast television, digital signage, digital displays, augmented reality and the web.
Plan and commission the appropriate technical infrastructure to complete a digital or multimedia project in compliance with production schedule.
Select the appropriate techniques and convergent technologies, including hardware and software protocols specific to the target platform to complete projects according to the client brief, budget and context.
Examine and evaluate creative digital images, animations and compositions for utilization in multimedia installations.
Digitally manipulate multiple images to match live-action footage and re-create natural phenomena.
Integrate 2D and 3D computer generated imagery, live action elements and motion graphics to tell a story.
Create customized tools through software or scripting to allow for more advanced application of visual effects techniques such as user interfaces for a variety of interactive platforms.
Manage technologies that deploy content through networks and other distribution methodologies.
Work collaboratively in interdisciplinary teams to produce graphic and animation elements.
Present an e-portfolio of motion graphics and animation projects and products that highlights one's creativity and proficiency with relevant motion graphics and animation technologies
Career Opportunities
Graduates can work in video production, television, film, and design industries. Students will be equipped for employment with independent production companies, corporate marketing, design teams, or digital media-related businesses.
For more details on related occupations, job market information and career opportunities, see the Government of Canada website.