Accademia Europea di Firenze is a performance and liberal arts school comprised of our undergraduate college, graduate, professional instruction, local performance affiliates, and cultural programs. AEF is rooted in a combination of academic excellence, performance experience, and cultural immersion. Our staff consists of gifted instructors, professors, and administrators dedicated to preparing students for the professional world in an increasingly global society. Our schools are devoted to performing and liberal arts, through a wide variety of courses.

AEF prioritizes educational integrity, individual growth, and an interconnected and comprehensive educational and personal experience. We strive to create full-immersion programs with a structure suited to enhance the students' experience and growth within their field of study. At AEF, we engage each student in personal/professional relationships to ensure their safety and comfort.

Whether it is language, art, history, music, or any other course, students are taught inside of the classroom and are encouraged to accelerate their progress by participating in AEF's endless activities outside of the classroom.

A cornerstone of our educational philosophy is experiential learning and enabling our students to fully immerse in the Florentine and European culture. Students come from all over the world to see this spectacular city and the AEF staff is committed to making sure our students do, while simultaneously elevating each student's understanding and mastery of the content covered in the classroom.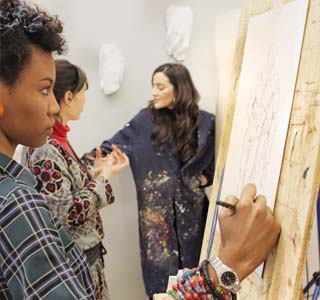 Mission Statement
Best International School Florence The mission of the Accademia Europea di Firenze is to provide focused, profound, and comprehensive academic programs connected to the local culture. Empowering aspiring artists, musicians, and students of all backgrounds to create, learn, perform, and grow professionally in the birthplace of the Renaissance.

AEF's resources in Florence extend beyond the classroom, enabling students to experience the city within the context of their particular studies. Students are pushed to learn and experience the history of their craft and studies while striving to innovate and push their field further.

Our goal is to stimulate the intellectual curiosity and ambition of our student body to maximize their potential as learners and professionals.


Vision
AEF was founded to promote and renew artistic disciplines in a city renowned for its history and changing innovations.

To offer challenging academic programs that shape inquisitive minds capable of Approaching academic disciplines with the mindset to deeply understand the principles of the past and how they are present in today's context. - Transforming learning, knowledge and cultural experiences into instruments that shape tomorrow's future. - Contributing to the local culture with the findings, research, and creations developed over the course of study. - To provide the excellent professional and academic facilities able to inspire the student's learning potential. - To go beyond classroom learning by promoting student interaction with the multicultural societies and creative presences in the city of Florence.