What's the Difference Between Community College and Vocational School?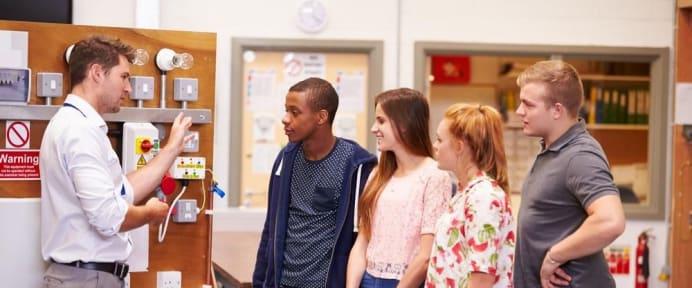 There's more than one path to success and they don't necessarily involve four-year degrees or any degree at all. College is not for everybody.
Community colleges and vocational schools are two pathways to success that you need to understand. Not only are they in the news, but they're also viable options for your future career.
While community colleges were the US's first vocational schools, they have expanded their scope to include two-year degrees across a variety of fields. They also serve as pipelines for four-year degrees and more—and cost less than traditional college programs.
Vocational schools, historically, focus on on-the-job training and apprenticeships for industries like manufacturing. Some describe vocational programs as "career and technical" education.
Replacing community colleges with vocational programs would mean eliminating programs that give millions of Americans liberal arts backgrounds, or the chance at earning a diploma.
While there's occasionally some overlap, both serve distinct purposes with specific audiences.
Let's take a closer look at the differences between the two.
Community Colleges
The term "community" is at the heart of their mission, to serve members of a local community by offering high-quality education.
Traditionally, community colleges offer two-year degrees on a wide variety of topics. Graduates earn associates degrees, many of which offer increased earning potential—and the possibility of transferring to a four-year institution to finish their degree. If you want to transfer, be aware that not all classes transfer to 4-year programs, so it's best to work with an advisor who can guide you.
They're not selective and admit most applicants with a high school diploma or equivalent who are interested. Why? That's their purpose—to educate the community.
The classes are small and often flexible, with blended learning options between in-person and online courses. Students who don't want to work toward a degree, but want to take a class here and there can do it—and the credit will stay with the student. What does this mean? If you're interested in something and your community college offers a course in it, you can take it.
It also means you can keep your day job, and juggle your family life, all while attending school.
They're also less expensive and play a critical role in US higher education—they enroll almost half of all US undergrads. The economic payoff is worth it for most students. Those looking to transfer to a four-year school after their community college degree can complete their general education requirements at a community college—and pay a fraction of the cost they would at a four-year institution.
Another perk? You may be eligible for federal student loans.
Vocational Schools
While vocational schools and community colleges share similar goals of educating community members who have an interest in a subject or a need for a job, vocational schools focus more specifically on job training.
Sometimes called "trade schools," vocational schools allow students to develop skills related to a specific career, like carpentry or welding or becoming an electrician. For high school graduates, there are typically no general education requirements, and students focus on content related to a career.
Upon successful graduation from a vocational program, students can often enter their vocational field immediately. Why? Their graduation often results in a certification that gives them credibility in the field.
These programs take a lot less time than a four-year degree, with the longer programs on par with two-year associates' degrees from community colleges.
Most training is hands-on and can lead to successful, well-paying careers like electrician, mechanic, machinist, pharmacy technician, nuclear technician, or dental hygienist.
There's also a growing need for these precise practitioners that many graduates of four-year institutions cannot fill—they lack the skills and technical expertise for success that vocational graduates have.
One thing that both education tracks have in common? Community colleges and vocational schools offer students realistic options for expanding their academic horizons and gaining critical skills for job success.
Find a program in these categories