What Leadership Skills do Business People Need?
Joanna Hughes
Jul 17, 2020
Five key areas of investment
One of the biggest imperatives for contemporary businesses is inclusivity. Not just because more inclusive workplaces are more equitable workplaces, but also because research shows that diversity fuels creative thinking.
Cisco's Chief People Officer Fran Katsoudas says of the importance of diversity, "Adapting to [the workplace's] rapid changes -- including the shift to remote work -- requires employers and government leaders to invest in people in new ways. We will need leaders of all kinds to empower remote work, ensure workers' health and safety, close the widening digital divide, and invest in the technology enabling this new age of connectivity."
Katsoudas suggests leaders who prioritize five inclusivity-forward things will come out ahead. These include:
1. Investing in the work that powers the economy
With much of the workforce shifting to remote, leaders who have empowered their employees to safely, securely, and successfully work from home have seen more seamless transitions.
2. Investing in the changing needs of employees
Businesses aren't the only things undergoing change. So are employees. Leaders who understand what their workers need to succeed -- even as these needs change -- can help their workers feel safe and supported. This, in turn, supports their productivity and performance.
3. Investing in informed and meaningful engagement
"This moment marks, arguably, the most significant social crisis in a generation exposing the inequalities in our social, economic and judicial systems," Katsoudas insists. Workplaces, whether in person or remote, need to be engaging in conversations while ensuring that all voices are heard and acknowledged.
Kelsey Davis, founder and co-owner of digital platform CLLCTVE, agrees that the best leaders welcome conversation. "Egotistical leaders close their ears to information and try to control the environment. [...] Good leaders talk less, listen more. They hire people smarter than they are," she says.
4. Investing in equality and resiliency
Internet access and digital skills are barriers to inclusion. In order to truly foster fairness in the workplace, it's essential to bridge this divide.
5. Investing in technologies that help society adapt
"As governments around the world are working to stabilize and stimulate their economies, we need their leadership to strengthen the digital infrastructure that's allowed countless businesses to stay open," Katsoudas writes.
According to Katsoudas, all five of these elements have one thing in common: They put people front and center. "As we learn and adapt as a global community, it's imperative that we prioritize the people that make up our workforces, our constituencies, and our society. Investing in them is investing in a more prosperous future for us all," he asserts.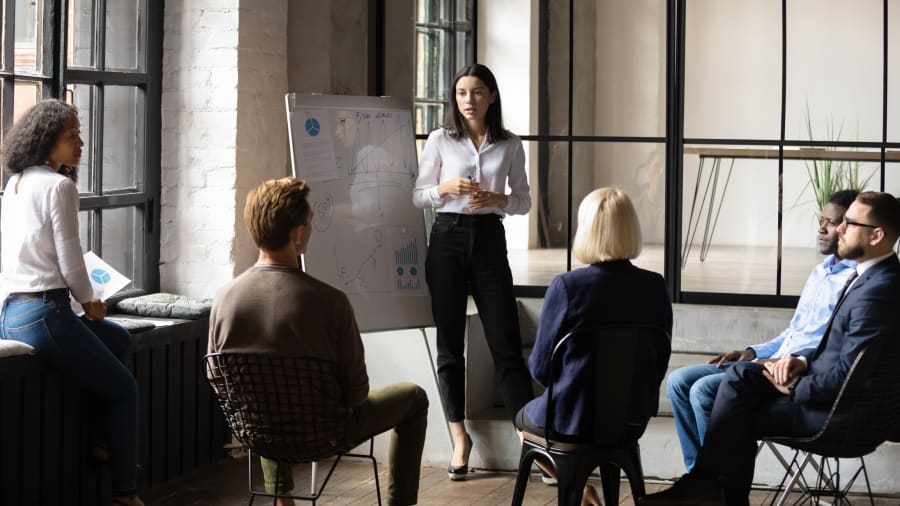 Lesser-known skills for leaders
Communication, vision, decisiveness, integrity, passion and confidence are often skills that come to mind when we think of great leaders. However, these are far from the only qualities that matter. In fact, some lesser-discussed skills are also invaluable, starting with the ability to manage uncertainty.
Perhaps nothing underscores the value of being able to navigate through unknown territory than our current tenuous times. Businesses have been forced outside of their comfort zones and into previously unthinkable situations which require previously unthinkable solutions. "That means knowing what you can control and what you cannot, aligning your company and employees with a shared purpose, holding to a clear vision of where you want the company to be, and trusting your team to help get there," writes author and consultant Michele Wucker.
When there's no clear way forward, the ability to live with ambiguity -- and to make decisions nonetheless -- is crucial.
Managing uncertainty falls into an often undervalued set of skills known as "soft skills." This term refers not to knowledge, but to personality traits, habits and behaviors. Teamwork, flexibility, problem-solving, creativity, and work ethic are commonly cited soft skills for leaders.
Another soft skill worth mentioning that's often left off the list is empathy -- the ability to understand other people's thoughts, feelings, and experiences from their point of view. According to management expert Victor Lipman, empathy is important "for the simple reason that management is all about getting the best work from other people. And if you want to motivate someone, or correct difficult behavior, or gain insight into the kinds of issues they may be dealing with, and so on... it helps to see things from their point of view."
The Chinese MBA Advantage
While the US and the UK have long been leaders in business education, Chinese management schools are having a major moment when it comes to imbuing students with the requisite knowledge and skills for the challenges at hand.
Many international business students are finding that Chinese business schools such as the China Europe International Business School (CEIBS) offer a best-of-both-worlds management education. Spurred by a mission of "China Depth, Global Breadth" CEIBS was co-founded by the Chinese government and European Union (EU) in 1994, it's been ranked in the top 25 of the Financial Times annual global business school rankings for 16 consecutive years (2005-2020), most recently claiming the fifth spot. It's also widely regarded as the best business school in Asia, and is the first business school in China to have both EQUIS and AACSB accreditations.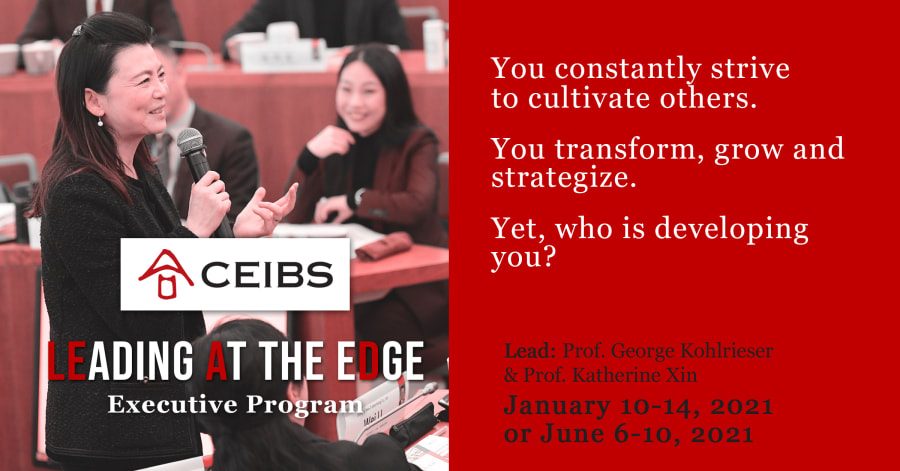 While Chinese schools like CEIBS are similar to their Western peers in many ways, there are some key differences. For starters, Chinese MBA programs recognize the importance of preparing students for the market with a focus on a Chinese economy that's "global, richer and ready to recruit our students," CEIBS dean Ding Yuan told The Economist. Perhaps this is best evidenced by Sinocentric curricula which applies Western theory to Chinese case studies.
CEIBS school offers a variety of programs, including MBAs, Finance MBAs, EMBAs, Global EMBAs, Hospitality EMBA's and Executive Education degrees. The school also offers the Leading at the Edge five-day intensive leadership program which immerses executives in challenging and transformational experiences and simulations to explore and develop personal leadership styles, to advance their careers wherever they are in the world.
George Kohlrieser -- a Professor of Leadership and Organisational Behaviour at IMD business school, author, and a famous hostage negotiation expert -- is a professor on the program, in which he shares leadership lessons that can be gleaned from hostage crises.
He explains, "Just imagine dealing with a hostage crisis: you have to figure out why the hijacker is doing this, and what he wants. You have to show the hijacker your interest in him, that you see him as a human being. Your eye contact and body language are the fundamental ways by which you communicate with him. This is the same with business leaders. You cannot focus only on your responsibilities, otherwise you lose the opportunity to communicate with and inspire others. This largely explains why so many leaders fail. A lot of leaders get annoyed easily and then lose self-control. This is what we call "Amygdala Hijack". Under this condition, the more they do, the more mistakes they make; and the situation actually gets worse. Hence, hostage negotiations can provide very good lessons for one studying Leadership."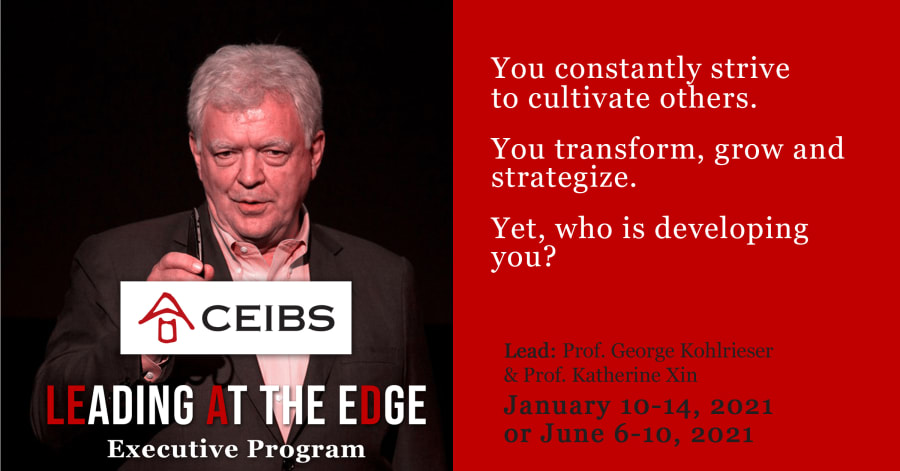 In addition to its Shanghai campus, CEIBS also has campuses in Beijing, Shenzhen, Accra in Ghana, and Zurich where the Leading at the Edge program takes place, and it has been hailed by EU leaders as "a role model of EU-China co-operation."
Robert Hartmann, a Swiss alumnus of CEIBS, who now heads up supply chain development at Diethelm Keller Management, told the Financial Times of the program's multinational focus, "A course in China helps you be successful in China. [...] I wanted to learn how to work with Chinese companies expanding overseas -- potential customers and suppliers. They study in Zurich."
Indeed, the career prospects of Chinese MBA graduates are booming. According to The Economist, while graduates of Western MBA programs may double their pre-MBA salaries, graduates of Chinese MBA programs can look forward to tripling their pre-MBA salaries. Business school startup incubators, meanwhile, prepare students to hit the ground running while also helping to develop relationships between students and leading engineers. According to Rupert Hoogewerf of the Hurun Rich List, a Chinese MBA is "one of the real secretaries of entrepreneurs' success."
Hartmann's fellow alumna Shoko Ogasawara of Japan also gave her experiences at CEIBS rave reviews. Recently included on Poets & Quants' roundup of 2020's Best and Brightest MBAs, Ogasawara explained her reasons for choosing CEIBS were its outstanding reputation; its balanced curriculum fusing globally recognized theories with Chinese case studies and speakers; and CEIBS' beautiful Shanghai campus. She says, "The campus displays its various beauty throughout all four seasons and from morning until night. I still remember once being stunned by the breathtaking night view of the library and the moon after coming out of the library at 11:50 p.m."
Given its status on the cutting edge, it's not surprising that CEIBS was also a leader in terms of its response during the COVID-19 pandemic.
"As a student with a clear focus on doing business in China, I believe CEIBS is the best school in the world for me since it has helped me with my soft-landing in Chinese society and the job market, as well as in gaining new knowledge and understanding myself much better," Ogasawara explains. Whether you're hoping to work in China or to do business with Chinese entities, a Chinese MBA can help you acquire the knowledge, skills and perspective you need to succeed.
Article written in association with China Europe International Business School (CEIBS).

Joanna Hughes
Joanna worked in higher education administration for many years at a leading research institution before becoming a full-time freelance writer. She lives in the beautiful White Mountains region of New Hampshire with her family.