What is UX Design and Why Study it?
Chelsea Castonguay
Sep 23, 2020
What is UX design?
In simple terms, "User experience (UX) design is the process design teams use to create products that provide meaningful and relevant experiences to users," according to the Interaction Design Foundation. When a UX designer is handed a project, they aren't just thinking about the end result. A designer considers all aspects of the product from start to finish, including the why, what, and how. A good UX designer will understand why a consumer wants a product, what the product should do or how it should perform to be effective, and how the product will work to be the most functional and pleasing to the user. The field of UX design is focused on making sure all aspects of the user's experience with the product are thoughtful, accessible, and useful.
What does a UX designer do?
If you are still not entirely sure what a UX designer does, that's very understandable, as it's a lot to take in. However, as the field rapidly has increased, so has the demand for UX designers. When asked what he does, Director of UX Fred Beecher says "I humanize technology." This is a simple explanation for a vast and diverse field. A UX designer will often be part of a larger team, and their role is to help connect all of the pieces of a project between everyone who collaborates on it. A UX designer works by balancing the needs of both the user and the business, trying to find solutions which work for both. Since projects are always changing, UX designers also need to be adaptable to make sure they are providing the best service possible to clients.
As a UX designer, you might find yourself developing user interfaces, conducting user research, creating user flows, developing prototypes, and conducting user testing. However, this is a mere sampling of what's available to UX designers.
How to become a UX designer
If you are all about the user experience, then a career in UX may be for you. This is an all-encompassing role, which requires a broad skillset and knowledge base. UX designers will need a strong background in technical knowledge, utilizing computer logic, coding, and other software-related skills, according to geteducated.com. Additionally, those choosing to go into this career path will need to have good people skills, as the majority of the projects will be customer-facing and interactive.
You can start on this career path by pursuing a bachelor's degree in a technology-related program. This gives some flexibility to explore a degree path that works for you. Following the completion of your degree, you will need to gain experience in software and programming, as well in customer relations. A great way to do this by obtaining internships, working as a freelancer, and honing your skills through online courses.
However, when it comes to obtaining full-time employment in this field, employers do prefer someone with a degree, meaning if you are committed to this field, it might be worth the investment to finish a degree program. So while not having a UX degree doesn't necessarily preclude you from jobs, it might take you longer to achieve your goals. Additionally, obtaining higher education can help you earn a higher entry salary, as well as give you the opportunity to get to work more quickly in your field. This means you will have even more career opportunities.
What if you don't have a UX degree?
If you are interested in UX design but already have a degree in a different field, or can't fathom returning for more education, don't despair. Fortunately, there are still plenty of opportunities to transition into the field. For those looking to expand their education and earn a master's in UX, the upside is that most of those degree paths don't actually require experience. Most schools permit you to begin taking Master's level courses in UX without any undergraduate experience. This means you won't have to take post-baccalaureate courses to enter into the program, but you may have some catching up to do. With the understanding that there aren't many undergraduate degrees out there that primarily focus on UX design, many master's programs start with the basics to help bring everyone up to speed.
If university isn't for you, you can also consider attending bootcamp or self-studying for UX design. Bootcamps will give you the opportunity to immerse yourself in the world of design, while giving hands-on experience. However, as the title implies, bootcamp is generally fast-paced and demands a quick turnaround. Self-studying or online courses work great for those who already have some design experience in their portfolios and just need to hone their skills.
"I started out in information design, which was like UX on paper before UX existed," says UX lead Jenny Björkman, "I loved the job, as it was the perfect 50:50 split of logic and creative, but unfortunately, there was no career progression, so I side-stepped into a Project Management role before changing lanes into Marketing. Then I met my husband, who was Creative Director at a digital design agency. When I told him about my old information design job and why I loved it, he said 'You should do UX'. I started looking into it and thought 'Yes – this is for me!'
In project management you don't do anything creative really. So I really missed doing something creative. And now that I'm doing UX, especially as UX lead, I am managing projects, I'm still utilizing those skills, but I'm getting to do all sorts of other things as well."
If you too want to combine managing projects and teams with a field which allows you to express your creativity to the fullest, then studies and a career in UX design, one of the fastest-growing and most exciting fields around, could be for you.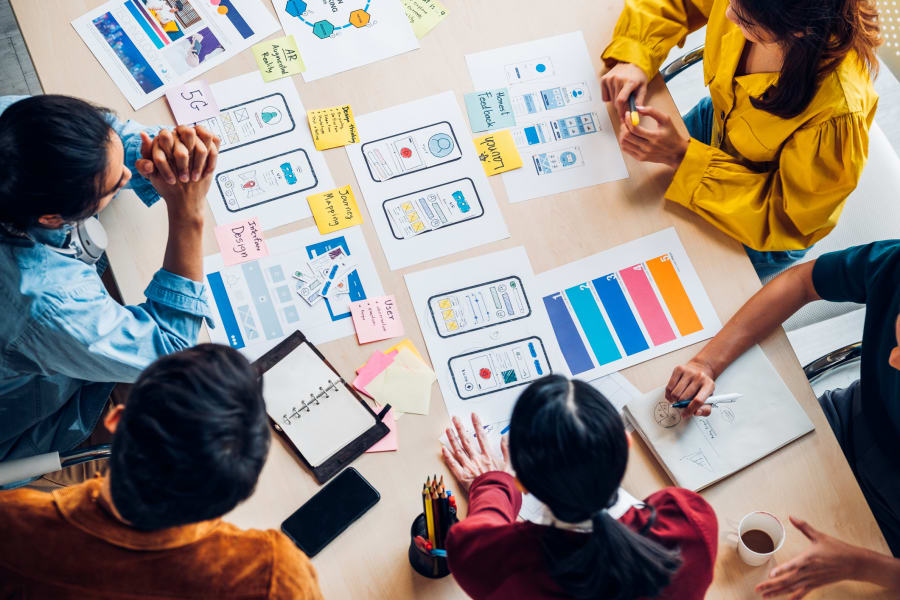 Chelsea Castonguay
Chelsea is a Student Affairs expatriate, who now works as a freelance writer and editor. She homesteads in a small town in rural Maine, USA. She enjoys hiking, fishing, cooking, reading, all things Laura Ingalls Wilder, spending time with her family, and chasing her black lab puppy, Cash.