What is Illustration and Why Study it?
What is Illustration?
Illustration is a decoration, interpretation, or visual explanation of a text, concept or process, designed for publication in a variety of media. Illustration plays a key role in all formats where visual meaning and storytelling use images to render a narrative. Illustrators are trained professionals who can draw in a variety of media not limited to pen and pencil, but also, especially in today's hyper-digital world, digital image-making. Being able to utilize the best of technology to render images is becoming essential for any aspiring illustrator.
If you're considering a career in illustration, then maybe illustration school is for you. According to TheArtCareerProject.com, "Good illustrations and drawings are often beautiful artistic representations of people, places, and things. Some invoke feelings of happiness, sadness, awe, fear, or nostalgia. [...] Pen and pencil illustrations usually consist of clearly defined lines, while charcoal and pastel illustrations consist of thick lines and smudged areas of shading. These illustrations might grace publications like books, newspapers, or magazines, or they can be admired as they hang on a wall in an art gallery, business, or home."
Coursework in illustration
Imagine being the lead illustrator and designer for Disney or Pixar, developing the images for such smash hits as The Lion King or Toy Story. To be able to work on such projects and to work for companies with similar types of jobs, it is a wise idea to invest in your studies and get a qualification in illustration.
Serious coursework is involved for all aspiring illustrators to get a degree in illustration. "A typical illustration program may require completion of coursework in Illustration, 2D and 3D Illustration, Painting, Drawing, World Art, History of Illustration, Design Studies, Language & Letterforms, Digital Media, and Aesthetics," explains Animation Career Review. This coursework lays the foundation for all successful illustrators.
Career opportunities for illustrators
If your parents are skeptical about how you will pay your rent and support yourself with a degree in illustration, tell them not to worry. An illustration degree actually sets up graduates with these skills to have successful careers in a variety of fields. The Animation Career Review explains, "Most illustrators choose to work in art, publishing, advertising, gaming, or multimedia. Just a few job titles include animator, game developer, designer, creative director, art director, installation design, book illustrator, caricature artist, comic book artist, exhibition designer, painter, sketch artist, storyboard artist, mural designer, instructor, and freelance artist."
One of the most coveted skills across all industries, and something that used to be overlooked, is creativity. If you are able to conceptually create, design, and envision a project, from the ground up, both independently and as a member of a team, you will find employers will be excited about hiring you and having you on board as a valued team member. Some employers include advertising and marketing agencies, publishers, and graphic design, web design, and animation companies, according to Prospects.ac.uk.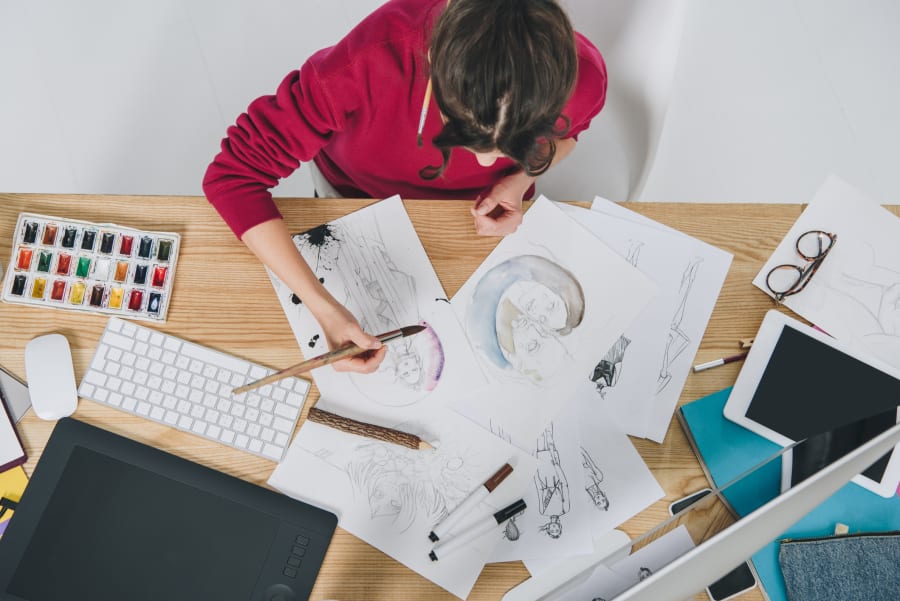 So, what do illustrators do, exactly?
Going back to the drawing board is an expression that fits appropriately for all illustrators. They work in two-dimensional images to create or design visual narratives. Often illustrators will work in collaboration with previously written text to create a visual representation which complements the writing.
An illustrator typically gets hired or commissioned to produce images on their own or visual representations which accompany text and ideas. Next, an illustrator's workflow usually includes the following steps, according to a feature from Career Explorer: 1) discussing the client's illustration and design needs; 2) negotiating price and deadlines; 3) developing a sample to go over with the client; 4) producing the illustrations by the deadline.
There is a great range of work available in illustration, meaning students and graduates in this field are very unlikely to end up unstimulated or bored. John Broadley, an illustrator based in London, produces illustrations for various organizations and businesses. He says, "I work as an illustrator on a self-employed freelance basis for a range of companies in areas such as publishing, packaging, and the food & drink industry. I have provided the online and in-house branding for a famous London restaurant since 2012 and I am currently illustrating a children's book. I enjoy the variety of illustration, and, most of all, seeing my work in print."
And big corporate businesses need illustrators too. In a recent interview with Silicon Republic, Aileen Crossley, a designer and illustrator at Mastercard, shares her insights into her professional work and how her degree in illustration is key to her success. Crossley says, "I use my design, illustration, animation and videography skills on a daily basis. My communication design degree specialised in illustration and I love to bring this practice into my work wherever possible. I was thrilled to be awarded two Irish Design Industry awards this year for Best Music Video and Emerging Designer for a stop-motion music video I made using sand. I always strive to bring original storytelling to my work to make it more impactful and meaningful. When my work connects people, I feel happy and fulfilled."
Different types of illustrators
Specialization within a field of study occurs across all disciplines -- and it can also be found in the world of illustration. As an aspiring illustrator, you might be pleased to note all the different specialties that are possible within the field. Here's a short list: book illustrator, botanical illustrator, fashion illustrator, scientific illustrator, narrative illustrator, concept illustrator, or even highly technical illustrator.
Book illustrators work with authors to bring their books and stories to life with visual representations that help push the narrative forward and bring the words to life. "It's a collaboration. It's like a staircase with the text being one step and the pictures being another one, it's about building a journey and bringing your reader along with you up and down those stairs," says Gillian Tyler, illustrator of several children's books.
On the other hand, botanical and scientific illustrators need to be able to render plant life and scientific details to be both visually appealing and artistic as well as true to life and as scientifically accurate as possible. Nirupa Rao's book Pillars of Life: Magnificent Trees of the Western Ghats, is one excellent example of what is possible in the realm of botanical illustration. Rao explains, "Sometimes, I try to represent an ecosystem itself like a swamp. Those take the longest, probably about two weeks. Trees take me about a week to paint. Since I am keen on scientific accuracy, I individually outline and paint almost all the leaves within the canopy."
One chief pediatrician has been able to combine his vast medical knowledge with his love for illustration. Satyan Lakshminrusimha enjoys illustrating medical textbooks, and says, "If you look at all the medical textbooks, there's only so much you can explain with text and radiology images such as X-rays. It's easier to explain difficult concepts when you have a simple illustration in front of you." Medical illustration is one way to use your degree and it can pay well, too. The median salary for a medical illustrator/animator in the US is $70,650 and can range up to $173,000, according to the Association of Medical Illustrators.
Sketching for top designers or inventing and designing your own clothes or conceptual art is another way to put your illustration degree or qualification to good use. A fashion illustrator might work to create and design logos or entire clothing lines for different seasons. If you have an inventive eye for fashion, or a good sense of new combinations of the color palette, then you will excel in this field.
Going hand-in-hand with fashion, the world of concept art is another field where you might find your niche as an illustrator. Inside the wonderful world of Disney, before the finished product we see, a team of illustrators and talented professionals gather together to discuss and design the overall concept. From starting seedling idea to blossoming final product, a concept illustrator will have free reign to invent. At Disney, this person is called an Imagineer, says Kevin Rafferty in his autobiography, Magic Journey: My Fantastical Walt Disney Imagineering Career.
Perhaps storytelling, its conception and development, appeals the most to your inner creative side. Then a narrative illustrator or technical illustrator might be the path for you. How can you convey intense feelings like loss or love in images? Creating dreamlike narratives is something Los Angeles-based artist Andrew Hem strives for in his stylized scenes of solitary figures caught in moments of motion, introspection, and reverence. These narrative-driven paintings speak for themselves, but also can be paired with text that pushes the image even further.
Technical illustrators and those with a passion for gaming and board games are getting the opportunity to indulge their fantasies and to create interactive board games and digital worlds. One brilliant example of this is the popular board game Mysterium. Designed by Oleksandr Nevskiy and Oleg Sidorenko, it was initially released in Ukraine by the game publisher Libellud, and it combines the best of both worlds: excellent storytelling and stunning visuals.
Whatever path you take as an illustrator, there's no doubt the current demand for qualified artists in the field is at an all-time high, with many organizations searching for talented individuals with vision, skills, and creativity!

S.M. Audsley
S. M. Audsley is a freelance writer and poet who lives and works in Vermont, a small but mighty state in the United States. She is an avid outdoor enthusiast and a lover of potlucks.