Six Reasons to Study in Washington, D.C.
Joanna Hughes
Mar 13, 2019
"Washington is a city of Southern efficiency and Northern charm," enthused U.S. President John F. Kennedy. But it's much more than that. This capital city is also the historic heart of the U.S., a political powerhouse, a cultural extravaganza, and home to the world's biggest center for biomedical research. In other words, there's truly something for everyone in D.C. – especially students. Read on for a roundup of six reasons to study in this iconic city.
1. You'll be at the beating heart of American politics and commerce.
As headquarters of both the World Bank and the International Monetary Fund, the vibrant and bustling city of D.C. is a hub of global politics and business with a much broader viewpoint.
"Add to the mix more than 175 embassies, a thriving conferences industry and several Fortune 500 companies, including Pepco Holdings and The Carlyle Group, and you begin to see why this city of dreamers and demagogues is one of North America's busiest business travel destinations," explains BBC.com.
Indeed, Washington's founders didn't just envision the capital city as the seat of the government, but also as a commercial center thanks to its proximity to two established colonial port towns, Georgetown and Alexandria.
2. It boasts a rich and fascinating history.
Living in D.C. certainly gives you a front row seat to history in the making. But the city's past is just as fascinating as its present. For starters, there's its compelling origin story, which includes the fact that George Washington himself chose its site as a compromise between Alexander Hamilton and northern state interests and Thomas Jefferson and southern state interests.
The Smithsonian magazine declares, "Washington, D.C. is unique among American cities because it was established by the Constitution of the United States to serve as the nation's capital. From the beginning it has been embroiled in political maneuvering, sectional conflicts and issues of race, national identity, compromise and, of course, power."
Whether you're a lifelong history buff or just interested in soaking in some local color, there's no better place to do so than in Washington. Wondering where to start when it comes to your tour? Check out the Washingtonian's 14 Places Around D.C. That History Fans Should Put on Their Bucket List.
3. You'll have near-endless networking opportunities.
Alongside the likes of San Francisco and Boston, Washington, D.C., landed a top-five spot on Tech.Co's 2019 ranking of Best Cities for Networking. In fact, this is one of the most remarkable things about living in D.C.: Rubbing elbows is part of the way of life, helping to ease the path from student to employee.
Expat.com enthuses of Washington's networking scene, "The U.S. capital city holds a lot of surprises for newcomers including a vibrant labor market and opportunities in various fields. Microsoft, Facebook and Deloitte are some of the major employers in Washington. But that's not all! Even though the local working culture is quite competitive [...] that doesn't mean you won't have an active social life. Besides the city's attraction sites and cultural diversity, you also have pubs, restaurants, bars, and cafes where meetups are taking place almost all the time. This will be an opportunity to meet new people and expand your circle which, in turn, will make integration a lot easier. Besides, Washington offers more than 60 coworking spaces with facilities like a conference room and a gym. Would you ask for more?"
D.C. also earned a top 10 spot on Indeed's "Best Cities for Job Seekers 2018." Key selling points? Work/life balance and job security and advancement.
4. There's lots to see and do.
Awe-inspiring monuments, memorials, and museums abound in D.C. The BBC explains that you can "soak up the power buzz" on a walk around the National Mall to the main attractions. In a very small area you have a sparkling array of world-famous sights: the Capitol Building, the Supreme Court, the Lincoln Memorial, several war memorials, the White House, and the Thomas Jefferson, Franklin D. Roosevelt, and Martin Luther King Jr. Memorials. Meanwhile, D.C.'s highest structure and the world's tallest obelisk, the Washington Monument, towers above them all in the center.
In addition to the usual suspects like the National Museum of Natural History, the National Museum of American History, the National Air and Space Museum, and the U.S. Holocaust Memorial Museum, D.C. is also home to many other unforgettable educational attractions, including everything from the National Museum of Women in the Arts and the International Spy Museum, to the African American Civil War Museum and Madame Tussauds. Even better for students, many of these are free.
Local boutiques, funky marketplaces, fabulous dining, cultural events, paddling on the Potomac, and a vibrant dining scene can all be found in this small but mighty metropolis. And an excellent public transportation system means that D.C. is as accessible as it is amazing.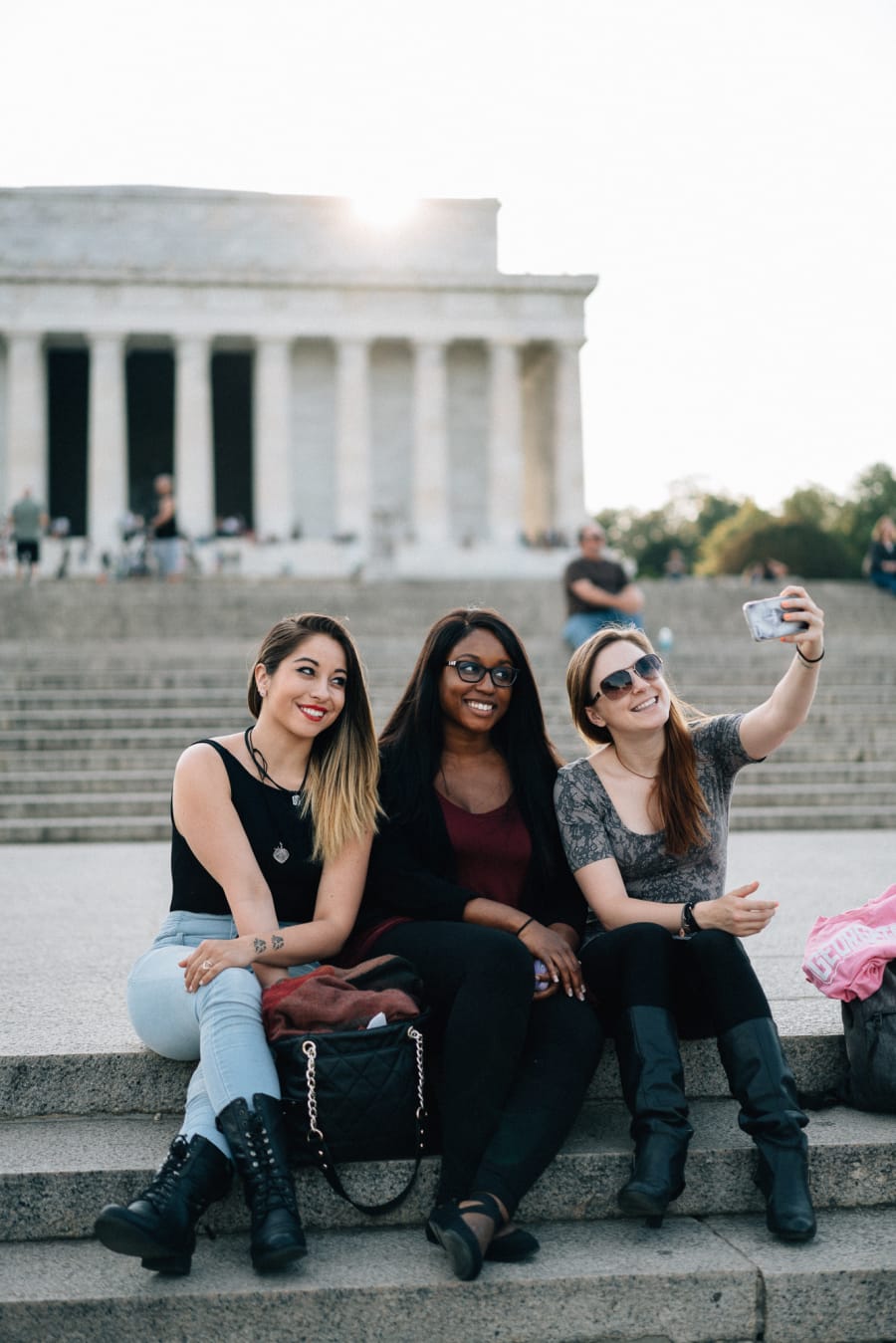 Georgetown University Summer Sessions
5. We've got four words for you: the Fourth of July.
Sure, this could fall under the heading above, but we think it merits a spot of its own. "There's probably no city that'll give you a more all-American, patriotic Independence Day than Washington, D.C. Take in the pomp-and-circumstance National Independence Day Parade in the morning along Constitution Avenue NW, then stake out a spot on the National Mall or across the Potomac River near the Marine Corps War Memorial (also known as the Iwo Jima Memorial) in Arlington. The fireworks typically start just after 9 p.m. Basking in the rockets' red, white, and blue glare with a backdrop of glowing white monuments and memorials is an unforgettable – and highly Instagrammable – thrill," raves Washington.org.
And that's just the start when it comes to things to do on the 4th in D.C. Check out Washington.org's list of ways to celebrate Independence Day in Washington, D.C.
Looking for even more ways to celebrate the red, white, and blue? Memorial Day and Labor Day celebrations are the perfect ways to start and end any summer.
6. Georgetown University Summer Sessions is waiting for you.
You don't have to attend college full-time in Washington, D.C., to get the experience of studying there. Georgetown University Summer Sessions offers the opportunity to live and learn in the heart of one of D.C.'s most fabled neighborhoods – everyone from Thomas Jefferson to Elizabeth Taylor has called Georgetown home.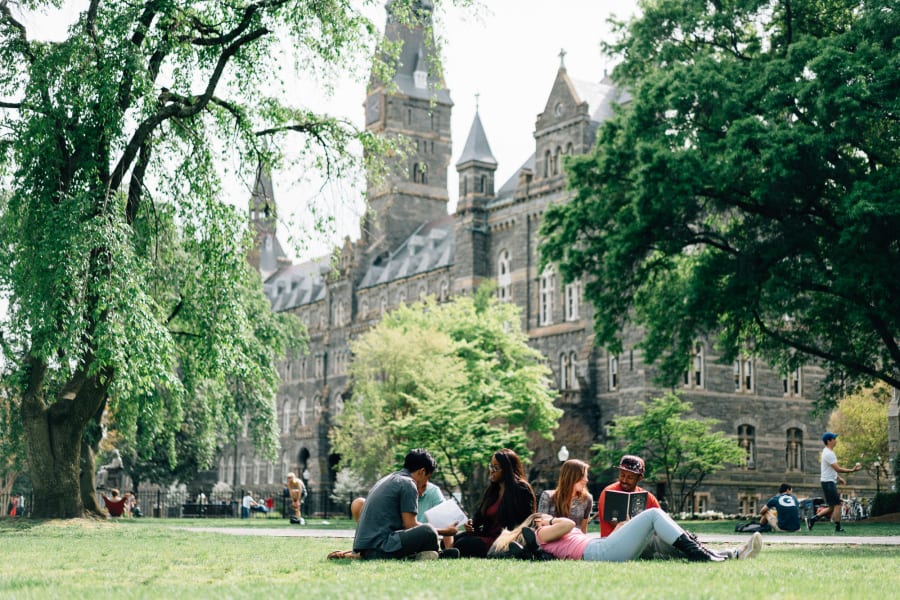 Georgetown University Summer Sessions
Open to undergraduate and graduate students from around the world, this dynamic program comprises more than 250 courses – in fields ranging from foreign policy and politics to communications and economics – taught by renowned faculty.
The best part? You will enjoy full-on immersion in everything the nation's capital has to offer while completing an entire course at one of the world's leading academic and research institutions.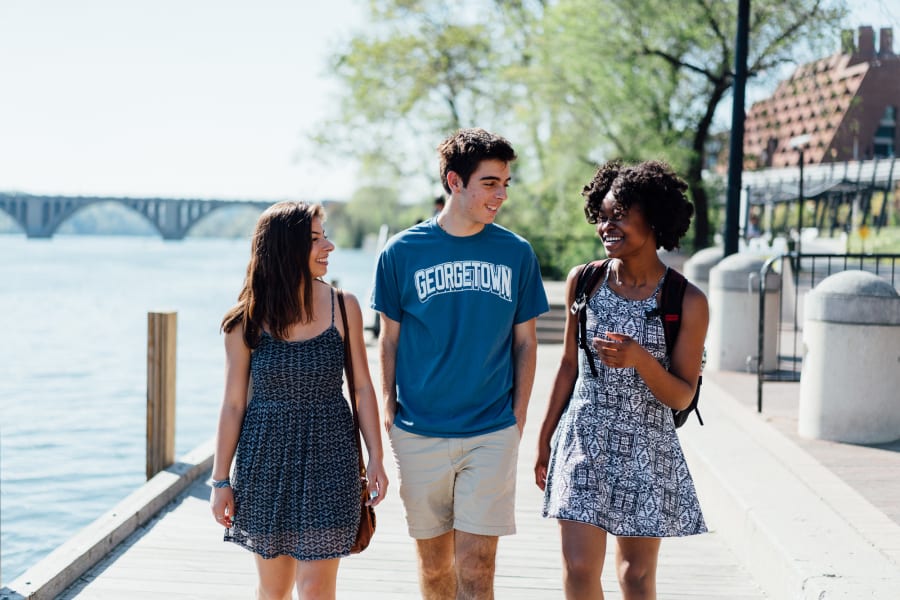 Georgetown University Summer Schools If you are ready to embrace all that D.C. living has to offer while simultaneously enhancing your academic resume, look no further than Georgetown University Summer Sessions. Interested in learning more? Visit the Summer Sessions website.

Joanna Hughes
Joanna worked in higher education administration for many years at a leading research institution before becoming a full-time freelance writer. She lives in the beautiful White Mountains region of New Hampshire with her family.