5 Creative Arts Fields to Study
"Craft is also a rich tapestry of ethnic diversity, having been practiced expertly by people of all nations and regions for millennia," writes Glenn Adamson in the recent Artsy article, Why the Art World is Embracing Craft. Today's modern art world is making more and more room for -- indeed, it is craving -- artists and artwork that incorporates artisan work. This is good news for those who want to work in these creative fields of study.
An aspiring artist needs mentors and time to develop and hone the foundational skills required to realize their vision. Some creative arts fields require specialized knowledge of tools, processes, and experience working with a variety of different types of materials. Studying under a master in your chosen creative arts field can accelerate your growth and development as an artist. Teachers and professors in the arts more often than not maintain their own artistic practice and are at the top of their fields. They will be able to mentor you and provide advice not just on improving your work, but also they can advise on how to navigate the business side of the art world. Let's take a look at five fields of study and careers in the creative arts.
1. Textile arts
Weaving, sewing, stitching, printing on fabric, and more -- the textile artist works with fabric and is often called a fiber artist. As a textile artist you might enroll in any of the following courses: advanced studies in cotton fibers, theory of dyeing, biopolymers and bioproducts, and textile wet processing. Knowing materials and their processes for making them will allow you to understand how to manipulate them in your work. A well-rounded degree program in textiles will also include courses on cotton genotypes and phenotypes, the economics of cotton or other textile industries, and contemporary craft theories.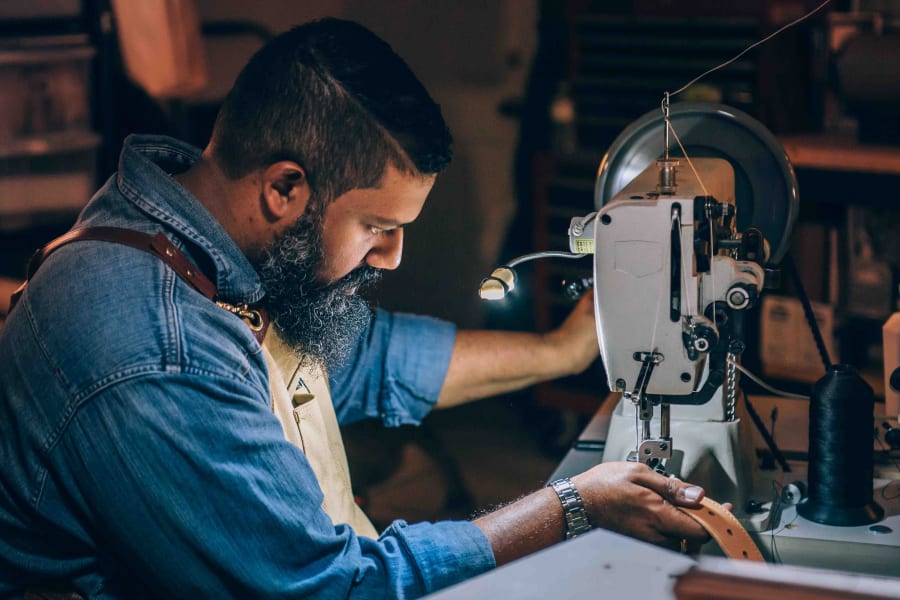 "The practice of weaving was invented as early as 27,000 years ago, making it one of the oldest forms of human technology. Textile art -- which encompasses weavings, embroideries, tapestries, fiber arts, carpet design, and more -- has undergone a renaissance over the past century, as artists have pushed the boundaries of what can be considered a textile, as well as how a textile can be considered art," writes Sarah Gottesman for Artsy.
Textile artists understand they fall under a long lineage of makers, often traditionally women based in specific cultural practices. Today's textile artist pushes the boundaries and limits of what this form can do.
For example, one London-based artist, Daisy Collingridge, layers amorphous blobs of fabric and textiles to form wearable pastel-colored body suits. Collingridge's textile forms are inspired by human anatomy, and the artist says that the outlandish costumes are an exercise in "pushing quilting to the absolute extreme." As an aspiring textile artist, it is a great idea to enroll in courses and work with mentors who can help you develop your own unique aesthetic.
2. Ceramics
Clay, firing in a kiln, working on the wheel, glazing -- the ceramics artist must develop a refined knowledge base and skills with all processes, from start to finish, to make ceramic objects. An aspiring ceramics artist will likely begin by learning traditional forms to hone their skills. Then, once you learn the basics, you can begin breaking the form, pushing the form, and challenging your conception of what clay can do.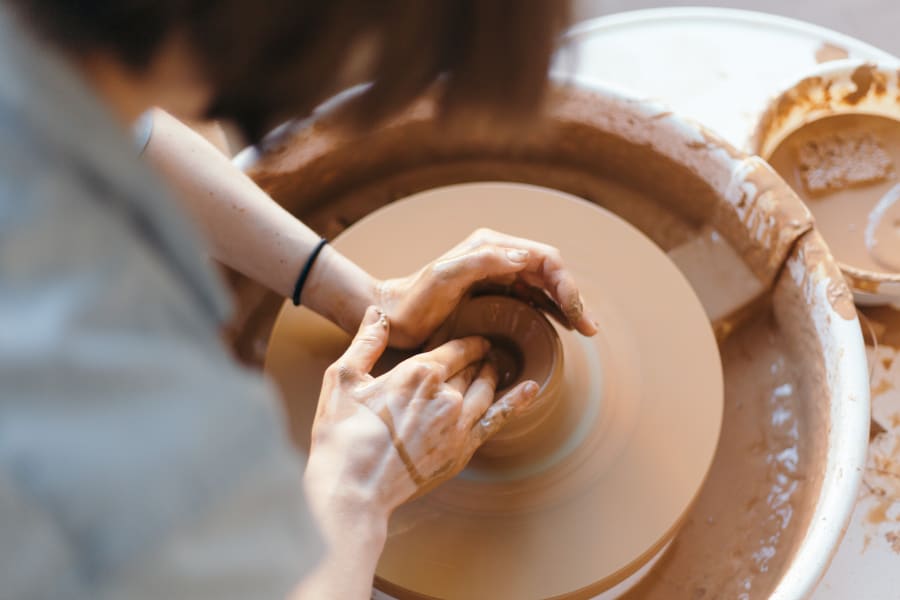 Similar to textile arts, ceramics is another art form that has a long and rich history. Ceramics artist Dennis Maust, in his artist's statement for a recent show, says, "In both my tile and vessel work, I have drawn from encounters with ancient Mediterranean monuments, Islamic architectural embellishments, Persian rug patterns, South Asian temple architecture, and East African material culture," and Maust goes on to explain how the objects he creates are based in a deep inner personal exploration. "My work is motivated by concern for our contemporary world and current events. These pottery forms are loosely based on historic Middle Eastern Pottery forms. I wish to call attention to work that represents to me the great loss I feel, first for the human victims of the current conflicts in Iraq, Syria, and Afghanistan and second, for lost or destroyed antiquities there which represent humanity's 'Cradle of Civilization'."
As a student in a ceramics arts course of study, you can expect to learn a variety of techniques, including hand building, forms and surfaces, firing and glazing, nesting objects, and adding handles and relief work.
3. Sculpture
Wood, metal, stone, fiber, ceramics -- a sculptor has a huge range of mediums to work with! Traditionally, a sculptor works in stone, and many aspiring sculptors flock to Carrara, Italy, where sculptors have been carving and working with the local world-famous marble for centuries. Another famous place for sculpting in Italy is Pietrasanta, described by Laura Rysman in The New York Times as having become a haven for craftspeople. She writes, "The craftspeople of Pietrasanta [who] have translated artists' ideas into marble and bronze. For example, Franco Cervietti carved his first full-size copy of Michelangelo's 'David' when he was 29." Perhaps your studies will take you abroad to learn from these masters of stone and sculpture!
Christopher Czermak / Unsplash
As an art form, sculpting has (based on the oldest known Stone Age sculpture) been around since a staggering 230,000 BCE! Working in three-dimensions has been something humans have been obsessed with for millennia. If you are interested in pursuing a career in sculpture, regardless of the medium, then you can expect to take courses in art history, sketching, casting and molding. Students usually also choose electives that expose them to different sculpting materials, such as clay, fabric, glass, metal, wire, wood or stone, or a combination of materials. A well-rounded program will provide you with mentorship and time in the studio to put theory into practice.
4. Metalworking
Welding, compressors, steel, silver, bronze -- a metal worker is a skilled artist who knows how to wield tools to heat and cool metal materials at differing rates, which achieves refined finished products. Due to the dangerous nature of using specialized tools to weld and work metal, proper training, and learning best practices and safety procedures is key. In a metalwork program, you will learn how to do just that, and more. Metalwork as a creative arts field of study includes all aspects of metal manipulation.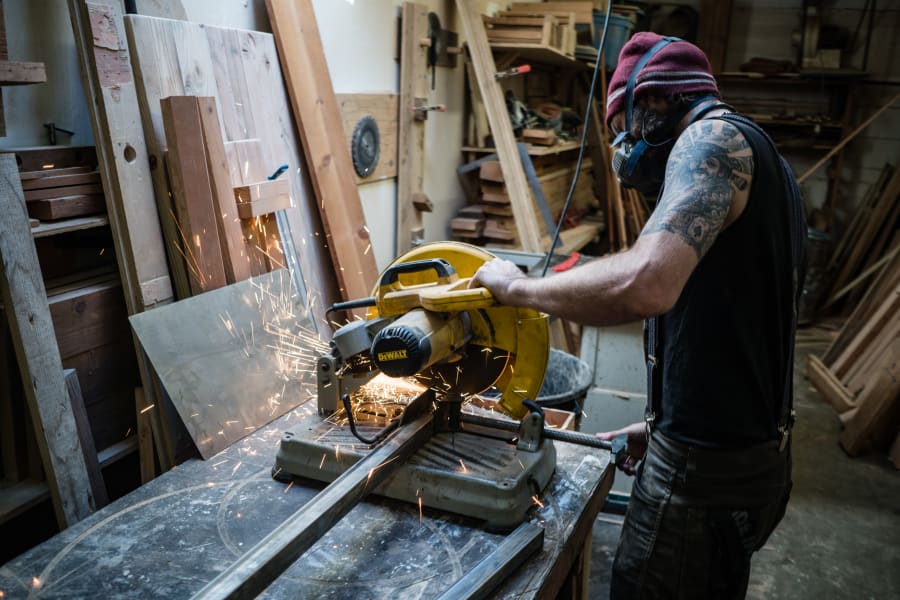 Some of the courses you might enroll in in a metalworking program include forming, metal casting, enameling, stone cutting and setting, metals and color, and mixed media jewelry. Alongside your peers and with your mentor's guidance you will learn how to develop a concept, sketch and design it, and then build it in your studio. You certainly won't be bored!
Appalachian State University professor Richard Elaver says about his process, "I was using that process to make a series of earrings. No two earrings are exactly the same. I would run the same program, but every time it was run, it would give (me) another shape. I used that to design a number of things – from jewelry to furniture to functional objects like bowls and vases." As a metalwork student you learn knowledge to build structures and art objects that will last a lifetime.
5. Woodworking and carving
Maple, cherry, pine, beech, walnut -- a woodworker or woodcarver understands how to work with many different types of wood. Each has its own temperament. Students enrolled in a woodworking program might take any of the following classes: design and creation of furniture, traditional cutting and carving tools, CAD drawing and basic architecture, economics, and marketing and advertising for small businesses.
All woodworkers will need to learn how to use a variety of tools -- both powered and hand tools -- to successfully manipulate wood. Safety is important. Your mentors will likely tell you tales of friends and colleagues who have lost a finger or almost lost an appendage while using a powered tool in the shop. Enrolling in a woodworking course can give you the skills needed to be safe and also teach you best practices for using different types of wood.
Woodcarver Nate Carr, who has been carving since he was in the Boy Scouts at 12, renders figures of people and characters from wood, creating unique objects, each with their own personalities. He explains, "[...] Although I actually majored in industrial design and advertising. I have always been drawn to woodworking and have built many pieces of furniture including designing and building a canoe. However, hand wood carving is my true passion."
"Art has always been the raft onto which we climb to save our sanity. I don't see a different purpose for it now," said Dorothea Tanning, American painter, printmaker, sculptor, writer, and poet. Making matters. As an aspiring artist, no matter what field of study you choose, you can invest in your own creativity through learning from peers, mentors, and professors who can guide you in fully realizing your artistic (and personal) vision. Yes, it takes courage to be an artist -- but it would be harder to not pursue your passion...

S.M. Audsley
S. M. Audsley is a freelance writer and poet who lives and works in Vermont, a small but mighty state in the United States. She is an avid outdoor enthusiast and a lover of potlucks.