Program Description
Calling all #FierceInnovators!
January 2021 Program Applications Now Open! Develop your leadership and innovation skills in one of the fastest-growing cities in the USA: Raleigh, North Carolina. Join females aged 18-35 from around the world for this 2 or 4-week program that explores women as leaders and innovators. Students learn about the key theories, current trends, and the most effective techniques for creating and implementing your vision. Our partnership with HQ Raleigh and e51 makes this program a unique opportunity to access to women entrepreneurs, innovators, and leaders in the Raleigh/Durham community. Due to housing restrictions, this program is only open to female students.
Choose from two-week or four-week options:
January 3-14, 2021 Intensive Women & Leadership Course
January 3-28, 2021 Extended program with Internship
"The sense of empowerment from the program gave me more leverage as I continue to navigate through the rigors Berkeley has to offer as a low-income, first-generation student. It reminded me to continue to take initiative and to go out in the world with a purpose in mind. I can't express enough how much it has helped me develop as a student and as a person."
Mary Mijares, University of California, Berkeley
Did you know: Raleigh/Durham is ranked as a top US city for women entrepreneurs! Home to a thriving ecosystem of female innovators, Raleigh/Durham boasts Forbes 30 Under 30 winner Tatiana Birgisson Founder of Mati Tea (she's a Leadership exCHANGE alumna!), iFundWomen, e51, SOAR, and Pinkcubator. Housed at HQ Raleigh, the US South's largest center for innovators, the program provides you access to women innovators from numerous industries and backgrounds.
Two-Week Women & Leadership Course
Intensive 2-week ENTR367: Women and Leadership. Learn to analyze the roles, responsibilities, and expectations of women in leadership positions. You'll examine cultural issues and trends from historical, sociological, political, and ethical perspectives. Focusing on women as innovators, this course delves into the:
Why does women's leadership matter?
Do women have an identifiably different way of leading?
What structural/institutional/cultural obstacles do women face?
How are how issues relating to women and leadership similar and/or different across cultures?
How are innovation and creativity tools for women and leadership?
What are the best practices and resources for women innovators?
Course taught in English and fully accredited. Transcripts are issued by the University of Delaware. Most students are able to transfer credit from the program as long as arrangements are made in advance with their home university. Please consult your home university prior to attending the program for specific details on transferring credit. The course has 45 contact hours and is worth 3 US semester credits or 6 ECTS (European system) credits. ​
Hands-on learning, Activities & Workshops: We are very fortunate to have unique access to wonderful innovators and social entrepreneurs who love to share their experience and knowledge! Tour unique startups in Raleigh and Durham, meet with innovators, participate in local innovation meet-ups, and learn first-hand about the entrepreneurial journey. The program provides you access to women innovators from numerous industries and backgrounds. Enjoy a wide array of activities, including:
Meetings with female leaders and social entrepreneurs
Introduction to the B Corps process (think Patagonia and Etsy)
Tours of unique startups in Raleigh and Durham
Cultural visits to Museums & Galleries
This class is for people who want to create any project (nonprofit, social enterprise and for-profit business welcome) or become more innovative thinkers inside of an existing company.
Expanded 4-Week with Internship
Gain real-world experience by interning with a company or social venture at HQ Raleigh. These companies are dynamic, interesting and growing! ​ The expanded program includes ENTR367 Women and Leadership and ENTR364 Entrepreneurship in Practice (Internship).
ENTR364 Entrepreneurship in Practice (Internship)
Based on your findings from the design sprint, we will create internship deliverables that give you the chance to implement some of these ideas for this organization. Polish your presentation skills with weekly updates to this company's leadership team and see what it is like to create valued based deliverables.
Articulate and apply principles learned in and outside of the classroom;
Complete assignments that encourage in-depth reflection of the internship experience;
Gain self-understanding, self-confidence, and interpersonal skills.
Did you know: Some of our students have been offered jobs when they graduate! For-profit, nonprofit and social enterprise internships available.
​All courses are upper-division, are taught in English and are fully accredited. Transcripts are issued by the University of Delaware. During the 4-week program, you earn 6 US credits which can be transferred upon approval from your home university.
Program Format
Week one and two: Spend the first two weeks diving into the concepts of women and leadership as well as an intensive design process to help a social enterprise solve a problem. What are the best practices for leading as an innovator or for developing your intrapreneurial skills? You will learn the steps of design mapping, how to conduct expert interviews, learn a variety of tools for the ideation process and deliver a final prototype.
Weeks three and four: During the third and fourth weeks you apply the new knowledge and skills to your internship with a startup or social enterprise.
Throughout the program, you participate in cultural activities and innovation events.
Many of our courses in each program qualify for the Sullivan Social Entrepreneurship Certificate.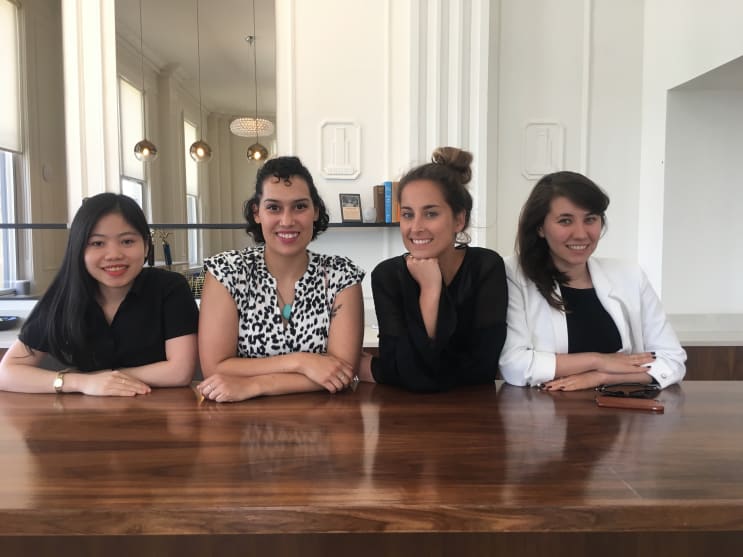 Housing, Cost & Applications
Tuition includes course credits, housing, field trips, and cultural activities. Travel to Raleigh and meals are not included. A non-refundable deposit is required to secure a spot in the program.
Two-week program: $2,650 USD. Includes 3 US credits.
Four-week program. $4,950 USD (6 credits). Includes 6 US credits.
Housing. Depending on the time of year, you may live at the ThinkHouse, a co-living space in Raleigh where new entrepreneurs launch scalable companies, or in a beautiful historic home on the same street. Rooms are double or triple occupancy.
Meals. Cook in your kitchen or eat out at the many restaurants that local foodies love. For lunch, you have access to HQ's Raleigh's full kitchen.
Explore the city by bus, bike and your feet!
Eligibility & Who should apply? Students who want to develop their leadership, cross-cultural, and innovation skills/knowledge. The program is open to all majors and to students from around the world. Typically participants in the program are university students ages 18-26. However, the program is also open to recent graduates, graduate students, and working professionals.
Applications are rolling admission. In preparation for our 21st Annual Program, we are getting an early start on the admission process. We strongly encourage people to apply early!
Short on time and want to get the process started before you do the full application? Submit your Interest Form first.
Scholarships
We understand that study abroad is an important investment in your intellectual and personal growth. Sometimes you need a little help, that's why we offer a limited number of scholarships. Not full scholarships; but partial scholarships. Scholarships are primarily reserved for students from Eastern Europe and developing countries, but it never hurts to ask (it's in the application).
Check with your school, too. Your study abroad, student activities, honors and/or financial aid office may have resources. Many of our students receive assistance from their universities or community. We will even give you a letter to help you out!
Welcome Y'all!
Last updated Mar 2020
About the School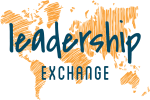 Leadership exCHANGE is an educational organization dedicated to providing young people with the skills and opportunities they need to become active and responsible citizens in this global community. P ... Read More
Leadership exCHANGE is an educational organization dedicated to providing young people with the skills and opportunities they need to become active and responsible citizens in this global community. Programs run throughout the year in Prague and Raleigh, North Carolina.
Read less