Web Development Part-Time Course
Program Description
The course is offered online and on-site.
Become a full-stack developer in 9-weeks. Learn front-end design and back-end architecture fundamentals using top-notch technologies like Angular 2, Express, MongoDB and agile methodologies.
Who is Ironhack's Web Development program for?
Career Changers
Looking to make a transition into a technical career? Ironhack's Web Development Bootcamp is designed to help you acquire the right set of skills to land a job as a junior developer or get started in another technical role.
Entrepreneurs
If you're thinking of launching a technology company, this course will help you acquire the technical skills required to build an MVP or better manage a technical team.
Career Boosters
This course is perfect for anyone looking to complement their existing skillset and move into more technically-focused roles e.g. (product managers, growth hackers, etc.)
Recent Graduates
Just graduated from high school or college? This course will give you the fundamental skills to launch a career in a technical field or start your own business.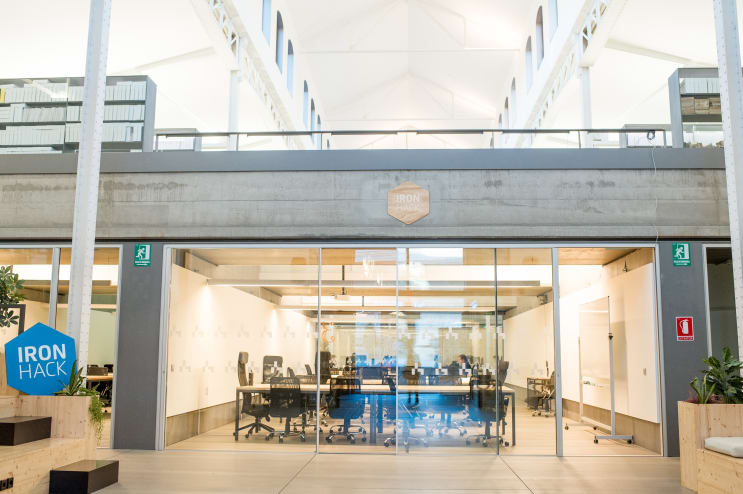 Course Syllabus
Prework
In just 60 hours, our platform's prep materials will guide you through the fundamentals of programming with HTML, CSS and JavaScript. Set up your web development environment on your computer, and learn to easily communicate with our expert teacher's assistants via email or Slack. Once you've finished the prework you will have:
developed the skills to fully take advantage of your bootcamp
been introduced to the Ironhack community and team and
constructed an optimized mindset.
Then you'll be perfectly prepared to thrive in our fast-paced campus!
Module 1: Responsive design with HTML, CSS and JavaScript (weeks 1 to 8)
In the first two weeks of Module 1 at Ironhack , you will learn the foundations of web development, though JavaScript will be your primary focus above all else. Topics include:
-HTML and CSS basics.
Responsive web design using Flexbox and Bootstrap and JS basics.
Core concepts of object-oriented programming, DOM manipulation and version control.
The las weeks will be devoted to your first project: coding a game of your choosing with JavaScript. Recreate your favorite childhood game, or develop your own original one – it's up to you!
Module 2: The Back-end (weeks 9 to 16)
In your fourth and fifth weeks at Ironhack , Module 2 will send you diving into the back-end to become a Full-Stack MERN developer. Learn how to create a server and discover the intricacies of data modeling. Topics include:
NodeJS
ExpressJS
Handlebars
MongoDB, a non-relational database
Mongoose, an object data modeling library that provides a rigorous modeling environment for your data.
The Module 2 project begins in Week 14. You will combine all of the technologies you've learned here in to create a Full-Stack web application. In order to make the process more fun and practical, you will complete the project in pairs, as tech companies commonly utilize pair programming.
Module 3: The Front-end(weeks 17 to 24)
The final module will crack open the Front-end in weeks 17 and 21. You will begin to master technologies that are relied upon by the biggest tech companies in and around the world. Topics include:
ReactJS, one of the most widely used Front-end frameworks.
Single Page Apps (SPA)
Component-based frameworks
And finally, crystalize everything you've learned with the final project of the bootcamp: create a Full-Stack application incorporating your Back-end knowledge, and on the Front-end create a SPA by utilizing ReactJS. Companies know that Full-Stack applications are just what the world needs today, so building your own will give you a head start when job-hunting.
Career Services
Portfolio & Resume Building
Build a portfolio and resume with support and feedback from experts throughout the course.
Job Interview Preparation
You will face code challenges every week to assure you are prepared to face a real interview.
Networking & Alumni Events
Ironhack hosts some of the most important Meetups in each city. Dive into the community through workshops, events, and conferences hosted on campus.
Hiring Fair & Job Support
Companies trust our training and come to interview you after the course during our Hiring Fair. We'll give you tools and opportunities to land your dream job.
Financial options
Need payment assistance? Our financing options through approved third-party lenders give you the flexibility to pay the course over time. https://www.ironhack.com/en/financing
Deposit
Our courses fill up fast. To secure a spot, you'll need to make a deposit which is due when you're accepted into the course. Deposit amount: 750€
Last updated Jun 2020
About the School
Ironhack is an international school with courses in Web Development, UX/UI Design and Data Analytics in Madrid, Barcelona, Miami, Paris, Mexico, Berlin, Amsterdam, Lisbon and Sao Paulo. Ironhack's pur ... Read More
Ironhack is an international school with courses in Web Development, UX/UI Design and Data Analytics in Madrid, Barcelona, Miami, Paris, Mexico, Berlin, Amsterdam, Lisbon and Sao Paulo. Ironhack's purpose is to transform the education space by making it customer-centric and outcomes-driven. Students finish the bootcamps with a new way of thinking and approaching problems, resulting in new jobs, promotions at their current jobs, or companies they've built.
Read less
Madrid ,
Barcelona ,
Amsterdam ,
Berlin ,
Lisbon ,
Mexico City ,
Miami ,
Paris ,
São Paulo ,
Madrid
+ 9 More
Less