Read more about this program on the school's website
Program Description
Earn U.S. Credits Virtually This Summer
Get ahead! Earn extra credit through a globally recognized U.S. education program this summer on our Virtual World DiscoverIES program.
Just picture it: one day you're exploring business ethics with a professor in London and the next it's Japanese pop culture from Tokyo, studying alongside classmates from the U.S.'s highest-ranked colleges and universities. This is what it's like to take a course or two (of your choosing!) from IES Abroad's most popular centers around the world this summer.
Learn more about how you can discover the world through IES Abroad.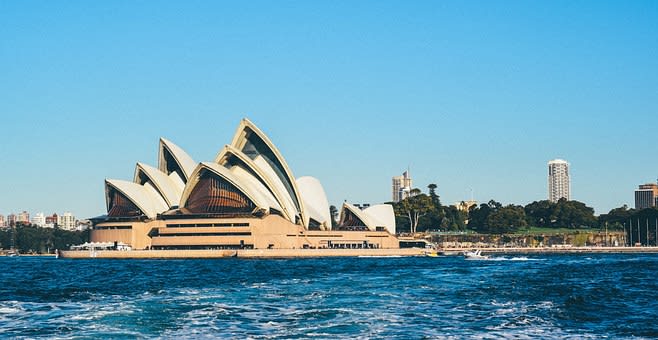 Why Sydney?
Take advantage of your chance to live and learn in one of the most beautiful and livable cities in the world—Sydney! Enjoy Sydney's comfortable climate (warm summers and mild winters), world-renowned beaches (think: Bondi, Manly, and Coogee), and iconic spots around the city (the Rocks, Harbour Bridge, and the Royal Botanical Gardens). We want you to feel at home in Sydney, so we do everything we can to help you integrate into life in the city. From housing to cultural events, our job is to make sure you have the most authentic study abroad experience possible.
What You'll Study
Our study abroad programs in Sydney offers you the opportunity to directly enroll in the prestigious University of Sydney with access to a vast array of course offerings across hundreds of disciplines. You can also enroll in an internship, which includes time spent working at your placement in addition to an academic seminar that helps you contextualize what you're learning.
Daily Life
Sydney will be your classroom. Enjoy the city's robust music scene with a performance at the world-renowned Sydney Opera House. Visit one of the many museums, such as the Museum of Contemporary Art or the Art Gallery of New South Wales to see some of the country's great works of art. Soak in the beauty of Sydney's landscape by walking the path from Coogee to Bondi Beach—or, better yet, climb to the top of the Harbour Bridge. Field trips to iconic destinations like the Blue Mountains, Royal National Park, and the Great Barrier Reef round our your study abroad experience.
Academics
IES Abroad's mission is simple: to provide you with the best study abroad program possible—which includes the highest quality academic and cultural experiences. That is why we partnered with the University of Sydney.
The University of Sydney's campus is on the edge of Sydney's main business district, with the hustle and bustle of daily city life at its doorstep. It offers easy access to the incredible natural beauty of Australia's varied landscape and a wealth of cultural and social opportunities in Sydney.
The University of Sydney
By directly enrolling at the University of Sydney, you have the opportunity to study at a university that is consistently ranked as one of the top universities in the world. Founded in 1850, the University of Sydney is Australia's oldest university and one of the original members of the prestigious Sandstones (similar to the United States' Ivy League). The energetic, diverse campus enrolls more than 50,000 students including 12,500 international students.
As a large and well-established research institution, the University offers challenging coursework throughout the curriculum and is internationally recognized for its research in Australian Studies through the Koori Centre and the AACSB- and EQUIS-accredited Faculty of Business and Economics.
If you're a music student or have a passion for music, the program at the Sydney Conservatorium of Music is particularly impressive. This is an amazing opportunity to learn from talented music professors from around the world.
Location
The historic and beautiful University of Sydney campus sits on nearly 180 acres and is known for its architectural design, extensive sports facilities, museums and galleries, and recreation centers. You can be in downtown Sydney in less than 15 minutes or at the beach in about 30 minutes.
Courses
The University of Sydney has long been internationally recognized for its academic excellence. You have access to the University's top-ranked teaching staff and world-class facilities, including a 5.2 million-volume library. With about 12,000 international students, the University's academic environment is characterized by diverse interests and viewpoints. In addition, the University of Sydney Business School is AACSB- and EQUIS-accredited.
The University issues Units of Credit (UOC) for courses completed. You must carry a minimum of 24 UOC per semester, which is equivalent to 16 IES Abroad credits. Most courses are worth 6 UOC or 4 IES Abroad credits, and you cannot take more than 30 UOC (20 IES Abroad credits).
The following disciplines are available to IES Abroad students. You can access descriptions for all courses at the University of Sydney on the university's Courses page. Keep in mind that "courses" may refer to a course of study (ie. Bachelor of Arts in Psychology), and "units of study" may refer to specific classes.
Agriculture, Food & Natural Resources
Agricultural Economics
Agricultural Science
Horticultural Science
Land & Water Science
Resource Economics
Architecture, Design & Planning
Art Studio
Audio Design
Building Services
Design Computing
Design Science
Facilities Management
Heritage Conservation
Illumination Design
Sustainable Design
Urban Design & Planning
Arts
Ancient History
Anthropology
Arabic & Islamic Studies
Archaeology
Art History & Theory
Asian Studies
Australian Aboriginal Studies
Australian StudiesBiblical & Jewish Studies
Celtic Studies
Chinese Studies
Classical Civilization
Classical & Ancient History
Digital Cultures
Economics
English
European Studies
Film Studies
French Studies
Gender Studies
Germanic Studies
Hebrew
Heritage & Museum Studies
History
Indian Studies
International & Comparative Literary Studies
International Studies
Italian Studies
Japanese & Korean Studies
Latin American Studies
Linguistics
Media & Communications
Medical Humanities
Medieval Studies
Modern Greek Studies
Museum Studies
Peace & Conflict Studies
Performance Studies
Philosophy
Religion
Spanish
Sociology & Social Policy
Southeast Asian Studies
U.S. Studies Centre
Sydney Business School*
Accounting
Business Information Systems
Business Law
Econometrics
Economics
Finance
Government & International Relations
Industrial Relations & Human Resource Management
International Studies
Management
Management Decision Sciences
Marketing
Political Economy
Education & Social Work
Informational Technology in Education
Outdoor Education
Primary & Secondary Education
Social Work
Special Education
Teaching English to Speakers of Other Languages
Engineering
Aeronautical
Chemical
Civil
Computer
E-commerce
Electrical
Mechanical
Mechatronics
Project Management
Software
Space
Telecommunications
Health Sciences
Aboriginal Health & Community Development
Behavioral Health Science
Exercise & Sport Science
Health Information Management
Health Sciences
Hearing & Speech
Leisure & Health
Medical Radiation Sciences
Nutrition
Occupational Therapy
Orthotics
Physiotherapy
Rehabilitation Counseling
Speech Pathology
Koori Centre
Health & Community
Indigenous Australia
Land & Culture
Policy & Power
Law (for Law Majors only)
Administrative
Constitutional
Contracts
Corporate
Criminal
Equity
International
Legal
Research
Litigation
Real Property
Taxation
Torts
Music (Sydney Conservatorium of Music)
Composition
Music Education
Musicology
Opera Studies
Performance (Requires additional application materials)
Pharmacy
Clinical Pharmacy
Herbal Medicine
Rural Pharmacy
Science
Artificial Intelligence
Biochemistry
Biological Sciences
Chemistry
Climate Change
Coastal Environments
Computer Science
Digital Media
Earth Sciences
Ecology
Environmental Science
Geography
Geology
Geophysics
History & Philosophy of Science
Information Technology
Marine Ecology
Marine Sciences
Mathematics & Statistics
Microbial Biosciences
Molecular Biology
Molecular Biotechnology
Neuroscience
Number Theory
Nutritional & Food Sciences
Physics
Plant Ecology
Psychology
*AACSB- and EQUIS-accredited
Sydney Conservatorium of Music
You have a once-in-a-lifetime opportunity to study at the Sydney Conservatorium of Music, a multimillion-dollar music facility located near the Sydney Opera House. The impressive conservatorium campus is home to two recital halls, 53 teaching studios, 63 practice rooms, choral and instrument rehearsal rooms, more than 140 pianos, and a library offering more than 300,000 materials. Classes are available to both music and non-music majors.
Classes at the Conservatorium focus on the history and analysis of music, ensemble studies, chamber music, art music, and music technology. To apply for admission to an undergraduate course, you must apply for an audition or interview where you present the prescribed conservatorium program. All application materials should be submitted to IES Abroad.
Advising & Support
Even though you're directly enrolling in one of our partner universities, we're here for you whenever you need us.
Advising
Choosing and directly enrolling in courses abroad can be confusing and overwhelming. This is why we offer you predeparture advising that's specific to your needs. Our goal is to provide support and guidance throughout your application and enrollment process.
But our advising services don't stop there. While you're in Sydney, our staff is available to help you transition into your new home.
Support
The support services we offer IES Abroad direct enrollment students are specifically designed to help you achieve your study abroad goals as effectively and smoothly as possible. We know studying abroad is an adventure, and, at times, you may need help or just someone to talk to—that's why our staff will be there for you.
On-Site Staff
Whether you have questions about academic requirements, housing, or well-being and safety, our Sydney-based IES Abroad staff is available to fully support you. Because of our close relationship with the universities in Sydney, IES Abroad is also able to offer you unique academic, social, and cultural opportunities. Our staff in Sydney will accompany you throughout orientation, as well as at the IES Abroad field trips and cultural events.
Internships
Interning while you study in Sydney gives you rewarding job experience with a wealth of long-lasting career benefits. You will:
Gain a better understanding of the real-life everyday culture of your host country;
Add global work experience and skills to your résumé or your application for graduate school;
Improve your confidence.
You complete a total of 120 hours at your internship placement. As part of the internship, the University of Sydney offers an extensive professional development program, tailored to assist you with cross-cultural understanding and skills in selling your experiences to future employers.
In addition to time at your internship placement, you maintain a reflective journal and submit a final report. You earn 6 UOC (4 IES Abroad credits) for an internship and typically enroll in three classes in addition to the internship.
Personalized Placements
Once you indicate your interest in an internship, the University staff will work with you to find the ideal internship placement that fulfills your academic and career goals. Students have been placed in a wide variety of organizations and businesses. If the University of Sydney doesn't currently have connections in your field of placement, the staff will search for a placement that's right for you.
Placement Examples
Past students have interned in the following fields. Don't see your field here? Just talk to your University advisor and the Center Director.
Communications
Design
Electrical & Mechanical Engineering
Event Management
Film & TV Production
Graphic Design
Marketing
Media
Field Trips & Events
Even though your adventure starts in Sydney, our field trips take you beyond the city to discover the culture and traditions of your host country. Here are a few possible destinations:
Kakadu and Top End Tour
5 Days
Take a mid-semester trip to Kakadu and the Top End, to see one of the world's best kept national parks. Spend time in Darwin, Australia's most Northern City before heading out to Kakadu National Park where we will discover magnificent landscapes, waterfalls, and rich Aboriginal culture. With everything from Jumping Crocodiles to discovering the beautiful Mindil Beach Markets, this subsidized trip (this trip is partially subsidized by IES Abroad; you are responsible for a portion of the costs) will show you a bit of Australia that is so unique and special, you will never forget.
Featherdale Wildlife & Blue Mountains
1 Day
Hike in the Blue Mountains and enjoy a visit to Featherdale Wildlife Park.
Royal National Park
1 Day
Explore the second-oldest national park in the world, full of fascinating plants, birds, and animals.
Daily Life
Part of making you feel at home in Sydney is doing our best to help you feel safe and cared for. Whether it is an orientation program that makes you feel prepared, housing that is well-located and comfortable, or the field trips that take you to exciting destinations—we're all about our student services.
Orientation
IES Abroad Orientation
Our orientation program is a dynamic, hands-on introduction to Australian culture and living in Sydney. Orientation includes sessions on academic transition, safety and security, and cultural adjustment.
Past highlights have included a boat cruise in Sydney Harbour. This is followed by a day-long hiking trip to the Blue Mountains, which has been declared a UNESCO World Heritage Site. They are well-known for their canyons, rock formations, and rainforests, and for being home to Aboriginal communities.
Additionally, CORE™, IES Abroad's Comprehensive Orientation & Re-entry Experience, begins during orientation and continues throughout the semester with activities focusing on cultural adjustment, goal achievement, and preparing for the return home.
University Orientation
In addition to the IES Abroad orientation, you take part in the international student orientation at the University of Sydney. This program provides an official academic orientation that further introduces you to the facilities and offerings at the University of Sydney. You finalize your enrollments and also have the opportunity to discuss course offerings one-on-one with a university advisor.
Housing
We want to make sure that your greatest challenge is deciding which landmarks to see first or discovering the best café—not finding a place to live where you feel comfortable. We do our best to locate housing that is reflective of how the local students are living. Our goal is that when you leave Sydney, it will feel like home.
As part of IES Abroad's direct enrollment services, we offer well-located, comfortable housing for all students because securing housing independently can be challenging. IES Abroad's housing options reflect the local student culture and meet our safety and security standards.
Sydney University Village Apartments
You live at the Sydney University Village apartments. Choose a single room, either within a five-bedroom apartment (with full kitchen facilities) or in a studio apartment with an en-suite bathroom and your own refrigerator. Studios are all grouped together in the same hallway and share a large kitchen. You'll have plenty of opportunities to meet other students. The apartments and studios are contained within the grounds of "The Village"—a tight-knit student community, housing primarily international students. Please note that five-bedroom apartments are typically mixed gender. Meals are not included, and an extra fee applies for the studio apartments.
The apartments are well-connected to Sydney's safe, clean, and frequent public transport network, and only a short walk to University facilities. Here, you have the opportunity to live right in the heart of the vibrant and youthful Newtown district, known for its bustling restaurant and café culture, shopping, and nightlife.
The University of Sydney is equipped with a wireless network, which you can access for free through your laptop.
Extracurricular Activities & Cultural Events
Redefine the way you live and learn in Sydney through our cultural events, such as:
Taking surfing lessons
Enjoying a dinner cruise in Darling Harbour
Taking a field trip to the Royal National Park
Attending an Aussie Rules football game
Celebrating the semester with a farewell dinner in downtown Sydney
University Clubs & Events
While you're in Sydney, be sure to join a social or sports club-they're a great way to meet local students. The University of Sydney Union is a great resource for this large university, sponsoring more than 100 student clubs, societies, and events. On the University of Sydney Union website, you can use the Clubs and Societies directory to find descriptions of activities that match your interests.
You also have access to all the university facilities, such as galleries, museums, a theater, health center, library, and recreation center.
Cost
Consider these prices as a starting point. We encourage you to contact your study abroad office to determine the actual cost to you when factoring in financial aid, scholarships, your home school policies, and other factors.
Spring 2020
| | | | | |
| --- | --- | --- | --- | --- |
| Term | Tuition | Housing | Insurance | Total |
| Spring 2020 | $16,240 | $6,435 | $475 | $23,150 |
Academic year
| | | | | |
| --- | --- | --- | --- | --- |
| Term | Tuition | Housing | Insurance | Total |
| Academic Year | $30,270 | $12,700 | $950 | $43,920 |
Scholarships & Aid
Program-Specific Scholarships
Robert McNeill Need-Based International Business Scholarship
Up to $3,000; awarded to 2 students each year.
This scholarship is named in honor of Robert McNeill, a member of the IES Abroad Board of Directors for 25 years (6 years as Chairman). Open to students who have an interest in international business. Majors might include management, marketing, economics, finance, international relations, and social and behavioral sciences.
Dr. William Louis Gaines Need-Based History or International Relations Scholarship
Up to $1,875; awarded to 4-6 students each year.
This scholarship is named in honor of Dr. William Louis Gaines, President of IES Abroad from 1974-1992. Dr. Gaines was dedicated to strengthening IES Abroad's academic framework, broadening the scope of IES Abroad locations, and securing the financial foundation of the organization.
Open to students majoring in History or International Relations.
Adelyn Dougherty Leander Need-Based Urban Issues Scholarship
Up to $3,000; awarded to 4-6 students each year.
Open to students who have an interest in urban studies (a major in urban studies is not required).
Study Abroad Scholarship for Future Engineers
Up to $10,000; awarded to 6 students each year.
The Study Abroad Scholarship for Future Engineers was established by an anonymous donor to encourage more engineering students to have the enriching, life-changing experience of study abroad.
Our Center
The IES Abroad office is located in Surry Hills, an inner suburb within the city of Sydney. It is immediately adjacent to the city center, known as the Central Business District, or CBD. Just a few blocks from Sydney's central rail station, it is well connected to the rest of the city and surrounding areas. Commuting time, by bus, to the University of Sydney campus is 15 minutes and to the UNSW campus 20 minutes. The Macquarie campus is 45-55 minutes away by public transportation.
Last updated May 2020
About the School
Everything we do is about the IES Abroad student. Our profoundly passionate team of study abroad professionals believes in creating once-in-a-lifetime educational adventures that transcend expectation ... Read More
Everything we do is about the IES Abroad student. Our profoundly passionate team of study abroad professionals believes in creating once-in-a-lifetime educational adventures that transcend expectations. Our goal is to rock the world of some 6,000 study abroad students every year.
Read less
Chicago ,
Amsterdam ,
Arles ,
Auckland ,
Barcelona ,
Beijing ,
Berlin ,
Buenos Aires ,
Cape Town ,
Christchurch ,
Dublin ,
Freiburg ,
Granada ,
London ,
Madrid ,
Milan ,
Nagoya ,
Nantes ,
New York ,
Nice ,
Paris ,
Oxford ,
Quito ,
Rabat ,
Rome ,
Salamanca ,
Santiago ,
Shanghai ,
Siena ,
Sydney ,
Tokyo ,
Puerto Ayora ,
Vienna ,
Hong Kong ,
Puerto Baquerizo Moreno ,
Cambridge
+ 35 More
Less