Program Description
1. TO WHOM IS IT DIRECTED?
To all those professionals, entrepreneurs and entrepreneurs who need to deepen their knowledge in commercial management and acquire a global and systematic view of the operation of the commercial area.
2. REQUIREMENTS
The Superior Program is open to all interested persons, regardless of their academic level.
3. OBJECTIVES OF THE PROGRAM
The Superior Program seeks to provide and consolidate in the student the knowledge and skills related to commercial management from a general and comprehensive vision. Its orientation allows focusing the cases in the present of our country and its particularities.
4. Where is the training delivered?
In our offices in Madrid and Barcelona, ​​blended or blended .
5. Modality
The blended modality combines the advantages of personal contact with a teacher and the flexibility of an online course:

• Face-to-face classes and personalized tutorials: encourage the reinforcement of the knowledge acquired through the presentation of practical cases and analysis of the theory. The personalized tutorials offer the possibility of solving doubts and dealing with specific examples that are of particular interest to the student.
• Online resources.
The online methodology allows great flexibility when updating and expanding information. The student will have access to the necessary information always updated, in addition to content not included in the program but that may be of interest.
• The material.
The contents of the course, presented in an entertaining way, are subject to a systematic review so that the agenda always has updated information. In this way, a practical approach centered on an authentic business context can be offered.
6. WORK BAG
All interested students will be able to include their curriculum in the course work exchange through the Virtual Campus.
7. TITULATION
The participants who successfully complete the course will obtain a double master's degree from EAE Business School and from the University of Barcelona-IL3 / Rey Juan Carlos University.

TEMARY
Module 1. Commercial management and supervision of the sales network
1. Introduction to business planning and variable analysis
2. Marketing Mix
3. Product and conditions of sale
4. Commercial distribution and distribution channel
5. Commercial Organization
6. Sales Forecast
7. Strategic client management
Module 2. Commercial equipment management
1. The new challenges of the Commercial Department
2. Selection of the sales network
3. The training of sellers
4. Supervision and evaluation of the sales network
5. Remuneration of the sales network
6. CRM in the direction of commercial teams
Module 3. The Consultative Sale
1. Psychology of the sale
2. Persuasive communication
3. Introduction and Evolution of Sales Methods
4. Retail sale or B2C
5. External B2B sale
6. Negotiation
7. The e-comerce
Module 4. Organization and planning of the seller's work
1. Areas and routes of sale
2. Time management and meeting management
3. Analysis and decision making
4. Administrative processes (Written communication with the client)
5. Information technology in commercial management
6. Discounts, late payment and payment terms
Last updated Mar 2020
About the School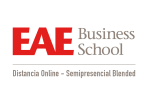 EAE Business School, consciente de esta nueva realidad, apostó en el año 2007 por incluir en sus programas las metodologías formativas de Distancia Online y Semipresencial Blended. De este modo sus a ... Read More
EAE Business School, consciente de esta nueva realidad, apostó en el año 2007 por incluir en sus programas las metodologías formativas de Distancia Online y Semipresencial Blended. De este modo sus alumnos pueden beneficiarse de las muchas ventajas que ofrece el hecho de poder estudiar a distancia:
Read less