Summer course - Oxford Architecture Programme
Home ›
Summer course - Oxford Architecture Programme
Program Description
Overview
The Oxford Architecture Programme will introduce aspiring architects to key concepts and theories, whilst at the same time providing an insight into what future study or a career in architecture will entail. This architecture summer course is two weeks in duration and takes place in the architecturally fascinating city of Oxford. ORA also offers this course in London. For students aged 13-15, ORA offers an Introduction to Architecture course.
Academic Content
With ORA's Oxford Architecture Programme, students will learn the principles of design, mapping, spatial planning and analysis essential to portfolio development. They will also be introduced to the basic concepts of construction and engineering that will underpin their future careers in and studies of architecture. On this dedicated architecture summer programme in Oxford, students will consider the modern role of the architect and space in our built environment, honing the key spatial thinking and verbal communication skills required for the creation and planning of all aspects of building design projects. Students will also develop the practical and technical skills essential for project design, as this course aims to introduce students to architectural drawing and model construction in manual and digital formats. These skills will then be put to the test in a final group-based design portfolio competition, allowing students to pair their theoretical and technical understanding with team-oriented skills developed over the programme. Students should have a keen interest in and will have ideally studied Mathematics, Physics and/or Art and Design, but advanced knowledge is not required. The course is for fluent English speakers and is two weeks in duration, with a choice of start dates in July.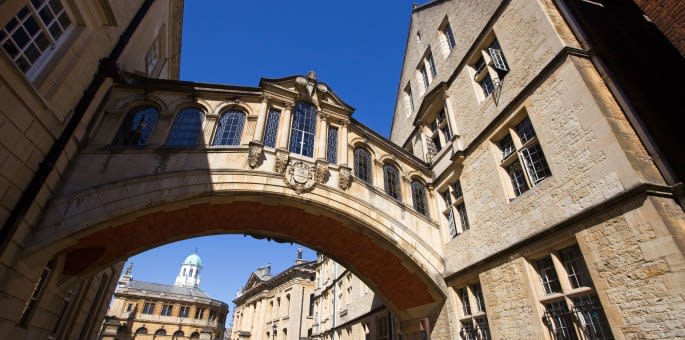 Learning Objectives
Students receive more than 20 hours of teaching per week, in classes of no more than 15. Lessons on architectural theory combine with skills-based workshops to allow students to learn about all aspects of architecture and gain an impression of the undergraduate study of this fascinating subject. Students will learn vital and invaluable skills for the modern workplace, which they will be able to use long after they leave the summer school. Through a variety of homework tasks, presentations and focus problems, students will develop their skills of communication (both written and verbal), problem solving and analytical thought. The course will include class visits to London to witness the latest innovations in modern architecture and design, and also to visit one of the UK's foremost schools of architecture.
Transferable Life Skills
Attendees on the Oxford Architecture Programme are encouraged to work on important key skills during their time with ORA. We believe that the experience of being away from home, living and studying in a college of the University of Oxford, enables our students to develop a suite of transferable skills that go beyond those available to students in their own school environment. Vital for future success in any career, these skills include:
developing strengths in independence, self-regulation and self-assessment;
confidence in dealing with a wide range of new people and situations;
responsibility for own learning, time management, and working with others;
communication skills in speaking, listening, and presenting effective arguments in a variety of different contexts.
Eligibility and Pre-requisites
Students on the Oxford Architecture Programme:
Must conform to our Age Policy.
Must be fluent or near-fluent English language speakers – if you are unsure whether your English level is suitable for this programme, please contact our Registrations Team on admin@oxford-royale.co.uk and they will be able to assist you.
Must be able to fulfil the basic requirements of the programme, in terms of attendance at lessons, meals and events. Please contact our Registrations Team for more detailed information.
Should check the pre-requisites of each option they select before enrolling, to ensure they possess the necessary knowledge to benefit from the subject matter discussed in the classes.
Last updated Feb 2018
About the School

Oxford Royale Academy students sleep, eat and study in a college of the University of Oxford — just like the University's undergraduates. This gives our students the rare opportunity to experience the ... Read More
Oxford Royale Academy students sleep, eat and study in a college of the University of Oxford — just like the University's undergraduates. This gives our students the rare opportunity to experience the magic of life in a College of the University of Oxford.
Read less