Program Description
Internships in Spain
Summer Internships in Spain (La Coruña)
Apply Today for Internships in Spain Accepting early bird applications until October 1! Early birds receive priority placement and a $200 discount on the program fee.
Program Overview
Our Summer Internships in Spain provide a unique opportunity to live and gain professional experience in the beautiful coastal city of La Coruña, Spain! You'll find yourself fully immersed in the Spanish language and culture as you'll both live and work with Spanish speakers daily. We place participants in an internship which is relevant to their major and in line with their learning objectives. All interns earn academic credit from the Universidade Da Coruña for their internship and may choose from a Spanish language course (intermediate or higher) or Business Spanish to take in addition to their internship during a 5 or 10-week stay over the Summer. Internships are usually Monday-Friday in the morning hours while classes are given Mon-Wednesday in the afternoons. Why La Coruña? La Coruña is a breathtaking coastal city in the lush region of Galicia offering beautiful beaches, delicious tapas bars, fresh seafood, and great nightlife! It's also one of the best cities in Spain to learn Spanish as it allows for complete immersion in the Spanish language. Beyond our group, it's very unlikely that you'll run into other Americans or native English speakers. In more popular Spanish cities, there are many English speakers which can make learning Spanish more difficult. If you're looking for the best place to improve your Spanish while enjoying the lively Spanish life, on a budget, La Coruña is the city to choose.
Internship Fields
We have a variety of Summer Internships in Spain; and, as we add new opportunities, we list them here. If you don't see an internship of interest listed, email us; and, we will let you know if we can find you a relevant role. intern@LinguisticHorizons.com
Program Options
Choose to study, intern or do both over a 5 or 10-week stay. Note: Dates are subject to change – please do not purchase your airline tickets until you have been formally accepted into the program. Duration Program Dates* Program Application Deadline Program Fee* 5 weeks June 17-July 21 or
July 22- August 24, 2018, 150 hour internship (3 semester or 4.5 quarter credits)
+ Spanish course (3 semester or 4.5 quarter credits).
Total 6 semester or 9 quarter units Early-bird: $3,795 Normal: $3,995 10 weeks June 17-August 24, 2018 250-300 hour Internship (6 semester or 9 quarter credits) + Spanish courses for 6 semester credits or 9 quarter units of Spanish. Total of 12 semester or 18 quarter units

Spanish courses during the first 5 weeks session for 6 semester/9 quarter units. 150 hour Internship in the second 5 week session for 3 semester or 4.5 quarter credits plus a Spanish course for 3 semester or 4.5 quarter units. Total of 12 semester/18 quarter units. Normal: $6,550
Early-bird: $6,350
Course Options
Spanish (all levels)
Internship (a wide variety of fields available – must have at least lower intermediate/conversational Spanish skills to qualify for the internship)
Professional Business Spanish (learn how to conduct yourself in a professional manner in Spanish.)


Program Fee Includes:
Tuition & official transcripts from UDC (6-12 semester credits = 9-18 quarter units depending on Program Option chosen)
Internship placement, guidance & performance evaluation
Housing with Spanish speakers
International medical & accident insurance
Day trip excursions (e.g. Santiago de Compostela, Islas Cies, etc.)
Planned Cultural Activities
24/7 local emergency contact
Local Program Director support
Welcome Orientation
Pre-departure support & travel tips
Certificate of course and/or internship completion


Program Fee Does Not Include:
Airfare – student flight deals are available here
Transportation to/from class/internship bus fare info here
Transportation to/from the airport (may take taxi or bus)
Meals (Meal Plan may be purchased separately)
(Optional) Extended Stay: You may prolong your stay by arriving early or staying longer for an additional fee.
(Optional) Travel & Trip-Cancellation insurance
Entry Requirements
Age: 18+
Must have at least low-intermediate (Level B1) Spanish to start the internship. Students who are close, may do the 10 week program, spending the first 5 weeks studying Spanish. Beginners, may opt for our study Spanish program.
You must have a valid passport for at least 3 months beyond the planned period of stay to travel to Spain. You also must have a return airline ticket. United States Citizens do not require a visa for stays of less than 90 days. For more important details visit: Spain and Andorra Country Specific Information. It is the responsibility of participants to obtain the correct travel documents.
Must complete the application process below.
Airfare: Participants are responsible for making their own flight arrangements. We recommend you plan to arrive 1-2 days before the program start date to allow time to settle in and adjust to the time change. Note: In the unlikely event the program is cancelled, Linguistic Horizons does not accept responsibility for any airfare cancellation fees incurred.
Application Process:
By Application Deadline!
Complete the application form.
Complete the DIALANG placement test and submit your results
Pay the $95 Application Fee
Email the following to intern@LinguisticHorizons.com:

A screenshot of your results from the 5 DIALANG tests
A letter of motivation in Word (.doc or .docx) explaining what type of experience you'd like to gain and why you'd be a valuable candidate.
Your resume or CV in Word (.doc or .docx) You may use this template if you like.

Once you've completed your application, we will review it. Within two days of submitting your completed application we will let you know if you have been accepted into the program.
Upon acceptance to move forward with your internship placement, we require a $500 deposit towards the Program Fee. This deposit is non-refundable unless we are unable to secure you an agreeable internship placement.
Pay Program Fee Choose a Program Fee Payment Plan (as described below). Total program fee is due in full by April 18 2017.
Email a copy of your passport, flight itinerary, and signed waivers to intern@LinguisticHorizons.com

Should you need any help with the application process, please do not hesitate to contact us: intern@LinguisticHorizons.com

*U.S. Citizens: If you do not have a valid passport already, you must apply for one or renew your old U.S. Passport. This can take up to 3 months for processing and delivery; although, for an additional fee you can request an expedited passport. More info here.

*For citizens of other countries, you should check with your local Spanish Consulate to determine if you are required to obtain a visa. Be sure to allow ample time for visa processing if needed.
Determining Your Language Level
Linguistic Horizons will determine your language level in three phases. First, we will consider any coursework you've completed to date. Next, we will consider your DIALANG test results. The DIALANG test will indicate your level according to the Common European Framework of Reference for Languages (CEFR). Finally, we will schedule a Skype interview to assess your conversation skills. For applicants who do not have a sufficient language level to begin the internship, we will place you in an appropriate Spanish course to help improve your Spanish before you start the internship.
Last updated Jan 2019
About the School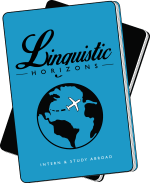 Linguistic Horizons fosters foreign language learning and cultural immersion through study aboard and internship programs. We facilitate experiences to destinations less traveled to encourage our part ... Read More
Linguistic Horizons fosters foreign language learning and cultural immersion through study aboard and internship programs. We facilitate experiences to destinations less traveled to encourage our participants to learn by interacting with locals.
Read less