Summer Course: Philosophy (Ages 16-18)
Home ›
Summer Course: Philosophy (Ages 16-18)
Read more about this program on the school's website
Program Description
Philosophy Summer Programme Overview:
Programme: Philosophy university insights
Fee: £4,595
Course Length: 2 weeks
Course Type: Residential
Locations: Cambridge University colleges
Are you a budding philosopher? Looking to dive into the world of philosophy on our award-winning Philosophy Summer School in Cambridge.
Cambridge Philosophy Summer School Summary
Philosophy is a broad subject that permeates many fields across the humanities and social sciences, something secondary school students do not always have the opportunity to appreciate. The Immerse Philosophy summer school course in Cambridge allows participants to gain an insight into what the study of Philosophy at university level entails: from the introduction of new material to writing good essays, to forming and defending an argument.
For many secondary school students, the study of Philosophy at university is new and potentially daunting. Through Immerse Education's Philosophy summer programme, designed and taught by experts from the world's leading universities, participants will not only be introduced to key themes and areas of philosophical discussion but also to the theories of famous philosophers who have contributed to such debates. In addition, regardless of the extent of participants' past experience studying philosophy, the small class sizes on our philosophy summer programme will ensure they will be both challenged and supported in carefully planned classes that encourage tutor-student engagement and debate.
Immerse is an inspirational academic Philosophy summer school programme for the intellectually curious.
Philosophy Summer School Key Benefits
Develop an understanding of a number of philosophical theories and historical texts
Benefit from the expert tutelage of some of the brightest minds in the field
Study in small groups in university-style tutorials
Explore the historic city of Cambridge with like-minded peers from around the world
Learn how famous philosophies have influenced the world around us
Experience university life in the UK
Philosophy Topics Covered
The world is as much a subjective place as it is objective, therefore it is important to understand why we think things are the way they are (epistemology) as well as acknowledging how things actually are (ontology).
Over the course of two weeks, participants on the Immerse Philosophy summer school programme will learn about a variety of topics that are not simply theoretical, but which also play a significant role in our everyday lives. For instance, they can expect to explore moral philosophy and understand some of the principles behind many of the laws passed by governments, discuss metaphysical beliefs which are the basis for some of the world's religions, and look at the various political philosophies that have shaped governments and fuelled national and global conflicts. The summer philosophy programme is an ideal taster of what it's like to study Philosophy at the university level.
Below is a list of topics that will be explored in detail on the Philosophy summer programme:
Early Modern Philosophy
Ethics
Political Philosophy
Epistemology
Metaphysics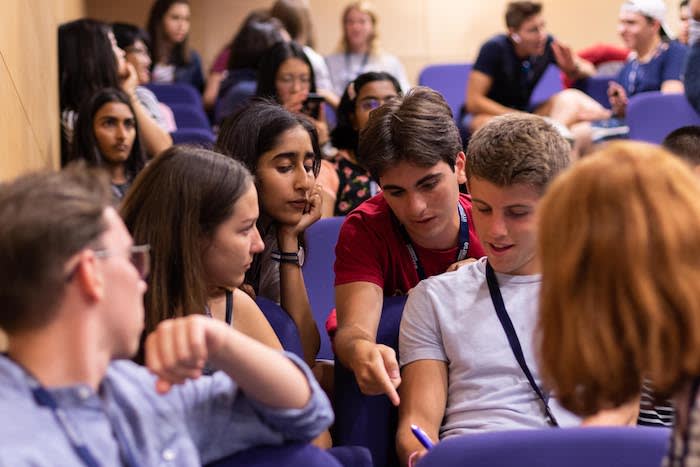 Philosophy Summer Course Outcomes
Immerse Education's Philosophy summer school programme aims to not only instil a greater understanding of the subject but also provide an unparalleled experience for its participants. By studying with like-minded people under the direction of passionate tutors, we aim to foster an enthusiastic atmosphere in which everyone is engaged with the programme and takes away a concrete understanding and appreciation of the complex and interdisciplinary field of philosophy.
Furthermore, by the end of the fortnight, participants return home with a sound understanding of what it is like to study philosophy at a leading university in the UK, through their studies and with the help of current philosophy undergraduates. As well as this, they will hopefully have a greater idea of what they want to do when they finish high school and choose their university programme.
In completing the summer philosophy course, participants will:
Learn how philosophy shapes the world around us
Develop outstanding debating skills
Become more rational and logical thinkers
Explore the history of philosophy
Be able to make an informed decision about their future studies
See how philosophy forms the foundations of many world religions
Understand how philosophy has been used to fuel conflict
Dive into the philosophies that try to answer the important questions about our own existence
Students in this course will receive personalised feedback from their tutors about their performance, the material covered, and even a list of individualised suggestions for further study.
Timetable
The timetable shown below offers an insight into the typical daily schedule, although this may vary depending on the events planned on the given day.
A typical day
08:00 - 09:30 Breakfast
09:30 - 11:30 Morning academic session
11:30 - 13:30 Lunch
13:30 - 15:30 Afternoon academic session
16:00 - 18:00 Academic workshop / Afternoon activity
18:00 - 19:15 Dinner
19:30 - 22:00 Evening social event
Start the day with either a continental or cooked breakfast in the college dining hall. A wide variety of breakfast items helps participants prepare for the challenging day ahead.
Case Studies
Nicola Ayoo, United Kingdom
2017 Philosophy Alumna
Nicola participated in our Philosophy programme in 2017. Here's what she has to say about her time with Immerse Education:
Studying with Immerse was an experience that I will never forget. It massively influenced my university application in terms of where I applied to do at the chosen subject. I really value the friendships that I made and the realisation that studying in such an environment isn't as daunting as it seems, but actually very encouraging. My mentors were both such an inspiration to me and I have kept in contact with my closest friends from the course as well as my tutor. Next year I will start at university and also embark on my second charity trip to Africa. I would strongly encourage others to sign up to Immerse - I now know what I want to study at university and have taken the necessary steps to do so, with the help of everything I learn from the programme.
Graduation & Participant Assessment
The final evening of the programme celebrates the achievements of each participant in a graduation ceremony that's followed by a Gala Dinner.
Throughout the Cambridge summer programme, our Immerse tutors will monitor student engagement with the topics that they have been taught. Once the programme has finished, the tutor will write a Participant Assessment that will evaluate how the participant responded to the materials they were introduced to, what progress they made during the sessions, and offer recommendations on how to most effectively advance participant's understanding and interest in the topics that have been explored.
We strongly believe that our Participant Assessments are a crucial element of the learning process and reflective of our commitment to the highest standards of education.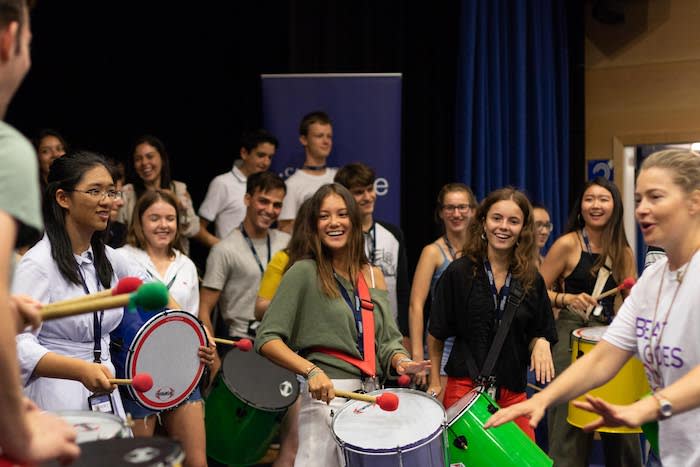 Last updated Oct 2019
About the School

Immerse Education is a two-week residential academic programme in Cambridge with a diverse and enriching curriculum, designed for 13-18-year-old students – providing a taster of what it's like to stud ... Read More
Immerse Education is a two-week residential academic programme in Cambridge with a diverse and enriching curriculum, designed for 13-18-year-old students – providing a taster of what it's like to study a subject at a higher level.
Read less