Summer Course: Architecture (Ages 13-15)
Home ›
Summer Course: Architecture (Ages 13-15)
Read more about this program on the school's website
Program Description
Architecture Summer Programme Overview:
Website: https://www.immerse.education/our-programmes/cambridge-architecture-summer-school-13-15/
Programme: Architecture
Fee: £4,595
Course Length: 2 weeks
Course Type: Residential
Locations: Cambridge University colleges
Cambridge Architecture Summer School 13-15 Course Summary
Architecture is a fascinating subject which encompasses academic and practical activities. Success in this field requires creativity, imagination and innovation, paired with environmental and technical expertise. Cambridge has had a strong impact on British architecture for centuries. From the solid, Brutalist design of the British Library, to the futuristic styling of the National Space Centre in Leicester, and the functional beauty of Heathrow's Terminal 3— all of these iconic buildings were designed and built by Cambridge University alumni. For aspiring urban designers, there are few better places to learn the discipline than here, surrounded by the legacy of great architects, such as Sir Christopher Wren, James Stirling, and Foster and Partners to name a few.
Throughout the two-week Immerse Education Architecture summer school programme for 13-15-year-olds, participants will tackle first-year university level architecture material, reside at a Cambridge University College, and develop new skills as they work through a carefully constructed syllabus which combines key architecture theory with practical experience.
The summer architecture programme is geared towards prospective undergraduate students who want to learn more about the world of architecture. After two weeks of instruction, students will leave the programme with a better understanding of the history and trends behind modern architecture, as well as the real-world challenges of a practising architect. They will also take home a portfolio of their own sketches and designs, created over the course of the fortnight.
Immerse is an inspirational academic architecture summer school programme for the intellectually curious.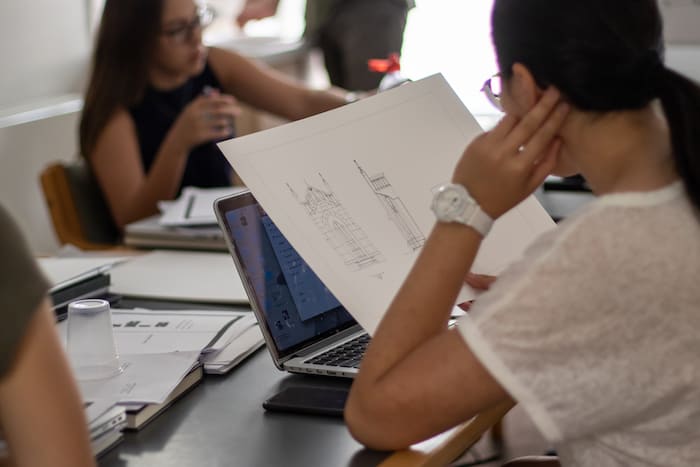 Architecture Summer School Key Benefits
Discover advanced topics and the fundamentals of architecture theory
Learn to "see architecture" on a guided tour of the city of Cambridge
Understand how history and legacy impacts modern architecture styles and trends
Put together a working design and proposal for a real-life project while developing key technical skills
Have your work critically reviewed by architecture experts
Learn how to craft a winning portfolio and understand how to present your skills in a professional context
Topics Covered
Practical experience is crucial to successful architectural designs, and we create our Architecture summer school programme with project-based learning at its centre. Not only will participants gain an in-depth understanding of the theory of architecture, but also acquire hands-on experience by crafting their own design ideas.
Participants will explore the skills and practices needed to become brilliant architects and learn about the various movements that have shaped some of the world's most beautiful cities. They'll have the chance to examine some of Cambridge's beautiful punt stations and then, under the guidance of our expert tutors, use their imagination and creativity to design their own. Finally, participants will walk and sketch through the historic City of Cambridge to gain inspiration, and expand their minds with a fascinating workshop on tectonics.
Architecture Summer Course Outcomes
Completing the Immerse Education Architecture programme is an inspirational experience for anyone considering a future as an architect. The knowledge and skills gained during the course are fundamental to giving students a significant insight into what university study will entail. However, as with most Immerse Education programmes, the Architecture programme is designed to leave students with much more than just new knowledge about urban design.
The programme also helps students get comfortable with the new routines and responsibilities of university life. For example, each programme participant will stay at a Cambridge University College throughout their studies and will take part in workshops designed to get them familiar with university life and the skills needed to thrive. They'll also be expected to take responsibility for their studies and schedule— essential skills for any university student.
Finally, participants will learn about life as an architect after university. Through a series of hands-on activities, each student will prepare, critically examine, and develop their own personal architecture portfolio. They will also work independently on a mock proposal for a real-world project, preparing as if they were pitching it to a client. It's this well-rounded, holistic approach to teaching architecture that makes Immerse an invaluable experience for young would-be architects.
In completing the architecture summer course, students will have gained insight into:
Theoretical Principles of Architecture
History of Architecture in Europe
Principles of Design and Space Planning
Planning Law
Building Control Regulations
Project Design/ Create a design portfolio for a team competition
Architectural Drawing Practice
A range of exciting practicals
Timetable
The timetable shown below offers an insight into the typical daily schedule, although this may vary depending on the events planned on the given day.
A typical day
08:00 - 09:30 Breakfast
09:30 - 11:30 Morning academic session
11:30 - 13:30 Lunch
13:30 - 15:30 Afternoon academic session
16:00 - 18:00 Academic workshop / Afternoon activity
18:00 - 19:15 Dinner
19:30 - 22:00 Evening social event
Start the day with either a continental or cooked breakfast in the college dining hall. A wide variety of breakfast items helps participants prepare for the challenging day ahead.
Case Studies
Ka Wing Tam, United Kingdom
2017 Architecture Alumna
Mimi participated in our Architecture programme in 2017. Here's what she has to say about her time with Immerse Education:
Studying with Immerse was one of the most exhilarating educational experiences I've ever had and chatting to the mentors and the tutors who were so passionate about their subject of interest was so inspiring. I loved sketching inside Cambridge colleges and doing the design projects and it was so useful to get advice from current Cambridge student on personal statements and interviews. Thanks to them I've been reading more books about architecture and building up my portfolio ahead of starting my architecture degree.
Beyond the academic support, Immerse is a great opportunity to meet people from different nationalities, learn about different cultures and make new friends!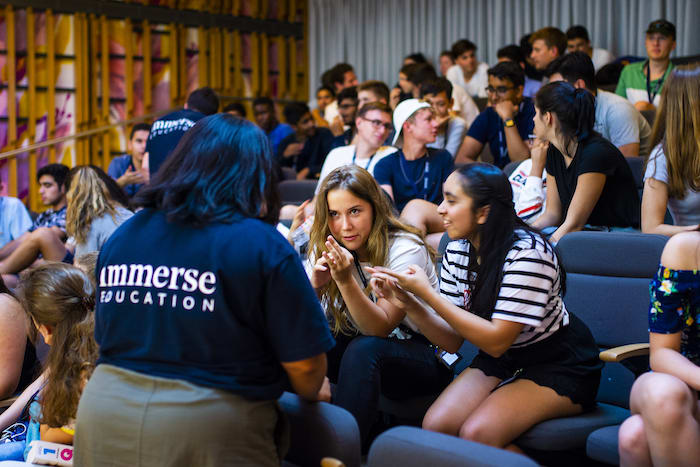 Graduation & Participant Assessment
The final evening of the programme celebrates the achievements of each participant in a graduation ceremony that's followed by a Gala Dinner.
Throughout the Cambridge summer programme, our Immerse tutors will monitor student engagement with the topics that they have been taught. Once the programme has finished, the tutor will write a Participant Assessment that will evaluate how the participant responded to the materials they were introduced to, what progress they made during the sessions, and offer recommendations on how to most effectively advance participant's understanding and interest in the topics that have been explored.
We strongly believe that our Participant Assessments are a crucial element of the learning process and reflective of our commitment to the highest standards of education.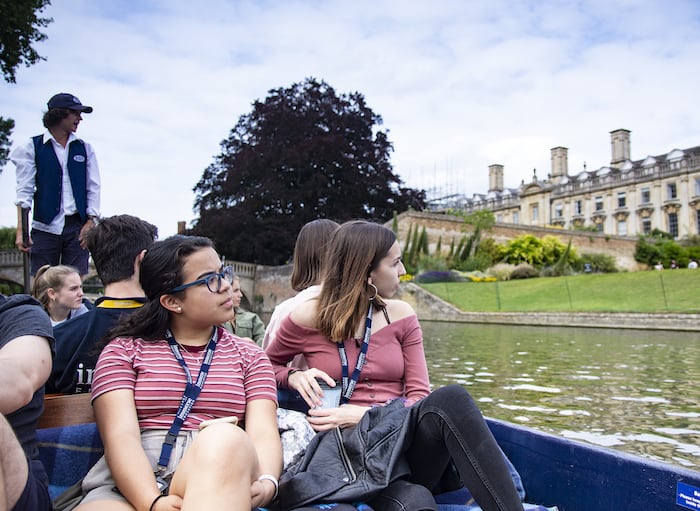 Last updated Oct 2019
About the School

Immerse Education is a two-week residential academic programme in Cambridge with a diverse and enriching curriculum, designed for 13-18-year-old students – providing a taster of what it's like to stud ... Read More
Immerse Education is a two-week residential academic programme in Cambridge with a diverse and enriching curriculum, designed for 13-18-year-old students – providing a taster of what it's like to study a subject at a higher level.
Read less