Spanish Pathway to Business Management
Home ›
Spanish Pathway to Business Management
Program Description
Studying at the CEU UCH means choosing a University which is different both in the 'what' and the 'how'. We offer a combination of experience and innovation. It is about being truly international and yet with strong local roots. In short, we can offer you everything you need to be whatever you want to be.
What makes us different?
1. A bilingual education
If you are interested in being taught in both English and Spanish in order to enrich your future professional profile, we offer the possibility of taking the first year in English and then continue teaching in Spanish for the rest of the degree. Our itinerary also adapts to every need:
For non-native Spanish students: during the first year all subjects are taught in English, except for 18 ECTS (which will be taken the following year) where instead we offer the student a module to support their Spanish language learning, which will help them adapt to teaching in Spanish later on in their degree.
For native Spanish students: during the first year all subjects are taken in English, except 18 ECTS that are taught in Spanish.
2. Our experience and our record
We believe that the best way to understand the business world and educate students in 21st-century business management is to use the case method. We believe in providing a solid theoretical grounding alongside special activities that can help our students to begin building their careers at a very early stage. We believe in it - and we do it. That is why you will see the reality of business from the start, taking a practical approach, and you will have the chance to learn from the best. It is certainly a different way of understanding what education should be but then we have a strong record of being different.
3. Cutting-edge facilities
The use of the case method means that the environment in which learning takes place has to be different. So, you will not just be learning in the lecture hall - you will also have to show your mettle during company visits and when you present projects in front of an audience of company directors. Other eye-catching and forward-looking learning spaces include the Hub 101 (the only place on campus where you cannot speak in your native language) and the Bloomberg Room, in which students can see real-time movement in the financial markets in real time. All of this takes place in one building.
In fact, it is highly likely that, for some of the practical projects that you will be involved in, you will need to work in conjunction with students on communication degrees. You might well work at some stage in our television or photography studios. We have everything you need to help you take full advantage of your business instincts and take on the world. Throughout your time as an undergraduate, you can take part in a range of business competitions and projects.
4. A real-world focus
The world has changed and, with it, the way future professionals must be educated has also changed. That is why you will receive an education which is practical and applicable to the real world from day one, with a range of additional programs and certificates which will prepare you to kick-start your career in the best way possible when you graduate. At the heart of this are internationalization, innovation, and creativity in the strategic management of resources you will learn about all of this from the first year when you will be in contact with leading professionals.
Visiting lecturers - key players at major organizations - will share their experiences with you.
Visits to companies and other training activities to enable you to gain first-hand knowledge of different industries.
Support and assistance for your business initiatives, via CEU Emprende.
5. The international dimension
Every day at CEU UCH you will be surrounded by students from more than 70 countries. In the globalized world, we live in, that is a big advantage for all our students - but particularly for those whose future is in business management. You can build relationships and synergies with people from across the world and broaden your horizons. Our study program also includes activities which will improve your English skills - very useful if you want to do an international placement or practical training abroad, helping you to gain a global vision of the business. And if you are looking for a way to perfect your international profile, remember that as a CEU student you can access the language training activities offered by the University's Languages Service.
6. Dual degrees from a University specializing in them
If you love the business management world, but you are also aware of how useful it could be for you to receive training in another area like law or marketing, there is no need to have to choose between them. The CEU Cardenal Herrera University has always been at the forefront of offering students opportunities such as dual degrees. We specialize in such programs and we make it easy for you: we arrange compatible timetables, there is no need to travel to different locations and, of course, you will not have to pay double the price.
Competencies
General Competencies
GC1. An ethical commitment to society in one's work.
GC2. Skills in information and communication technology.
GC3. An ability to work autonomously, enabling students to be entrepreneurial in their activities.
Specific Competencies
CEU Cardenal Herrera University graduates in Business Management must be able to show that they possess appropriate knowledge and understanding of businesses, the environment they operate in, and how they are administered and managed. Significant emphasis is placed on understanding and being able to respond to change and to anticipate such change.
Specifically, the Bachelor's Degree in Business Management (Grado en Dirección de Empresas) at the CEU Cardenal Herrera University seeks to provide students with the following competencies:
SC1. An ability to identify, frame and resolve problems by applying professional knowledge, and to understand the competitive and institutional standing of the organization by identifying its strengths and weaknesses.
SC2. An ability to administer and lead a company successfully, by managing time, motivation, behavior and change, adapting effectively to the business environment.
SC3. An ability to undertake quantitative and qualitative critical analyses, through the examination, interpretation, and extrapolation of data specific to a particular business context.
SC4. An ability to listen, negotiate, persuade and communicate in writing successfully, through the use of traditional business formats, such as the preparation and submission of reports on specific business and market issues.
SC5. An ability to use IT for business activities, and to identify relevant economic information sources and content.
SC6. An ability to lead and show entrepreneurial spirit, and to lead a company and form an effective part of a team.
SC7. An ability to evaluate one's own performance and to show sensitivity to other people, cultures, and businesses.
Career Opportunities
Business Management forms part of the wider field of social sciences and, therefore, it has strong links to disciplines such as law, economics, and industrial relations. Business Management graduates can be found employed within the civil service and private industry and also as business owners themselves. Areas in which such professionals are often found are
Administration, organization, and management of companies
Arbitration and legal activities
Auditing
Financial advice
Accounting
Tax advice
Consulting
Teaching
Statistical research and economic, accounting and financial publications
Educational economics
Health economics
Urban and economic development
Environmental economics
Economists for NGOs and development
IT for business
Commercial research and planning, marketing techniques and foreign trade
Staff selection and integration, working practices and resource optimization
Actuarial and risk assessment systems
Processing and analysis of business information
Although there is a wide range of career opportunities available to economists, the main areas are:
Teaching and research (in public and private institutions)
Business (public and private)
Civil service
Entrepreneurship
International organizations
Teaching Languages
English (20%) and Spanish (80%)
Last updated Jan 2020
About the School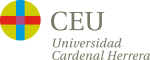 Our University belongs to the University Foundation San Pablo-CEU, the most important private education organization in Spain, having more than 26,000 students and 24 centres in every educative level, ... Read More
Our University belongs to the University Foundation San Pablo-CEU, the most important private education organization in Spain, having more than 26,000 students and 24 centres in every educative level, among those three Universities in Madrid, Barcelona and Valencia.
Read less