Program Description
Title Designer certified space Level II (Paris, 4th year with access to Nice) Certified Title Designer interiors Level III (Nice)
Duration of training: 3 years or 4 years involved in the design of the space, its development or rehabilitation. For it to meet the needs of its customer, to help resume the specifications according to the project requirements. It must bring coherence and relevance in the areas of housing, commercial architecture, scenography ... Our training is based on a theoretical and practical education. The student must acquire basic technical knowledge necessary to develop an architectural project: plan, elevation, section, perspective, materials technology, institutional norms, etc ... Employment in the sector is expanding. The pursuit of well-being, the aesthetics of colors and volumes, circulation, the ergonomics of the space ... are requirements that only a professional can master. For its practical learning and work alternately with his company, the student will learn to work with both individuals and agencies as well as all the trades related to the projects.
Title II RNCP level recorded at the National Directory of Professional Certification.
Opportunities
interior designer / architect collaborator
Designer space
Shooter plan
Development consultant
Site manager
Counselor-materials trader
Activity area
Interior designer, Consultancy, Building, Planning ...
TRAINING PROGRAMME
Design Design Workshop
interior architecture design workshop
Art History - semiotics
Graphical representation and technical drawing
Map reading
Perspective, drawing and coloring
model volume
Infographics
Materials Technology
SOFTWARE
Autocad
Photoshop
Indesign
Sketchup
Kerkythea
3DSMAX
Rhinoceros
ADMISSION TO SCHOOL
Bac or equivalent
File & maintenance (presentation of personal work)
TRAINING AVAILABLE
Initial training
linked training (professional contract)
Further education (CIF / CPF ...)
VAE (Validation of acquired experience)
Designer as the space is saved in RNCP (National Directory of Professional Certification) Level II under the number 26177 by ministerial decree of 26 May 2016, published in the Official Gazette on 07.06.2016, it is issued by the institution certifier ITECOM Paris. It is accessible from ITECOM Nice (former school).
Designer interiors as is recorded in RNCP Level III under the number 26153 by ministerial order of 05.26.16, published in the OJ on 06.07.2016. It is issued by ITECOM Nice (certifying institution).
The establishment ITECOM Art Design received OPQF qualification.
Last updated Apr 2017
About the School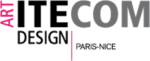 Situated in Nice, in Cimiez area, between the Matisse and Chagall museums, our institution covers an area of 1000 square meters.
Situated in Nice, in Cimiez area, between the Matisse and Chagall museums, our institution covers an area of 1000 square meters.
Read less