Six-Month Independent Filmmaking
Home ›
Six-Month Independent Filmmaking
Program Description
Designed for the independent filmmaker, this course is ideal for individuals wishing to write, direct and produce their own films, but with little or no prior experience in filmmaking. While developing your skills in these key areas on your own film projects, you will also gain valuable hands-on experience working on-set as crew members for your fellow classmates. In doing so, you will gain practical skills and knowledge in assistant directing, production management, production design, cinematography and sound recording. In order to finish your films, you will also learn how to edit picture and sound and gain a thorough appreciation of all aspects of postproduction.
By the end of this course you will be able to:
Write, direct and produce your own independent short film projects
Work on-set in a variety of crew roles with confidence
Direct and motivate actors to deliver the intended performance for a scene
No visa requirement for International students
Currently taking applications for April 2016
Limited places available
By the end of the course, you will have made 4 films and learned scriptwriting, directing, producing, cinematography, production design, editing, sound design and recording
Six-Month Independent Filmmaking
The Six-Month Independent filmmaking course has been designed to meet the demand for specific training in the major filmmaking disciplines for anyone who has a passionate desire to tell a film story but has had little or no experience in filmmaking.
It would also be of interest to someone who has optioned a written work and wants to write, produce and direct it or a writer who is currently writing or has already written a script and wants to create a professional trailer, or shoot a scene to leverage the best chances of securing funding or a commission from a broadcaster.
Roles
Central Film School believes that filmmakers find their voice by having a thorough understanding of the technical processes involved in the telling of the story. Hence, the course prepares students in the following roles:
Directing ( Director, 1st Assistant Director, Script Supervisor)
Cinematography (Director of Photography, Camera Operator, Focus Puller, Clapper/Loader, Camera Assistant & Gaffer)
Sound (Sound Mixer, Boom Operator)
Producing (Producer, Production Manager, Location Manager)
Editing (Editor, Sound Designer)
Scriptwriting (Screenwriter)
Course Highlights
Excellent practical tuition from working film industry professionals.
Learn to shoot on Professional High Digital.
Work on excess of 4 films during the course.
Smallest class sizes.
Learn not only to write and direct, but also how to work effectively in key crew roles.
Meet high-profile working industry professionals who tutor on the course.
New high-spec facilities including a fully air-conditioned studio.
Free access to equipment and facilities outside of class time.
On Completion
By the end of the course students will:
Have a working understanding of everything from how to assess the dramatic and filmic merits of a script to adjusting the sound design of the final version of their film.
Have gained practical skills in all major departments of filmmaking.
Be trained in the use of Adobe products such as Adobe Premiere Pro.
Be trained in professional production paperwork using industry standard software such as Movie Magic Scheduling and Movie Magic Budgeting.
Have gained practical experience in shooting on a variety of digital formats.
Students will have gained in excess of 4 film credits through the short films they write, direct, produce and crew on during their time on the course. These films are designed to provide the opportunity for students to apply the training they receive throughout the course. Student films are regularly submitted successfully to film festivals and can sometimes provide strong showreel material.
Last updated Feb 2018
About the School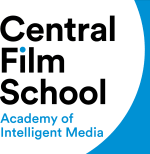 Central Film School delivers relevant, practical training in filmmaking and screenwriting in a supportive, collaborative and creative filmmaking environment. Small and friendly, the school provides co ... Read More
Central Film School delivers relevant, practical training in filmmaking and screenwriting in a supportive, collaborative and creative filmmaking environment. Small and friendly, the school provides continuous access to tutors and one of the highest student-to-equipment ratios of any school in the UK.
Read less