Read more about this program on the institution's website
Program Description
Earn U.S. Credits Virtually This Summer
Get ahead! Earn extra credit through a globally recognized U.S. education program this summer on our Virtual World DiscoverIES program.
Just picture it: one day you're exploring business ethics with a professor in London and the next it's Japanese pop culture from Tokyo, studying alongside classmates from the U.S.'s highest-ranked colleges and universities. This is what it's like to take a course or two (of your choosing!) from IES Abroad's most popular centers around the world this summer.
Learn more about how you can discover the world through IES Abroad.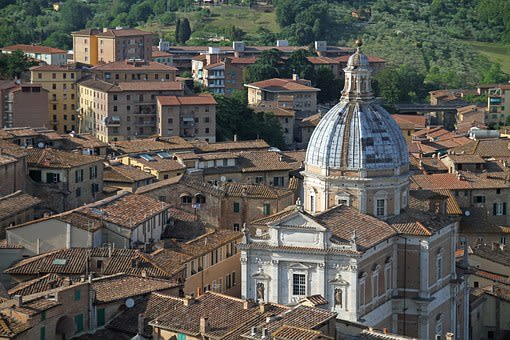 Why Siena?
The enchanting city of Siena is home base as you explore all that Tuscany has to offer. World-renowned cuisine, more than 120 nature reserves, Medieval masterpieces everywhere you turn, and the hustle and bustle of Florence (just an hour away)…should we keep going?
This program's signature course, Living Siena: Exploring Historical and Contemporary Tuscan Culture, guides you on an exploration of the region as you develop an independent research project throughout the semester. Esteemed faculty take learning outside the classroom with visits to Siena's piazzas and cathedrals, Renaissance art in nearby Florence, and a monastery in the idyllic countryside. This isn't just an exhibit at a museum—this is where you live.
History comes to life in Siena, as most evident in the robust life of the contrade—neighborhood districts that divide Siena into 17 subcultures with their own music, traditions, and lore dating back to the Middle Ages. Through activities of your contrada, you can learn from your neighbors how the contrade has influenced social, political, and religious life for centuries.
What You'll Study
Customize your academic experience with an Italian language course, English- or Italian-taught area studies courses, and a part-time internship. Take advantage of student life in Siena as you participate in Università degli Studi di Siena-sponsored activities and enjoy the libraries, cafeterias, and WiFi in University buildings throughout the city. You may be able to take courses at the University if you are at an advanced Italian language level or meet the prerequisites to take English-taught Business and Economics courses.
Daily Life
We want you to feel at home in Siena, so we do everything we can to help you integrate into your life in Tuscany. From housing to cultural events, our job is to make sure you have the most authentic study abroad experience possible.
Academics
Our mission is simple: to provide you with the best study abroad program possible—which includes the highest quality academic and cultural experiences.
We offer unique courses that explore Italian language, history, and culture, as well as other topics, through an in-depth and hands-on approach. Our world-class professors and the opportunity to take courses at Università degli Studi di Siena enhance your academic experience and provide you with new perspectives each day in class.
You must take 15–19 credits per semester and all courses are worth 3 credits unless otherwise specified. The course options that are available to you are determined by language proficiency.
Create your own academic experience by selecting from the following required and optional components:
IES Abroad Italian language course (required, 4 credits)
English- or Italian-taught IES Abroad area studies courses
Italian-taught courses at the Università degli Studi di Siena (credits vary, optional)
If you have at least 4 semesters of college-level Italian, on-site staff may recommend you for enrollment in one or two courses at the Università degli Studi di Siena.
English-taught Business or Economics courses at the Università degli Studi di Siena (4.5 credits each, optional)
Internship placement and accompanying seminar (3 credits, optional)
Signature Course
Living Siena: Exploring Historical & Contemporary Tuscan Culture
Take learning outside the classroom as you explore Tuscany in this program's signature course and develop an independent research project throughout the semester. You'll visit sites including:
Piazzas and cathedrals inside Siena's medieval city walls
Famous works of Renaissance art in nearby Florence
The Idyllic Tuscan countryside
Courses
This is a full list of courses offered in Siena. After you are accepted, you will see a list of final course offerings for your term in your MyIESabroad account. The final course list for each term will depend on faculty availability, students interested in each course, and discipline diversity.
Renaissance Art and Patronage: Comparing Siena and Florence
Living Siena: Exploring Historical and Contemporary Tuscan Culture
Italy and the Economic Integration of Europe Spring
Italian Cinema and Italian Cities
Family and Gender in Medieval and Early Modern Italy
The Black Death & Its Aftermath
Internship Seminar
Italian Language in Context: Novice Abroad I
Italian Language in Context: Novice Abroad II
Italian Language in Context: Emerging Independent Abroad I
Italian Language in Context: Independent Abroad I
Italian Language in Context: Emerging Competent Abroad I
Italian Language in Context: Competent Abroad
Dante's Commedia in Historical Context
The Literature of Love
The Grand Tour of Tuscany in Literature
Identity Between Dream and Reality in Italian Literature (Italian-taught)
History of Italian Political Philosophy (Italian-taught)
Nationalism & Regionalism in Contemporary Italian Politics
Mafia, Society, and Politics in Italy
The "Autobiography of a Nation?" The History and Ideology of Italian Fascism
History of Italian Political Philosophy (Italian-taught)
The Black Death & Its Aftermath
Family and Gender in Medieval and Early Modern Italy
Partner Institution(s)
Università degli Studi di Siena
Founded in the 13th century, the Università is one of Europe's oldest universities. The campus is spread throughout the city, including subterranean spaces and crypts.
Location
University buildings are spread throughout the city and are within walking distance of the IES Abroad Center.
English-Taught Business and Economics Courses
Enroll in one of the following courses:
Accounting
Corporate Finance
Financial Mathematics
Basic Macroeconomics
Basic Microeconomics
Private Law
Business Administration
Economic History
Political Economy
Statistics
Principles of Mathematics
Public Law
Starting in 2017-18
Banking Management
Business Law
Computer Tools
Economics of Money and Banking
Financial Institutions Management
Financial Markets
International Economics
These business and economics courses will carry 4.5 IES Abroad credits each.
Italian-Taught Courses
Highly regarded courses are available in the following disciplines:
Anthropology-Ethnology
Archeology
Art History
Economics
Engineering
History
International Relations
Law
Literature
Mathematics
Philosophy
Political Science
Sociology
Most courses carry 3 credits but credits can vary based on the course level. Course offerings vary from semester to semester. Exact course availability is determined shortly before the start of each semester. For this reason, it will not be possible for you to officially register until your arrival in Siena.
Student Life
Get to know local and international students through activities at the Università degli Studi di Siena. You will be provided with a membership to the Erasmus student network, a group that organizes social activities for international students. You will also receive periodical newsletters publicizing events around Siena, and on-site staff will assist you with getting involved in activities such as clubs or gyms.
A few highlights of student life at the Università include:
Support from International Student Tutors
Activities sponsored by the Erasmus Student Network
Sports - International students can participate in the course of gymnastics, tennis, dancing, football (male and female), self-defense, archery, swimming, yoga, ping pong. The Italian University Sports Centre (CUSI) also offers the opportunity to practice various sports, from judo to basketball, volleyball (male and female), rugby and fencing. Students have access to sports facilities at discounted prices.
Music & Theatre - Young musicians interested in jazz and other music can frequent the courses of the prestigious Fondazione Siena Jazz, the national jazz academy, which offers a series of introductory and masterclasses in jazz and related contemporary music, such as fusion, funky, Latin music, blues, jazz-rock, etc... The University of Siena has also special links with the Istituto Franci which is a university-level school for musicians.
Internships
Interning while you study in Siena gives you a rewarding job experience with a wealth of long-lasting career benefits. You will:
Gain a better understanding of the real-life, everyday culture of your host country
Add global work experience and skills to your resume or your application for graduate school
Improve your confidence
All of our internships are supervised and earn IES Abroad credit. You participate in a 3-credit seminar to complement the practical experience you gain during the internship.
Personalized Placements
Once you indicate your interest in an internship, we work with you to find the ideal internship placement that fulfills your academic and career goals. We've placed students with a wide variety of organizations and businesses. If we don't currently work with a business or organization in your field of interest, we'll search for a placement that's right for you.
Placement Fields
Past students have interned in the following fields. Don't see your field listed here? Just talk to your IES Abroad Advisor—new internships are always being added.
Accounting
Architecture
Archeology
Chemistry
Education
Hospitality
International Relations
Photography
Physical Therapy
Political Science
Sociology
Field Trips & Events
Even though your adventure starts in Siena, our field trips take you beyond the city to discover the cultures and traditions of your host country. You share a portion of the cost with IES Abroad. Here are a few possible destinations:
Arezzo
1 Day | Fall
Spend the day exploring the historic Tuscan town of Arezzo and all it has to offer, such as the 13th-century Basilica of San Francesco, the Cappella Baccia, the stunning fresco of Mary Madeleine by Piero della Francesca, and much more.
Bologna
3 Days | Spring
Spend three days discovering some of the many cultural and historical monuments in Bologna and the Emilia Romagna region—one of the richest and most beautiful in Italy, known for its regional cuisine.
San Gimignano
1 Day | Fall
After a visit and lunch in a local agriturismo, explore the small, walled, medieval town known for its skyline which earns the town its nickname of "The Town of Fine Towers."
Colle-Poggibonsi Railway Hiking
1 Day | Fall
Retrace the path of the old railway road, discovering archeological sites throughout the historic village of Podium Bonizi.
Pienza & Montalcino
1 Day | Fall
Explore Pienza—the ideal Renaissance town, wanted by Pope Pius II—and Montalcino. This day trip consists of visiting the Palazzo Piccolomini with its beautiful garden and the Cathedral, touring the Sant'Antimo Abbey, and partaking in a wine tasting.
Milan
3 Days | Fall
Spend three days discovering Milan, world-renowned as the European capital of fashion, design, architecture, publishing, modern art, and music.
Perugia, Assisi, & Bevagna
2 Days | Spring
St. Francis of Assisi lived and ministered in this beautiful hill town that offers a wealth of artistic and cultural treasures. Learn more about the development of one of Italy's most beautiful and peaceful regions.
Via Francigena
1 Day | Spring
Partake in a hiking outing along the Siena portion of an old pilgrimage route running from Rome to France.
Course-Related Trips
IES Abroad Siena organizes course-related trips that complement your courses and contribute to your knowledge of Italian culture and society. All course-related trips are included in your program cost and depend on course enrollment.
Past course-related trips have included:
Florence - Explore the culture and identity of Florence as you take in the topography, architecture, art, and spirit of the city on multiple day-long faculty-led trips.
Sites from the Renaissance and Medieval Periods - Discover how the past enriches the present cultural identity of Siena through visits to sites such as San Domenico Basilica, Banchi di Sopra, Piazza Tolomeni, and Croce del Travaglio.
Palazzo Pubblico - Town Hall - Learn about the architecture and history of Palazzo Pubblico and its chapel.
Cathedral of Santa Maria Assunta and Siena's Duomo - Conduct a case study of the Duomo area and find out about how the Sienese imagery was projected onto the public spaces in the city to present a distinct ancient identity.
Local Food Producers - Learn about food production, explore the workings of a Sienese bakery, or tour a chocolate shop.
Ancient Hospital of Santa Maria Della Scala - Consider the roles pilgrimage and devotional ritual played at Siena's prestigious hospital. Visit the dungeons of the hospital and the vault where Black Death victims' bones are on display.
Daily Life
Part of making you feel at home in Siena is doing our best to help you feel safe and cared for. Whether it is an orientation program that makes you feel prepared, housing that is well-located and comfortable, or the field trips that take you to places off the beaten path—we're all about our student services. This is just one of the things we're known for.
Orientation
The program begins with a one-week orientation that introduces you to the IES Abroad Siena staff, your fellow students, and the city of Siena. Topics such as academics, housing, transportation, and health and safety are covered during the week.
In addition to intensive Italian language sessions, settle into your new home in Siena as you sample aperitivi with Italian students, visit the Contrada Museum, pick olives in the Tuscan countryside, and explore the medieval past of Siena's surroundings during an archeological excursion.
Additionally, CORE™, IES Abroad's Comprehensive Orientation & Re-entry Experience, begins during orientation and continues throughout the semester with activities focusing on cultural adjustment, goal achievement, and preparing for the return home.
Housing
We want to make sure that your greatest challenge is deciding which landmarks to see first or discovering the best café—not finding a place to live where you feel comfortable. We do our best to locate housing that is reflective of how the local students are living. Our goal is that when you leave Siena, it will feel like home.
Apartments
Share an apartment with other IES Abroad students and a local Italian student in the historic center of town. Furnished apartments are single-sex, and usually, two students share a bedroom. Apartments have equipped kitchens, and you are responsible for your own meals. Italian roommates can help with improving your Italian language skills, getting to know Siena, and immersing yourself in the local culture. They also serve as the first point of contact for housing questions.
Homestays
Choosing to live in a homestay is a great way to experience cultural integration. Homestays generally house one or two students. Accommodations vary, and hosts provide you with light daily breakfasts and one additional daily meal.
Extracurricular Activities & Cultural Events
Redefine the way you live and learn in Siena through cultural events, such as:
Guest lectures
Language exchange meetings with Italian students from the University of Siena and the University for Foreigners
Outings to local music performances, operas, and plays
Cooking classes
University of Siena lectures, seminars, and conferences
Special dinners and events sponsored by a Contrada of Siena
Sporting events in Siena
Special museum exhibits
Università degli Studi di Siena - University Clubs & Events
One of the best ways to integrate yourself into the host culture and to meet local students is to become involved in groups and activities on campus. There are several sports clubs and activities, as well as student societies that you can join at the Università.
Cost
Consider these prices as a starting point. We encourage you to contact your study abroad office to determine the actual cost to you when factoring in financial aid, scholarships, your home school policies, and other factors.
Spring 2020
| | | | | |
| --- | --- | --- | --- | --- |
| Term | Tuition | Housing | Insurance | Total |
| Spring 2020 | $13,930 | $3,830 | $230 | $17,990 |
Academic year
| | | | | |
| --- | --- | --- | --- | --- |
| Term | Tuition | Housing | Insurance | Total |
| Academic year | $24,770 | $7,580 | $455 | $32,805 |
Scholarships & Aid
Program-Specific Scholarships
Robert McNeill Need-Based International Business Scholarship
Up to $3,000; awarded to 2 students each year.
This scholarship is named in honor of Robert McNeill, a member of the IES Abroad Board of Directors for 25 years (6 years as Chairman). Open to students who have an interest in international business. Majors might include management, marketing, economics, finance, international relations, and social and behavioral sciences.
Dr. William Louis Gaines Need-Based History or International Relations Scholarship
Up to $1,875; awarded to 4-6 students each year.
This scholarship is named in honor of Dr. William Louis Gaines, President of IES Abroad from 1974-1992. Dr. Gaines was dedicated to strengthening IES Abroad's academic framework, broadening the scope of IES Abroad locations, and securing the financial foundation of the organization.
Open to students majoring in History or International Relations.
Our Center
The IES Abroad Siena Center is located in a palace on the famous Piazza del Campo – a large, sunny plaza that is the center of social life in Siena. The palace, called Palazzo Chigi Zondadari, was built in the 18th century and served as a home to the prominent Chigi family whose lineage includes many intellectuals, artists, businessmen, and even a pope!
Features include:
Multimedia classrooms
Student lounge and library
Computer lab
Wireless Internet access throughout the Center
Last updated May 2020
About the School
Everything we do is about the IES Abroad student. Our profoundly passionate team of study abroad professionals believes in creating once-in-a-lifetime educational adventures that transcend expectation ... Read More
Everything we do is about the IES Abroad student. Our profoundly passionate team of study abroad professionals believes in creating once-in-a-lifetime educational adventures that transcend expectations. Our goal is to rock the world of some 6,000 study abroad students every year.
Read less
Chicago ,
Amsterdam ,
Arles ,
Auckland ,
Barcelona ,
Beijing ,
Berlin ,
Buenos Aires ,
Cape Town ,
Christchurch ,
Dublin ,
Freiburg ,
Granada ,
London ,
Madrid ,
Milan ,
Nagoya ,
Nantes ,
New York ,
Nice ,
Paris ,
Oxford ,
Quito ,
Rabat ,
Rome ,
Salamanca ,
Santiago ,
Shanghai ,
Siena ,
Sydney ,
Tokyo ,
Puerto Ayora ,
Vienna ,
Hong Kong ,
Puerto Baquerizo Moreno ,
Cambridge
+ 35 More
Less