Read more about this program on the school's website
Program Description
Earn U.S. Credits Virtually This Summer
Get ahead! Earn extra credit through a globally recognized U.S. education program this summer on our Virtual World DiscoverIES program.
Just picture it: one day you're exploring business ethics with a professor in London and the next it's Japanese pop culture from Tokyo, studying alongside classmates from the U.S.'s highest-ranked colleges and universities. This is what it's like to take a course or two (of your choosing!) from IES Abroad's most popular centers around the world this summer.
Learn more about how you can discover the world through IES Abroad.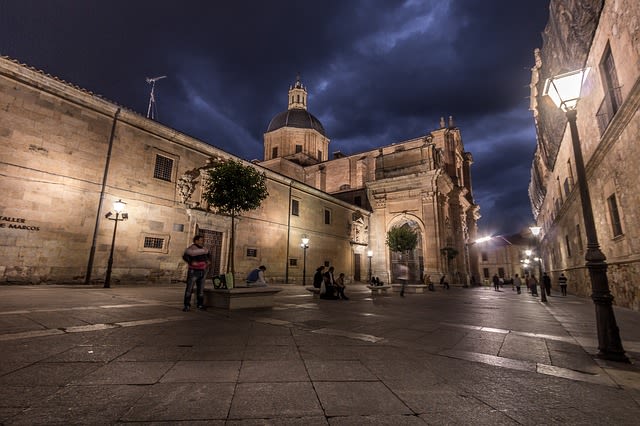 Why Salamanca?
As you study the human mind and behavior, what better way to learn more about yourself and others than living and learning abroad in Salamanca?
Designed for Psychology majors or minors, our Psychology Program is a collaboration between IES Abroad and the Universidad Pontificia de Salamanca, a prestigious university well known for its Psychology Studies. Courses will be taken at the IES Abroad Salamanca Center and Universidad Pontificia de Salamanca and will be taught in English. You'll be able to practice your Spanish skills with a mandatory language course while in Salamanca.
What You'll Study
Salamanca and beyond will be your classroom. The program also offers a variety of cultural activities and field trips to enhance the student experience. Get involved in activities like language exchange gatherings and "escape room" with local students, open mic, movie nights, pot luck with host families, yoga workshops, salsa and flamenco dance lessons, cooking classes, paella dinner, sports events, and local theater performances that will enrich your academic experience in Salamanca.
While adding study abroad to your résumé is impressive enough, adding an education internship during the spring semester is even more powerful, and can help distinguish your application for graduate school or a job opportunity in today's competitive market. Service-learning placements, which vary depending on the level of Spanish, are also available in the fall semester if you would like to gain a deeper understanding of the city's culture and society.
Daily Life
We want you to feel at home in Salamanca, so we do everything we can to help you integrate into life in the city. From internships to cultural activities, our job is to make sure you have the most authentic study abroad experience possible.
Academics
Our mission is simple: to provide you with the best study abroad program possible—which includes the highest quality academic and cultural experiences.
We offer unique courses that explore Psychology, Spanish language, as well as other topics, through an in-depth and hands-on approach. Our world-class professors and course options at prestigious Universidad Pontificia de Salamanca enhance your academic experience and provide you with new perspectives each day in class.
You enroll in 15–19 credits per semester and all courses are worth 3 credits unless otherwise specified. Credits awarded for supplementary university courses vary.
Craft your own academic experience by selecting from the following required and optional components:
IES Abroad Spanish language course (required, 3-7 credits)
IES Abroad Psychology courses in English (optional, 3 credits each)
IES Abroad area studies courses in English (optional, 3 credits each)
Psychology courses at UPSA

Universidad Pontificia de Salamanca courses in English (optional, 3 credits each)
Universidad Pontificia de Salamanca courses in Spanish (optional, 1.5-4 credits each)

Education Internship placement and seminar in English/Spanish (optional, 3 credits, Spring)
Service-learning placement and seminar in Spanish* (optional, required language placement minimum of SP303, 3 credits, Fall)
*Please note that service-learning placement options vary depending on the level of Spanish.
Courses
Spanish Avant Gard Literature: Poetry, Drama & the Unconscious
The Cultures of Spain: Understanding Past, Present, and Future
Spanish Avant Gard Literature: Poetry, Drama & the Unconscious
Psychology, Health & Well Being: Beyond Just Treating Mental Disorders
Psychology of Disability: Psychology of Disability: A Closer Look at Intellectual and Developmental Disabilities
The Cultures of Spain: Understanding Past, Present, and Future
Spanish Language in Context: Novice Abroad
Spanish Language in Context: Emerging Independent Abroad
Spanish for Global Health: Independent Abroad
Spanish Language in Context: Emerging Competent Abroad
Partner Institution(s)
Universidad Pontificia de Salamanca (UPSA)
UPSA was originally founded in the 13th century but closed in the mid-1800s. In 1940, the school was re-established and has continued to broaden its academic offerings with new opportunities for degrees and fields of study.
Courses
The following English-taught courses in psychology are confirmed for 2019-20:
Solution Focused Brief Coaching (Fall)
In this class, we will learn how to conduct conversations that are most useful to clients as they work to achieve their goals within a brief period of time. We will learn the whole brief coaching process, from the first to the last sessions, using the tools taken from the Solution Focused Therapy Model. We will learn how a coaching conversation may be guided to be useful to clients and that brief coaching can be adapted for use in a variety of settings: educational, organizational, health. This course is aimed at those who are involved in helping professions.
By the end of this course, students will have:
Knowledge and understanding of the Solution Focused Model
Knowledge of the coaching process (and its limitations)
Application of basic tools to conduct a brief coaching process
The knowledge to adapt the tools learned to a variety of settings (organizational, education...)
The knowledge to refer clients to other services when necessary
Developmental Psychology in Childhood and Adolescence (Fall)
This course focuses on the study and analysis of the processes of psychological change that occur from the beginning of life through adolescence. The bases of this discipline are studied, the main theories addressed, with a deep focus on the different areas of development. Goals for the course include:
Learning the foundations of developmental psychology as a scientific discipline;
Learning the main theories of developmental psychology;
Understanding the identity of each stage for development and its cognitive psychomotor, communicative, social, affective aspects;
Learning how to promote and facilitate learning among children in school with an integrating perspective of the cognitive, emotional, psychomotor, and volitional dimensions;
And applying the knowledge acquired in the course to specific case studies.
Affective and Sexual Development (Spring)
We will discuss the fundamental aspects of human development from infancy to adulthood and old age, mainly emphasizing the development and deterioration of the processes that are characteristic of each phase. The key concepts to be analyzed are focused on the affective, social and sexual development of the individual, pathology, and improvement of the functions.
The Neuroscience of Learning Fast and Slow: Implications on Education (Spring)
Through a variety of workshops included in this course, we will review cases and experiments with the purpose of viewing how intuitive thought works, how cognitive and social psychology interprets the heuristics of judgment, decision-making, and intuition. Additionally, the course will examine the gap between educational programs and the latest finding in neuroscience, focusing specifically on the teaching and learning of reading skills. Questions to be considered include:
Why is reading so difficult to master?
What profound alterations in brain circuitry accompany the acquisition of reading skills?
Are some teaching strategies better adapted to the child's brain than others?
*A link to the UPSA website where syllabi for these courses will be posted will be included here as soon as the syllabi are available.
Location & Commute Time
UPSA is five minutes away from Salamanca's historic Plaza Mayor and has numerous departments and university schools spread out among the Salamanca campus. UPSA also has departments and schools in Madrid and throughout twelve Spanish provinces.
Field Trips & Events
Even though your adventure starts in Salamanca, our field trips take you beyond the city to discover the culture and traditions of the Iberian Peninsula. Each trip is fully or partially subsidized by IES Abroad. Here are a few possible destinations.
Camino de Santiago
5 Days | Fall
Experience one of the oldest and most unique pilgrimage routes in Europe that ends at the site of the remains of St. James, one of the 12 apostles.
Sevilla & Granada
3 Days | Fall
Explore the famous cathedral in Sevilla and the Alhambra in Granada—the greatest monument of Moorish architecture in Spain.
Segovia
1 Day | Fall & Spring
Segovia is known for its Romanesque and Gothic architecture and for having one of the longest and best-preserved Roman aqueducts in all of Europe.
Zamora
1 Day | Fall & Spring
Tour a winery and see the largest collection of Romanesque churches in all of Europe.
Portugal
3 Days | Spring
Visit the oldest Portuguese University in Coimbra, the monastery of Jeronimos in Lisbon, and the Basilica of Fatima.
Sanabria Lake
3 Days | Spring
Hike through this natural park with local guides and explore the history and the legend of this lake on the Helios Cousteau, the first solar-wind powered boat.
Daily Life
Part of making you feel at home in Salamanca is doing our best to help you feel safe and cared for. Whether it is an orientation program that makes you feel prepared, housing that is well-located and comfortable, or the field trips that take you places off the beaten path—we're all about our student services.
Orientation
The program begins with a mandatory orientation that introduces you to the IES Abroad Salamanca staff, your fellow students, and the city of Salamanca. Topics such as academics, housing, transportation, and health and safety are covered during this time.
Additionally, CORE™, IES Abroad's Comprehensive Orientation & Re-entry Experience, begins during orientation and continues throughout the semester with activities focusing on cultural adjustment, goal achievement, and preparing for the return home.
You will participate in a one-credit Spanish language orientation course that includes intensive classes in Spanish conversation and colloquial usage.
Past orientation activities have included dance classes, a soccer tournament with Spanish students, and an excursion to Segovia, known for its Romanesque and Gothic architecture and for having one of the best-preserved Roman aqueducts in all of Europe. You also visit the charming Romanesque town of Zamora and the famous wine region of Toro. The program is designed to integrate you into every aspect of life in Salamanca.
Housing
We want to make sure that your greatest challenge is deciding which landmarks to see first or discovering the best café—not finding a place to live where you feel comfortable. We do our best to locate housing that is reflective of how the local students are living. Our goal is that when you leave Salamanca, it will feel like home.
Residence Halls – All rooms are singles with an en-suite bathroom and a shared kitchenette. The residence hall features a weight room, laundry facilities, computer lab, study area, and game room. IES Abroad provides you with 14 meals per week. You'll receive a meal card to use in various university dining halls.
Homestays - The homestay option for this program is only available for students who petition for this or need this option because it is mandatory for their home school. Otherwise, housing will be in the university residence hall.
Extracurricular Activities & Cultural Events
Redefine the way you live and learn in Salamanca through our cultural events, such as:
Local gastronomy outings
Spanish films, theater productions, concerts, and art exhibits
Spanish cooking classes
Guest lectures and cultural events sponsored by IES Abroad
Orientation Leaders and Mentors
Participate in activities organized by Spanish volunteer students from our partner universities. Whether it's an international potluck, a pickup game of soccer, or a tour of the city's best restaurants you will gain a unique perspective into student life in Salamanca and create lifelong friendships.
University Clubs & Events
Involvement in sporting clubs and student societies can be a great opportunity to meet local students. Club and event availability for IES Abroad students at the Universidad Pontificia de Salamanca varies each semester; during your orientation, you will learn about the different opportunities available during your semester in Salamanca.
Cost
Consider these prices as a starting point. We encourage you to contact your study abroad office to determine the actual cost to you when factoring in financial aid, scholarships, your home school policies, and other factors.
Spring 2020
| | | | | |
| --- | --- | --- | --- | --- |
| Term | Tuition | Housing | Insurance | Total |
| Spring 2020 | $10,075 | $2,645 | $230 | $12,950 |
Academic year
| | | | | |
| --- | --- | --- | --- | --- |
| Term | Tuition | Housing | Insurance | Total |
| Academic year | $18,125 | $5,290 | $455 | $23,870 |
Scholarships & Aid
Program-Specific Scholarships
William E. & Mary M. Dwyer Need-Based Spanish Scholarship
Ranges up to $1,000; awarded to 4-6 students each year.
These scholarships are intended for students interested in studying in a Spanish-speaking country.
Our Center
The IES Abroad Salamanca Center is located in the core of the city, near the Plaza Mayor and the historic campuses of the Universidad de Salamanca and Universidad Pontificia. Features include:
Modern facility
Wireless Internet access
A student lounge and study area
A small library
A computer lab
Last updated May 2020
About the School
Everything we do is about the IES Abroad student. Our profoundly passionate team of study abroad professionals believes in creating once-in-a-lifetime educational adventures that transcend expectation ... Read More
Everything we do is about the IES Abroad student. Our profoundly passionate team of study abroad professionals believes in creating once-in-a-lifetime educational adventures that transcend expectations. Our goal is to rock the world of some 6,000 study abroad students every year.
Read less
Chicago ,
Amsterdam ,
Arles ,
Auckland ,
Barcelona ,
Beijing ,
Berlin ,
Buenos Aires ,
Cape Town ,
Christchurch ,
Dublin ,
Freiburg ,
Granada ,
London ,
Madrid ,
Milan ,
Nagoya ,
Nantes ,
New York ,
Nice ,
Paris ,
Oxford ,
Quito ,
Rabat ,
Rome ,
Salamanca ,
Santiago ,
Shanghai ,
Siena ,
Sydney ,
Tokyo ,
Puerto Ayora ,
Vienna ,
Hong Kong ,
Puerto Baquerizo Moreno ,
Cambridge
+ 35 More
Less