Read more about this program on the school's website
Program Description
Earn U.S. Credits Virtually This Summer
Get ahead! Earn extra credit through a globally recognized U.S. education program this summer on our Virtual World DiscoverIES program.
Just picture it: one day you're exploring business ethics with a professor in London and the next it's Japanese pop culture from Tokyo, studying alongside classmates from the U.S.'s highest-ranked colleges and universities. This is what it's like to take a course or two (of your choosing!) from IES Abroad's most popular centers around the world this summer.
Learn more about how you can discover the world through IES Abroad.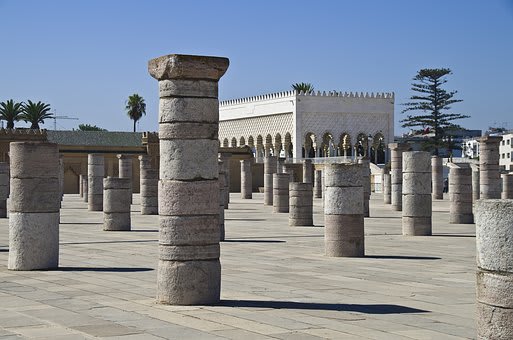 Why Rabat?
As you walk the boulevards of Rabat, it's hard not to be enchanted by the mystery and tradition of this timeless city. From the bustling souqs (open-air markets) and the energizing atmosphere of the city to the serenity of the nearby sea, Rabat is an ideal place to learn about the languages, cultures, and religions of North Africa and the Middle East.
What You'll Study
Our curriculum focuses on North African, Middle Eastern, and Islamic Studies, and IES Abroad courses introduce you to the many influential forces shaping the fascinating history and compelling culture of Morocco. Cultural events organized by the IES Abroad Rabat Center, such as an elaborate Moroccan mock wedding ceremony, cooking classes, a henna party, and more, are all designed to help you better understand and integrate into this culture. You'll have the opportunity to bond with your homestay family, as well, and perhaps even adopt a life-long obsession with couscous.
You'll further dive into the fascinating culture of this North African nation as you learn Modern Standard Arabic with courses at the beginning, intermediate, and advanced levels. Learn Colloquial Modern Arabic to communicate with Moroccans, and if you have already taken advanced French, you can take French-taught area studies courses at the IES Abroad Center or at our partner institution, Université Mohammed V.
Rabat will be your classroom. Rich in cultural heritage and diversity, Morocco has been influenced by many different ethnic and religious groups that have settled in the country throughout its long history. Visit treasures like the Rabat Archaeological Museum, the Hassan Tower, and the Mausoleum of Mohammed V to see ancient artifacts and learn more about the Islamic cultural influences.
You can also add international work experience to your résumé while earning credit by participating in an internship placement—in either English, French, or Arabic—and accompanying an English-taught academic seminar, all at no extra cost.
Daily Life
We want you to feel at home in Morocco, so we do everything we can to help you integrate into life in Rabat. From housing to cultural events, our job is to make sure you have the most authentic study abroad experience possible. Whether it's taking part in a volunteer opportunity, dance lessons, or cooking classes, you have many opportunities to gain a deeper understanding of Moroccan culture.
Academics
Our mission is simple: to provide you with the best study abroad program possible—which includes the highest quality academic and cultural experiences.
We offer unique courses that explore Moroccan Language, history, and culture with an in-depth and hands-on approach. Our world-class professors and course options at prestigious local universities enhance your academic experience and provide you with new perspectives each day in class.
You take 16–19 credits per semester. Modern Standard Arabic (6 credits, semester-long) and colloquial Moroccan Arabic during orientation (1 credit, during orientation) are required. All other courses are 3 credits, unless otherwise stated. Create your own academic experience by selecting from the following required and optional program components:
Orientation Course
IES Abroad Intensive Introduction to Colloquial Moroccan Arabic (required, 1 credit)
Semester Courses
IES Abroad Modern Standard Arabic course (required, 6 credits)
IES Abroad Colloquial Moroccan Arabic course (optional, 3 credits)
English- or French-taught IES Abroad area studies courses (optional, 3 credits)
French- or Arabic-taught courses at the Université Mohammed V (optional, credits vary)
Internship Placement and Seminar (optional, 3 credits)
Courses
Modern Standard Arabic Language in Context: Novice Abroad (Formerly AB 101 Beginning Modern Standard Arabic)
Intensive Introduction to Colloquial Moroccan Arabic Language in Context: Novice Abroad (Formerly AB 100A)
Colloquial Moroccan Arabic Language in Context: Novice Abroad (Formerly AB 100B)
Modern Standard Arabic Language in Context: Emerging Independent Abroad (Formerly AB 201 Intermediate Modern Standard Arabic)
Modern Standard Arabic Language in Context: Independent Abroad (Formerly AB 251 Upper Intermediate Modern Standard Arabic)
Modern Standard Arabic Language in Context: Emerging Competent Abroad (Formerly AB 301 Advanced Modern Standard Arabic)
Modern Standard Arabic Language in Context: Competent Abroad (Formerly AB 351 Upper Advanced Modern Standard Arabic)
North African Cultural Identities
Arab Media and Issues of Politics and Culture
North African Cultural Identities
The Economic Impact of Globalization on Morocco & Northwest Africa
French Language in Context: Independent Abroad
Gender and Society in North Africa and Beyond
Contemporary History Of Morocco And North Africa
Internship/Social Action Seminar
The U.S. and North Africa
Maghrebian Francophone Literature In Translation (English-taught)
Maghrebian Francophone Literature (French-taught)
North African Politics
Arab Media and Issues of Politics and Culture
The U.S. and North Africa
Islam In Morocco And North Africa (English-taught)
Islam In Morocco And North Africa (French-taught)
Gender and Society in North Africa and Beyond
Internship/Social Action Seminar
Partner Institution(s)
Université Mohammed V
Named after the former King of Morocco, the Université Mohammed V was founded in 1957 after Moroccan independence as the country's first modern university. IES Abroad Rabat students with advanced-level proficiency in Arabic or French may enroll in courses taught in these languages in the Faculty of Letters and Humanities of the University Mohammed V - Agdal.
Courses are available in Arabic and French and focus on language, linguistics, literature, and cultural studies. You are advised on-site about the academic offerings of the university. Courses are available in the following fields:
Communication
French Literature and French Studies
Geography
History and Civilization
Islamic Studies
Philosophy
Psychology
Sociology
Course offerings may vary from semester to semester and particular courses may not be available during your semester or academic year in Rabat.
Service Learning
When you volunteer in Rabat, you have the chance to make a difference in the local community while meeting new people and gaining a new perspective on the world. If you are passionate about volunteering abroad, just let the on-site staff know at the beginning of your term. Past volunteer opportunities in Rabat include:
Working with children
Beach clean up
Visiting patients in a hospital
Participating in refugee work
Engaging in cultural preservation
Assisting at a dog and cat shelter
Internships
Interning while you study in Rabat gives you a rewarding job experience with a wealth of long-lasting career benefits. You will:
Gain a better understanding of the real-life, everyday culture of your host country
Add global work experience and skills to your résumé or your application for graduate school
Improve your confidence
All of our internships are supervised and earn IES Abroad credit. You participate in a 3-credit seminar to complement the practical experience you gain during the internship.
Personalized Placements
Once you indicate your interest in an internship, we work with you to find the ideal internship placement that fulfills your academic and career goals. We've placed students with a wide variety of organizations and businesses. If we don't currently work with a business or organization in your field of interest, we will search for a placement that's right for you.
Placement Examples
Past students have interned in the following fields. Don't see your field listed here? Just talk to your IES Abroad Advisor—we are always seeking out new opportunities for our students.
Education
International Relations
Media
Museums
Non-Profit Organizations
Non-Governmental Organizations
Field Trips & Events
Even though your adventure starts in Rabat, our field trips take you beyond the city to discover the culture and traditions of your host country. These trips are partially subsidized by IES Abroad. Some trips carry an additional fee. Here are a few possible destinations:
Granada & Córdoba, Spain
4 Days | Fall & Spring
Experience the cultural and historical connections between Europe and Africa by visiting Granada's magnificent Alhambra. Tour an ancient mosque in Córdoba that now serves as a Catholic cathedral.
Middle Atlas Mountains & Berber Village
3 Days | Spring
Spend two nights with a Berber family in the Middle Atlas Mountains. Experience local Berber traditions and participate in activities such as visiting natural springs, meeting with local associations, making bread,and learning about medicinal herbs native to the region.
Sahara Desert
3 Days | Fall & Spring
Journey to the Sahara Desert to meet with Berbers living in traditional settings. Make your journey on camelback and gain insight into Berber history, culture, and music, and camp overnight at a desert oasis.
Tangier & Chaouen
2 Days | Fall
Explore the colorful sites of Tangier, where the Atlantic Ocean meets the Mediterranean at the Strait of Gibraltar. Then head to Chaouen to see its picturesque buildings in various shades of blue.
Fez & Volubilis
1 Day | Fall & Spring
After completing orientation in Meknes, visit the Medina and famed tanneries of Fez, and admire the ancient and well-preserved Roman ruins and more than 30 original mosaics throughout nearby Volubilis.
Course-Related Trips
Course-related trips are academic excursions associated with courses that are organized each term. They are organized to complement IES Abroad courses and contribute to a general knowledge of Moroccan culture and society. Participation is based on course registration. All course-related trips are included in the program cost.
Past trips have included:
Trip to Parliament Building
Chellah Kasbah
The Royal Library
The Royal Institute of the Amazigh Culture
National Human Rights Council
USAID
Democratic Association of Women of Morocco
Daily Life
Part of making you feel at home in Rabat is doing our best to help you feel safe and cared for. Whether it is an orientation program that makes you feel prepared, housing that is well-located and comfortable, or field trips that take you to places off the beaten path—we're all about our student services. This is just one of the things we're known for.
Orientation
Orientation begins with a brief stay in Rabat to meet the IES Abroad Rabat staff, visit the Center facilities, and tour some sights in the city. The second portion of orientation takes place in the city of Meknes, where you will live with a host family in the Medina, take intensive Colloquial Moroccan Arabic (Darija), and attend lectures on Moroccan culture and history. Before returning to Rabat, you will explore ancient Morocco with a field trip to Fez and Volubilis, the site of well-preserved ancient Roman ruins.
Our Comprehensive Orientation & Re-Entry Experience (CORE™)begins during orientation and continues throughout the semester with activities focusing on academic and cultural adjustment. Detailed information about housing, public transportation, culture, health and safety, and other important topics are covered during orientation.
Housing
We want to make sure that your greatest challenge is deciding which landmarks to see first or discovering the best café — not finding a place to live where you feel comfortable. We do our best to locate housing that is reflective of how the local students are living. Our goal is that when you leave Rabat, it will feel like home.
Homestay - Live with a local family in the Medina within walking distance of our Center and experience Moroccan traditions, family life, and cuisine. You will receive three meals daily. You may request to live with another IES Abroad student in your homestay.
Extracurricular Activities & Cultural Events
Take advantage of the cultural events we organize in Rabat, such as the following:
Cooking classes
Henna parties
Cultural debates
Mock Moroccan Wedding
Cost
Consider these prices as a starting point. We encourage you to contact your study abroad office to determine the actual cost to you when factoring in financial aid, scholarships, your home school policies, and other factors.
Spring 2020
| | | | | |
| --- | --- | --- | --- | --- |
| Term | Tuition | Housing | Insurance | Total |
| Spring 2020 | $6,325 | $2,020 | $135 | $8,480 |
Academic year
| | | | | |
| --- | --- | --- | --- | --- |
| Term | Tuition | Housing | Insurance | Total |
| Academic year | $25,025 | $8,230 | $455 | $33,710 |
Scholarships & Aid
Program-Specific Scholarships
John Gearen Need-Based Dublin or Developing Regions Scholarship
Up to $1,000; awarded to 2 students each year.
John Gearen, a member of the IES Abroad Board of Directors for many years and past chair of the Board for six years, is a leading real estate attorney and Rhodes Scholar who is involved in numerous philanthropic causes. Mr. Gearen has generously established this scholarship to support students who have an interest in studying on an IES Abroad Center in a developing region of the world (Argentina, Chile, China, Ecuador, Ireland, Morocco, or South Africa).
Our Center
The IES Abroad Rabat Center is located within easy walking distance of the Medina and is just steps away from the Mausoleum and Hassan II Tower.
With recent updates to our Center space, features include:
High-speed wireless Internet and printer access
Four multimedia classrooms
Student library and reading room
Outdoor patio
Small kitchen
Faculty lounge for meetings with professors
A beautiful Berber tent on the roof-top terrace
New security system
Updated staff offices
Last updated May 2020
About the School
Everything we do is about the IES Abroad student. Our profoundly passionate team of study abroad professionals believes in creating once-in-a-lifetime educational adventures that transcend expectation ... Read More
Everything we do is about the IES Abroad student. Our profoundly passionate team of study abroad professionals believes in creating once-in-a-lifetime educational adventures that transcend expectations. Our goal is to rock the world of some 6,000 study abroad students every year.
Read less
Chicago ,
Amsterdam ,
Arles ,
Auckland ,
Barcelona ,
Beijing ,
Berlin ,
Buenos Aires ,
Cape Town ,
Christchurch ,
Dublin ,
Freiburg ,
Granada ,
London ,
Madrid ,
Milan ,
Nagoya ,
Nantes ,
New York ,
Nice ,
Paris ,
Oxford ,
Quito ,
Rabat ,
Rome ,
Salamanca ,
Santiago ,
Shanghai ,
Siena ,
Sydney ,
Tokyo ,
Puerto Ayora ,
Vienna ,
Hong Kong ,
Puerto Baquerizo Moreno ,
Cambridge
+ 35 More
Less