Postgraduate Diploma in Finance
Program Description
Based on the ongoing threat from COVID19 (Corona virus), in order to ensure safety and the ability of delegates to successfully continue their studies with LSBF EE, all academic activities of the school are transitioning to virtual learning and teaching. For the foreseeable future, we will run our scheduled classes online, using Skype for Business (or a different platform where appropriate). All study material has been reviewed in order to successfully deliver the relevant lessons using a collaborative learning platform and extra study resources will be made available before, during and after the sessions where appropriate.
Apply now and GET 30% OFF ON ALL ONLINE COURSES for the summer intake.
Postgraduate Diploma in Finance
The Postgraduate Diploma in Finance has been created by a team of industry practitioners with the aim of providing you with the technical skills that are required to handle the finance-based challenges of the modern corporate world.
It will provide you with the confidence boost necessary to excel in the high stakes world of international finance. The course will enable you to undertake high stake tasks such as preparing for financial risks and developing a sharp judgment to help you make those all-important decisions.
Under the guided expertise of our course tutors who command decades of industry experience within their area of specialisation, you will learn how to interpret a variety of financial statements, learn about mergers and acquisitions, global financial markets, trading, financial modelling and more!
During your second semester of study, you will have the opportunity to conduct an independent research project based on an area of the field that interests you; this will be done with the supervision of an expert tutor who has knowledge and experience in your selected field of research.
Whether you wish to climb the career ladder further or you hope to progress onto a Postgraduate degree in Finance, our specialised course will ensure your success.
Course Requirements
Education - Undergraduate degree or equivalent Higher Education qualification, or relevant work experience
English language – Common European Framework (CEF) Level B2* or equivalent (all teaching and learning materials are provided in English only)
*Please note those with a B1 level of English and relevant proof of further study will be considered.
Last updated Mar 2020
About the School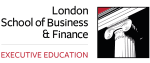 The London School of Business & Finance (LSBF) is a business school founded in 2003, with campuses in the UK, Asia, and North America. We offer a wide range of programmes from undergraduate, postg ... Read More
The London School of Business & Finance (LSBF) is a business school founded in 2003, with campuses in the UK, Asia, and North America. We offer a wide range of programmes from undergraduate, postgraduate, executive education to professional qualifications such as ACCA, CIMA and CFA®. Our recently acquired Queen's Award for Enterprise is the proof to our commitment to students and innovative approach to education.
Read less