Postgraduate Diploma in Enterprise Management
Home ›
Postgraduate Diploma in Enterprise Management
Program Description
The Part-time Post Graduate Diploma in Enterprise Management, known as the PGDip (Enterprise Management) PT, is offered by Rhodes Business School. Situated on Rhodes University's campus, it enjoys the benefits of a collegial, scholarly environment, while at the same time interacting with the local and international business community.
The PGDip (Enterprise Management) PT is a 12-month programme run within the Rhodes Business School starting in January each year and ending in December.
It is designed to meet the needs of graduates in full-time employment from a wide range of job functions who wish to:
Develop their entrepreneurship skills within their organisation;
Develop an Intrapreneurial approach to business;
Enhance their general management ability; and
Deepen and update their business knowledge, understanding and practice.
This Postgraduate Diploma is an NQF Level 8 equivalent qualification worth 120 credits.
It was developed to meet the needs of businesses who require innovative skills and entrepreneurial thinking within their organisations.
It also serves as a precursor qualification for those wanting to pursue an MBA.
The Intrapreneur within
The Intrapreneurial focus of the PGDip (Enterprise Management) PT is ideal
for people, who, while working within a larger organisation, are able to use their entrepreneurial skills to develop a new product, service or line of business within their organisation or as a subsidiary of their organisation.
The benefits of enrolling at Rhodes Business School
Rhodes Business School is plugged into the learning requirements of business today where most people who are working fulltime require the flexibility of a part-time programme.
Rhodes Business School has perfected this approach through its highly successful, AMBA-accredited modular MBA.
PGDip (Enterprise Management) PT students need only take off one week at a time from work, and a total of three weeks over the 12-month programme to attend teaching block lectures at Rhodes Business School on Rhodes University's campus in Grahamstown, Eastern Cape. A fourth teaching block will be facilitated online and students will participate in a "virtual" classroom from the comfort of their own home or office.
Personalised classes
During these weeklong teaching blocks, students experience small, personalised classes in Rhodes University's scholarly environment, with access to outstanding lecturers, facilities and libraries.
In addition to the stimulating learning environment, the networking opportunities of in-classroom sessions are invaluable to students. Rhodes Business School alumni frequently comment on the invaluable business contacts and friendships they gained through in-class contact.
About the PGDip (Enterprise Management) PT
The PGDip (Enterprise Management) PT is based on the "Problem Based Learning" philosophy. Students on the programme will be expected to learn by doing, where you simultaneously acquire a conceptual understanding and practical skills set.
The qualification will enable students to develop in-depth, discipline-specific skills and applied competence in the private and public sectors. It will provide opportunities for personal intellectual growth, more purposeful employment and making a greater contribution to society.
It will empower learners to solve problems in a focused way and to effectively manage and allocate resources, to communicate effectively and to contribute to knowledge and socio-economic transformation in a responsible, ethical and innovative manner.
Eligibility
Applications from persons who have obtained a degree in any faculty from a recognised university or institution will be considered (minimum of a degree or equivalent qualification; an equivalent qualification is an NQF level 7 qualification).
Persons who have majored in Management 2 & 3 at Rhodes University (or equivalent) will not normally be permitted to enrol.
Applicants should be competent in the electronic office suite of programmes (including MS Word, Excel, PowerPoint and a web browser). Your own laptop is essential and is a compulsory tool for the course. Successful applicants must
Last updated Feb 2019
About the School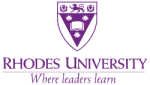 With just over 8200 students, Rhodes is a small University, which enjoys the distinction of having among the best undergraduate pass and graduation rates in South Africa, outstanding postgraduate succ ... Read More
With just over 8200 students, Rhodes is a small University, which enjoys the distinction of having among the best undergraduate pass and graduation rates in South Africa, outstanding postgraduate success rates, and the best research output per academic staff member. This is a testimony to the quality of students that Rhodes attracts and of academic provision, and to the commitment of Rhodes staff to student development and success.
Read less