Postgraduate Diploma in Art & Design - PGDP
Home ›
Arts ›
Postgraduate Diploma in Art & Design - PGDP
Program Description
Vision
Connect :: Extend :: Enrich
Srishti Institute of Art, Design, and Technology now gives undergraduate students of any discipline a unique opportunity: a year to find the time and a space to fill with ideas, with engagement, with passion and with an exploration of the possibilities of a better career and profession. Srishti has designed three unique pathways that will give students the opportunity to enter a program that:
connects the gap between a general Undergraduate degree in subjects as wide ranging as history, literature, hotel management, commerce or even computer application with professional education programs that serve the creative and cultural industries - Bridge Pathway.
extends, consolidates learning from a 3-year Undergraduate program that touched on professional skills in the creative or design sectors such as Animation, Interior Design, Graphic Design, Textile Design or others. Students will get the opportunity to master their skills through a year spent on active project-based learning, mentored by qualified professionals with considerable practical and professional experience - Finish Pathway.
enriches the learning in art and design a student has gained from a 4-year Undergraduate degree in art, design, architecture or allied fields by giving them a space to learn through the apprenticeship with practitioners, artists, designers, historians in their studios or projects - Apprenticeship Pathway.
Overview of the Program
Taught over two semesters this one-year graduate-level program is designed to fulfill the standards set by Level 8 of the National Skills Qualification Framework (NSQF). It offers three distinct pathways in which a student can engage with the program, all of which differ in method and process of learning. All pathways require active learning, participation in seminars, peer reviews and also require independent learning mindsets.
Pathway 1: Bridge
The primary purpose of this pathway is to make it easier for a student to enter a Masters program in Art and Design even with three years of undergraduate education from a totally unrelated discipline. So, this pathway represents a real opportunity for students who have completed a three-year course such as B.A./B.Sc./B.Com/B.Litt. or in service sector-oriented programs such as hotel management or hospitality as it will give them the essential skills needed to join Srishti's Master of Fine Arts (M.F.A.) or Master in Design (M.Des.) with its multiple choices of specialization.
After the Bridge program, students could consider any of these options:
Postgraduate Program in Design
Postgraduate Program in Fine Arts
Pathway 2: Finish
The primary purpose of this pathway is to give students an opportunity to practice and learn by doing – specifically after three years in quasi-design/creative programs such as a BA (Furniture, Interior, Graphic or Textile Design), B.Sc. in Animation, Advertising and or any other Media or Entertainment skill sectors. Students from Srishti who have successfully completed a one-year Postgraduate Certificate Program are eligible for this pathway.
Students will learn from industry-trained professionals and contemporary artists. They will work on professional briefs in a project space run in a range of creative disciplines. The core of the studio projects offered under this pathway range from animation, advertising & branding, to craft, product, textile or furniture design, user interaction or media art.
Students who take the Finish pathway will find themselves transformed. Many new careers have emerged today which prize design thinking and creative and artistic expression. After their time at Srishti, students will be able to look at new professions and careers in a range of creative sectors where skilled professionals are in short supply.
Pathway 3: Apprenticeship
This unique pathway is custom designed for graduates of four-year programs in either art, design or allied fields such as architecture to practice as an "apprentice" under a master artist, designer, film-maker or historian etc.
If students want to develop projects under artists in residence they may apply to/be accommodated within the following project, labor center:
Art in Transit
(Art)Science
Blank Noise
DesignEarth
Upaaya
If they want to apprentice under design professionals they may apply to:
Centre for Education Research Training and Development (CERTAD)
Centre for Public History (CPH)
Design+Environment+Law Laboratory (DEL Laboratory)
Impact Edge
LeNS LAB – Learning Network for Sustainability
Srishti Films
Srishti Labs (Slabs)
UNESCO Chair at Srishti
The Apprenticeship Pathway gives students the opportunity to move directly into a practice within the creative sector of their choice. A student could begin work as a creative professional in companies/ad agencies/design houses/production studios etc. Entry levels into these spaces will depend entirely on the quality of the portfolio.
Capabilities
All three pathways will provide for the development of professional competencies as described in the Level 8 of the NSQF.
Students graduating from Srishti will develop, in addition to the Level 8 skill requirements the following capabilities:
Demonstrate a comprehensive understanding of a chosen area of knowledge and ability to communicate the same through a paper/exhibition written/worked as part of their theory and seminar courses.
Question and extend known skill sets to develop a practice and ability to demonstrate your skills through studios and charettes.
Self-study, autonomy and creative problem solving through projects
Teamwork and management in response to design briefs' - through charettes and projects
Opportunities
The Master's programs following the PGDP will lead to careers that may culminate in positions such as Chief Design Officers, Creative Directors, Independent Artists or Filmmakers. Alternatively, ideas developed within the Masters could be presented for funding as startups.
Award
Postgraduate Diploma in Art and Design.
Inquiries
For further information, kindly email Swati Maskeri at swati@srishti.ac.in
Last updated Jan 2019
About the School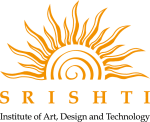 Srishti Institute of Art, Design, and Technology is a non-residential institution founded in 1996 by the Ujwal Trust with the objective of providing art and design education in an environment of creat ... Read More
Srishti Institute of Art, Design, and Technology is a non-residential institution founded in 1996 by the Ujwal Trust with the objective of providing art and design education in an environment of creativity to maximize the individual's potential.The Ujwal Trust also manages Srishti's sister institution, the prestigious Mallya Aditi International School.
Read less