Post-graduate course in Graphic Design
Home ›
Post-graduate course in Graphic Design
Program Description
The three-year Graphic Design Course Accademia di Comunicazione , one of the first in the field of Visual Communication in Italy, today boasts a long tradition and a showcase of prestigious national and international prizes awarded to students for their projects. In addition, the course also has the merit of having trained several generations of Graphic Designers immediately appreciated for the quality of their preparation and their experience. Many are now owners of their own professional studios and some have succeeded in establishing themselves abroad.
In fact, the Course is aimed, almost exclusively, at acquiring a wealth of practical experiences that will allow participants to create, among other things, a final presentation portfolio. The opportunities offered by the labor market, working both as freelance professionals and as collaborators of agencies or studies, must be seized in the most effective way. In this sense, the presentation of a good portfolio is the first step towards a professional path full of satisfactions. To this end, the Course is characterized by a significant presence of practical exercises supported by a more classical teaching methodology, following the philosophy of the "bottega" as a tool for rapid professional growth, effective and rich in experiences in the field.
The disciplines addressed during the three-year period aim to investigate and deepen all the application areas of Visual Communication, from the most traditional and rich in history to those currently most interesting for content and market prospects.
That of the Graphic Designer, using the Italian definition of Graphic Designer, is today a very complex profession but, at the same time, extremely stimulating. The fields of application are always those of the visual language, even if the ways in which the messages are conveyed have evolved and have changed considerably thanks to digital media. Therefore, the Graphic Design professional is not only an expert in visual languages, but also a director of communication strategies based on the sign, which are expressed on physical media, in real places or virtual environments.
For its history and the quality of the training methodology the Course has obtained the patronage of the Italian Art Directors Club.
The skills acquired in this Course are certified by the Lombardy Region and are valid at EU level within the EUROPEAN FRAMEWORK OF QUALIFICATIONS FOR PERMANENT LEARNING (EQF)
Study plan
1 years
Advertising TV | Art direction | Basic design | Creative concept | Digital media 1 | Geometric design | Foundations of computer science Photography 1 | Illustrator | InDesign | Brand and corporate image 1 | Mind design | Photoshop | Consumer psychology | History of cinema | History of art 1 | History of advertising 1 | Rough Techniques | Color theory.
2nd year
4 courses of Art direction with 4 different Creative Directors Preparations 1 | Create digital magazines for iPads and tablets Digital media 2 | Photography 2 | Graphic mobile | Brand and corporate image 2 | Marketing | Audio video editing Packaging 1 | Advanced Photoshop | Computer design | History of art 2 | History of advertising 2 | Layout techniques | Web design 1 | Wordpress.
Workshop with Companies, having as interlocutors marketing professionals, public relations, creative advertising.
3rd year
After Effects | Preparations 2 | Creative production | Photography 3 | Editorial graphics | Graphic Design Brief | Infographic | Packaging 2 | Advanced Photoshop | Post production 3D | Social media creativity | Visiting professor workshop | Web design 2.
During the third year students participate in national and international competitions, working on real projects for public bodies and non-profit organizations; they also work in workshops with real companies, having interlocutors as Product Managers, Accounts, Creatives and Public Relations Experts.
Stage after the courses
The internships, foreseen at the end of each Course, are to be considered first of all as a period of perfecting one's own formation and secondly as a possible opportunity for future work. For these two reasons, the internship is not automatically decided on the basis of pre-existing agreements with pre-established number of companies, but assumes that every year a specific and precise request by the Company is made with respect to which the students are preselected by the Academy, sent to the selection interview and selected by the same company. It is therefore not only the curriculum and the guarantee that the Academy gives to the Company, but what the individual student during the interview will be able to demonstrate with regard to their abilities and the way of presenting themselves, which will determine the choice of the Company itself. .
Accademia's commitment to the organization of "ad personam" internships that is renewed every year without ever yielding to automatisms of fixed agreements, is aimed at encouraging the possibility that at the end of the internship the student will be confirmed with a contract.
By attending this three year postgraduate course you will be able to work as:
Last updated Mar 2020
About the School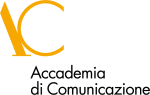 Da trent'anni Accademia di Comunicazione forma professionisti del Marketing, della Comunicazione e della Pubblicità con i suoi Corsi Post Diploma e i suoi Master Post Laurea.
Da trent'anni Accademia di Comunicazione forma professionisti del Marketing, della Comunicazione e della Pubblicità con i suoi Corsi Post Diploma e i suoi Master Post Laurea.
Read less