Post-Degree Diploma in Sustainable Business Practices
Home ›
Post-Degree Diploma in Sustainable Business Practices
Program Description
About
With our two-year Post-Degree Diploma in Sustainable Business Practices, you will study business principles and focus on the knowledge and analytical skills needed to promote sustainability initiatives in the business environment. The diploma program allows you to build a foundation in economics, accounting, general management, and marketing and then develop more specific knowledge in sustainable business practices. Your courses will be delivered in a variety of ways, including face-to-face lectures, online and hybrid courses, and laboratory experiments.
Improve employability with a highly-specialized post-degree diploma in sustainable business practice
Supplement your established area of study with the knowledge to thrive in the "green" economy
Develop your sustainability planning and reporting skills to help local businesses reduce their impact on the environment
Overview
This post-degree diploma program is designed for students who have a bachelor degree in a nonbusiness field. The first year of the diploma provides a foundation in business administration; the second year focuses on the knowledge and analytical skills to promote sustainability initiatives and support sustainability requirements. Students will examine best practices in sustainable business activities, perform case study analysis, compare sustainable reporting frameworks, and examine environmental sustainability from a scientific perspective. Sustainable business planning will also be examined through government, not-for-profit and for-profit business lenses focusing on specific business functions such as marketing, human resource management, finance, operations and leadership.
This credential recognizes the growing demand for working professionals who can develop and manage sustainability initiatives. Sustainability reporting requirements are increasing at all levels of government and are often required to obtain contracts, funding, grants, and licenses. Public companies are accountable to consumers and ethical investors for their sustainability practices and environmental impact. Sustainability planning can also strengthen communities while increasing employee retention and morale. Sustainability also has an economic dimension in terms of the proven benefits of improving supply chain logistics, refining operational procedures, and reducing waste.
Prerequisites and Transfer Credits
This program is offered by the Business Administration department. It is interdisciplinary in nature and includes Flexible Assessment (FA) components.
Prerequisites:
A degree other than Business, Commerce, Finance or Tourism from a recognized university/college or permission of the Dean is required. Students with a business-related degree from another country may enter the post-degree diploma program in order to retake introductory business courses in a Canadian context; however, no transfer credit is awarded for past work and all 20 post-degree diploma courses must be completed at COTR (i.e. 100% residency). Flexible assessment is not available for these students.
Students whose first language is not English must have an IELTS assessment score of at least 6.0 in all bands and 6.5 overall.
English proficiency at the university/college level is required; students who have not already completed ENGL 100 or equivalent with a C+ or higher must take ENGL 100 as a program course requirement.
Minimum grade of 65% in either Foundations of Math 11, Pre-Calculus 11, Principles of Math 11, Applications of Math 12, MATH 080 or MATH 082.
Graduation Requirements: Students must maintain an average grade of at least 65% and minimum course grades of at least 60% in all courses contributing to this credential.
Flexible Assessment: A minimum of 25% of program credits must be completed with College of the Rockies' courses. For the Post-Degree Diploma in Sustainable Business Practices, this amounts to at least 15 credits. In most cases, students will complete a minimum of five sustainability courses (i.e. MGMT 303, MGMT 305, MGMT 307, MGMT 310, and MGMT 410).
Transfer Credit: Transfer credit may be granted for courses taken at other institutions on a case by-case basis.
Last updated Feb 2020
About the School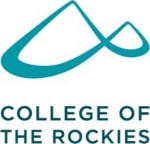 Located in the Kootenay Rocky Mountains of southeastern BC, we offer you lifestyle and learning opportunities to match our spectacular setting.
Located in the Kootenay Rocky Mountains of southeastern BC, we offer you lifestyle and learning opportunities to match our spectacular setting.
Read less