Post-Baccalaureate in Studio Art
Home ›
Arts ›
Post-Baccalaureate in Studio Art
Read more about this program on the school's website
Program Description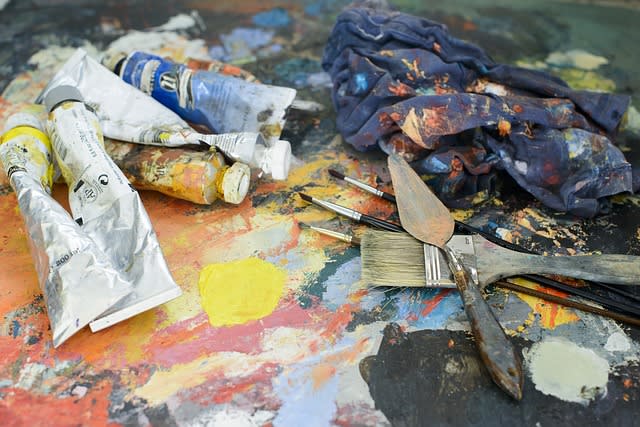 The Post-Baccalaureate Certificate is a one-year program that offers intensive studio art study and individual development closely advised and supported by SMFA faculty. The program is ideal for students who have completed a bachelor's degree and want to immerse themselves in rigorous studio art-making. Whether you have recently graduated or are changing careers, the Post-Baccalaureate Certificate also provides excellent preparation for graduate study in art or for professional practice as an artist.
The Post-Baccalaureate program attracts applicants from a wide range of backgrounds. Some Post-Baccalaureate students are recent college graduates seeking a year of intensive studio education before beginning independent work as artists. Others come to initiate professional art practice after working in a different field. Still, others are working artists who seek to expand their skills or explore new media.
Why the Post-Baccalaureate Program?
Completion of the Post-Baccalaureate Certificate prepares you for a variety of paths. Some students go on to graduate degree programs, such as the MFA, many others participate as fellows in professional artists' residencies. Whether immediately or after further formal study, most graduates sustain professional practice as artists.
Intensive time in the studio
With a curriculum of courses of your choosing, with guidance from your faculty mentor, your Post-Baccalaureate year allows you to immerse yourself in your studio work. You may choose to focus on one medium—or explore mediums across the curriculum.
A focus on contemporary art
Post-Baccalaureate students actively engage the contemporary art world through field trips and dialogue with visiting artists. Readings, gallery visits, and class discussions focus on contemporary art and examine how each student's artwork and professional aims fit into that historical context.
Studio space
Each Post-Baccalaureate student has the use of an individual studio space in the Mission Hill building at 160 St. Alphonsus St., a short walk from 230 Fenway and the Museum of Fine Arts, Boston. For most of the semester, students have 24-hour access to studio spaces and facilities.
A close-knit community
Post-Baccalaureate students develop a sense of camaraderie as they work closely with one another and with faculty in weekly seminars, in joint and individual critiques of artwork, and in discussions of students' development and needs.
Coursework & Requirements
The Post-Baccalaureate Certificate Program is a one-year program that consists of two full-time semesters of studio courses (including the Post-Baccalaureate Seminar), plus one Visual and Critical Studies (Art History) course.
Studio art
Post-Baccalaureate students register for 3.5 credits of studio art coursework each semester of the program, chosen from across the SMFA curriculum. SMFA awards credit for studio art at the end of each semester during Review Boards.
Visual and critical studies (Art history)
All Post-Baccalaureate students take a one-credit course in Art History, either in the spring or the fall semester.
Post-Baccalaureate seminar
The Seminar is a mandatory core component of the curriculum during both fall and spring semesters. The Seminar includes professional presentations, student presentations, directed group discussions and writing projects, critiques of work, and visits to museums, galleries, collections, and other sites.
Application Requirements
Application Fee
Resume/CV
Personal Statement
The personal essay should not exceed three pages and should address the following questions:

What lies behind your current work and what drives your process?
How do you see your work and your practice in the context of contemporary art?
In what ways do you hope to expand and further your art practice at the SMFA at Tufts?

Official TOEFL or IELTS, if applicable
Transcripts
Two Letters of Recommendation
Portfolio
Students must submit 10-15, pieces of their recent work and/or up-to 10 minutes of time-based work. It's important to make sure that the work represents your strengths and interests, and represent your current skills and experiences.
Portfolios must be submitted online through Slideroom. Like the online application, you will need to create a user account. Once this is created, you will be able to view all of your portfolio submissions in one location.
This is a quick drag and drop process, which allows you to submit images, video, audio, models, and more. It will also allow you to embed media from other sites, like Vimeo, YouTube, Soundcloud, and Dropbox.
Last updated May 2020
About the School

Graduate programs at Tufts University's Graduate School of Arts combine the atmosphere of a liberal arts college with the state-of-the-art technological resources of a research institution. World-clas ... Read More
Graduate programs at Tufts University's Graduate School of Arts combine the atmosphere of a liberal arts college with the state-of-the-art technological resources of a research institution. World-class researchers, personal mentoring, collaborative laboratory facilities, and industry partnerships equip Tufts students with the skills to excel in their chosen specialties and pursue their careers with passion and commitment.
Read less