Read more about this program on the institution's website
Program Description
Earn U.S. Credits Virtually This Summer
Get ahead! Earn extra credit through a globally recognized U.S. education program this summer on our Virtual World DiscoverIES program.
Just picture it: one day you're exploring business ethics with a professor in London and the next it's Japanese pop culture from Tokyo, studying alongside classmates from the U.S.'s highest-ranked colleges and universities. This is what it's like to take a course or two (of your choosing!) from IES Abroad's most popular centers around the world this summer.
Learn more about how you can discover the world through IES Abroad.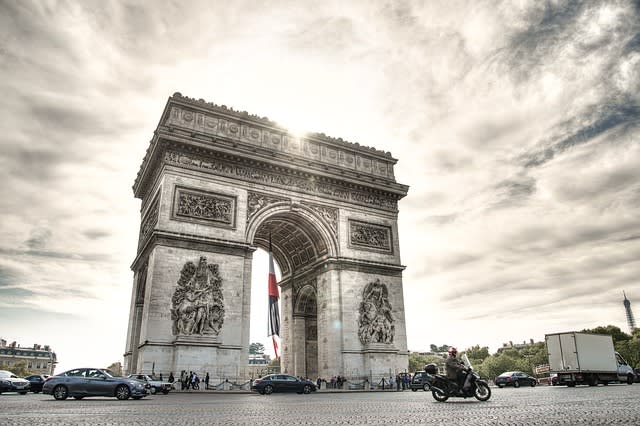 Why Paris?
Calling Paris a capital for the visual and performing arts is a massive understatement. Monet, Renoir, Degas, Matisse… The list of artists who have worked in Paris is nearly endless. Then there are the musicians who have called Paris homes, such as Édith Piaf, Django Reinhardt, Sydney Bechet, and so many more.
Museums? How about the Louvre, the Pompidou Center, the Museum d'Orsay, and dozens of others. Paris is truly a great city to discover, appreciate, and study nearly any artistic pursuit.
The Studio Art, Dance & Music Program offers you a once-in-a-lifetime opportunity to concentrate on and advance your skills in art—painting, drawing, music-- in one of the world's major artistic centers.
What You'll Study
Serious musicians can compose, practice, and perform at the École Normale de Musique de Paris/Alfred Cortot, a leading conservatory that prepares you for the rigors of life as a professional musician. While dancers can develop dance skills at the Paris Marais Dance School under highly respected professionals. Studio art students can develop their painting and drawing skills at the Villa Bastille.
Daily Life
Paris will also be your classroom. Imagine developing your painting skills in the city where Impressionism began. The City of Lights will inspire you just as it has thousands of other artists of all styles and genres throughout the eras.
We organize many cultural events around Paris to help you familiarize yourself with the city and its culture. Enjoy visits to museums, performances at the Opéra Garnier, and classical music concerts at Salle Cortot and other local theaters.
We want you to feel at home in Paris, so we do everything we can to help you integrate into life in the city. From housing to cultural events, our job is to make sure you have the most authentic study abroad experience possible.
Academics
Our mission is simple: to provide you with the best study abroad program possible—which includes the highest quality academic and cultural experiences. That is why we partner with four excellent visual and performing arts schools in Paris.
You take 15-19 credits per semester. All courses are taught in French, but support in English is available at our partner institutions. You will take your language course at the IES Abroad Center. Your painting, drawing, dance, and/or music courses will all be taken at the local institutions.
Create your own academic experience by selecting from the following required and optional components:
IES Abroad French language course (required, 4 credits)
French-taught art courses at local institutions (required, credits vary)

École Normale de Musique de Paris/Alfred Cortot
Paris Marais Dance School
La Villa Bastille

IES Abroad French-taught area studies courses (optional, 3 credits; requires at least 4 semesters of college-level French)
Courses
This is a list of planned course offerings. After you are accepted, you will see a list of final course offerings in your MyIESabroad account.
French Language in Context: Emerging Independent Abroad I
French Language in Context: Emerging Independent Abroad III
French Language in Context: Independent Abroad III
French Language in Context: Emerging Competent Abroad I
French Language in Context: Competent Abroad I
Partner Institution(s)
École Normale de Musique de Paris / Alfred Cortot
Classical music students who wish to benefit from high quality, demanding instruction may audition for the prestigious École Normale de Musique/Alfred Cortot (ENM). Founded in 1919 by the renowned pianist Alfred Cortot, the École Normale is the private-school equivalent to the National Conservatory.
The École Normale is located in a stately mansion (designated a historical monument) in the 17th arrondissement, about 40 minutes by Métro from the IES Abroad Center.
The École Normale has requested that interested students contact their IES Abroad Advisor with any questions. Please do not contact the École Normale directly. Music study in Paris through IES Abroad is limited to the École Normale; IES Abroad cannot customize music study at other institutions in Paris.
Students who qualify may take up to four 3-credit courses at the École Normale, in addition to the French language and other courses at the IES Abroad Paris Center. Instrumentalists may study teaching or performance, while vocalists focus on performance only. Course offerings are limited in the spring semester, and certain specialties, such as percussion, are not taught at the École Normale. Admissions decisions are made by the École Normale de Musique.
Instruments taught at the École Normale include:
Alto violin
Bassoon
Cello
Clarinet
Double bass
Flute
Guitar
Harp
Oboe
Piano
Piccolo
Violin
Voice
Upon admission to the French Studies program, you will be asked to submit an audition link and music resume. If accepted, you will also audition once on-site, in order to be placed in the correct level. All admissions decisions are made by the École Normale.
Location & Commute Time
The École Normale is located in the 17th arrondissement or about 40 minutes by Métro from the IES Abroad Center.
Paris Marais Dance School
The Paris Marais Dance School is a part of the Marais Centre Dance, established in 1970. This private institution offers student-centered classes to the beginning and experienced dancers alike.
The Paris Marais Dance School is located in a former hôtel particulier that dates from the 1600s in the stylish 4tharrondissement. The institution boasts three recently renovated dance studios—all named for famous composers—that are still decorated with the original wood-beamed ceilings.
Courses
Both full-year and semester students can take classes at the Paris Marais Dance school. Classes are held once a week, and IES Abroad students have the right to attend certain seminars and other extra-curricular events at the school.
The Paris Marais Dance School offers instruction in the following styles:
Classical ballet
Classical ballet technique
Partner work classical and neo-classical
Pointe work
Strengthening
Contemporary dance
Floor-barre
Improvisation
Martha Graham Technique
Techniques flow, release, contact
The dance school welcomes students of all backgrounds, from the beginner to the advanced level. Once on-site, your IES Abroad Paris advisor will make an appointment for you to meet the school's professors, who will then place you in the proper classes for your level.
Location & Commute Time
The Paris Marais Dance School is located in the heart of the historic Marais district in the former Belize palace built in the 17th century. The School is located about 15 minutes by Métro from the IES French Studies Center and is surrounded by cultural institutions, historic sites, shops, cafés and more!
Registration & Advising
Course offerings vary from semester to semester. Exact course availability is determined shortly before the start of each semester.
For this reason, it will not be possible for you to officially register until your arrival in Paris. Shortly after your on-site orientation sessions, you will meet individually with an Academic Advisor to carefully select courses based on your preregistration form, course schedules, academic needs and interests, and eligibility.
La Villa Bastille
La Villa Bastille is an art school (drawing and painting) where students have the opportunity to work freely and independently while benefiting from the instruction of an experienced artist. At La Villa Bastille, students can put into practice the principles needed to depict live models or can learn the different painting techniques (watercolor, oil painting, acrylic painting). Small groups enable individual guidance by the instructor.
Courses offered include:
Painting (free subject and technique)
Drawing (live models)
Classes are about 2-2.5 hours long.
Field Trips & Events
Even though your adventure starts in Paris, our field trips take you beyond the city to discover the culture and traditions of your host country. The orientation trip and field trips are included in your program cost. Here are a few possible destinations:
Giverny
1 Day | Fall & Spring
Visit Monet's home in the beautiful village of Giverny, and walk through the spectacular gardens that gave him so much inspiration. Monet's water lily paintings and many others were painted here.
Reims
1 Day | Fall & Spring
Take a guided tour of the Cathédrale Notre Dame, and visit a Champagne producer for a tour and Champagne tasting.
Fontainebleau & Vaux-le-Vicomte
1 Day | Fall & Spring
Spend a day in two of France's largest and most beautiful palaces. Known for their history and gardens, and for housing kings, emperors, and popes, both châteaux have been named as UNESCO World Heritage Sites.
Daily Life
Part of making you feel at home in Paris is doing our best to help you feel safe and cared for. Whether it's the orientation program that prepares you for what's ahead, your housing that is well-located and comfortable, or the field trips that take you to places off the beaten path—we're all about our student services.
Orientation
Our Orientation introduces you to the IES Abroad Paris French Studies staff, your fellow students, and the city of Paris. It continues with an overnight trip to a destination such as the Loire Valley or Normandy.
Our Comprehensive Orientation & Re-Entry Experience (CORE™) begins right when you arrive and continues through the semester with activities focusing on academic and cultural adjustment. Detailed information about housing, public transportation, culture, health and safety, and other important topics are also covered.
Housing
We want to make sure that your greatest challenge is deciding which landmarks to see first or discovering the best café—not finding a place to live where you feel comfortable. We do our best to locate housing that is reflective of how the local students are living. Our goal is that when you leave Paris, it will feel like home.
Homestays – Stay in a French home in Paris or its surrounding banlieues (suburbs). You eat breakfast daily and three evening meals per week with your hosts; other meals are available at university cafeterias and inexpensive restaurants.
Apartments – A limited number of shared apartments are available for an additional cost. Apartments include kitchen facilities and shared bathrooms. An IES Abroad Resident Assistant lives on-site or nearby. Meals are not included.
Extracurricular Activities & Cultural Events
Take advantage of the cultural events we organize in Paris, such as:
Listening to guest speakers, including local filmmakers and journalists
Participating in the Weekly Conversation club
Visits to museums like the Louvre, the Picasso museum, the Georges Pompidou center, and the Musée d'Orsay
Cost
Consider these prices as a starting point. We encourage you to contact your study abroad office to determine the actual cost to you when factoring in financial aid, scholarships, your home school policies, and other factors.
Spring 2020
| | | | | |
| --- | --- | --- | --- | --- |
| Term | Tuition | Housing | Insurance | Total |
| Spring 2020 | $15,140 | $3,600 | $230 | $18,970 |
Academic year
| | | | | |
| --- | --- | --- | --- | --- |
| Term | Tuition | Housing | Insurance | Total |
| Academic year | $26,705 | $7,050 | $455 | $34,210 |
Our Center
The IES Abroad Paris French Studies Center is located on a bustling market street near the Cimetière du Montparnasse. A thriving business district, the area is filled with restaurants, food shops, boutiques, and cafés.
Features include:
High-speed Internet, WiFi, and printer access
Classrooms
Student foyer
Library
Garden
Last updated May 2020
About the School
Everything we do is about the IES Abroad student. Our profoundly passionate team of study abroad professionals believes in creating once-in-a-lifetime educational adventures that transcend expectation ... Read More
Everything we do is about the IES Abroad student. Our profoundly passionate team of study abroad professionals believes in creating once-in-a-lifetime educational adventures that transcend expectations. Our goal is to rock the world of some 6,000 study abroad students every year.
Read less
Chicago ,
Amsterdam ,
Arles ,
Auckland ,
Barcelona ,
Beijing ,
Berlin ,
Buenos Aires ,
Cape Town ,
Christchurch ,
Dublin ,
Freiburg ,
Granada ,
London ,
Madrid ,
Milan ,
Nagoya ,
Nantes ,
New York ,
Nice ,
Paris ,
Oxford ,
Quito ,
Rabat ,
Rome ,
Salamanca ,
Santiago ,
Shanghai ,
Siena ,
Sydney ,
Tokyo ,
Puerto Ayora ,
Vienna ,
Hong Kong ,
Puerto Baquerizo Moreno ,
Cambridge
+ 35 More
Less