PGCert in Museums & Galleries Entrepreneurship
Home ›
PGCert in Museums & Galleries Entrepreneurship
Program Description
This programme will cover sponsorship and marketing, audience development, regeneration and partnerships, and commerce/merchandise, giving a detailed insight into the ways that museums and galleries are managed and develop entrepreneurship.
Perhaps you already work in a museum or gallery and want some CPD experience. Or maybe you work in a different area but are thinking about a change of career.
Through a combination of lectures, seminars, outside visits, interviews, projects, workshops and presentations you'll examine the ways in which museum and gallery professionals have developed sophisticated new strategies and applied innovative entrepreneurial thinking to find ways of attracting visitors from a wide range of backgrounds to visit their institutions, engage with their events, and interact with artworks in different ways.
Entrepreneurial thinking in museums and galleries is unique and cannot be viewed in the same way as a start-up business or new commercial venture. Instead, it's a progressive way of developing commercial strands within the public sector. So you'll be encouraged to identify entrepreneurial activity, identify the target audiences for whom activities or resources have been developed, and the type of income raised.
The programme will use case studies of large-scale public/cultural projects like the Unilever Series in Tate Modern's Turbine Hall, and the Fourth Plinth project in Trafalgar Square. Many of the sessions will take place in a museum or gallery (for example, Tate, the V&A, National Gallery), where you'll be able to carry out practical research. You'll also be able to meet and engage with potential professional contacts in different departments.
The programme is made up of two 30-credit modules, which you can also take as standalone short courses:
Museums & Galleries as Creative Entrepreneurs (Autumn term)
Museums & Galleries as Cultural Entrepreneurs (Spring term)
You can start the course at either point in the year.
For your assessment, you'll be asked to use all of your creative, entrepreneurial and research skills to 'create' a museum of your own. You'll then produce a museum guide containing a director's foreword, an introduction to a collection, a description of how the institution is managed and structured, and an account of leisure facilities and fundraising, sponsorship and enterprise activities.
Entry requirements
You should normally have an undergraduate degree of at least second class standard in a relevant/related subject. You might also be considered if you have at least two years' professional experience working in the creative industries.
International qualifications
We accept a wide range of international qualifications.
If English isn't your first language, you will need an IELTS score (or equivalent English language qualification) of 7.0 with a 7.0 in writing to study this programme. If you need assistance with your English language, we offer a range of courses that can help prepare you for postgraduate-level study.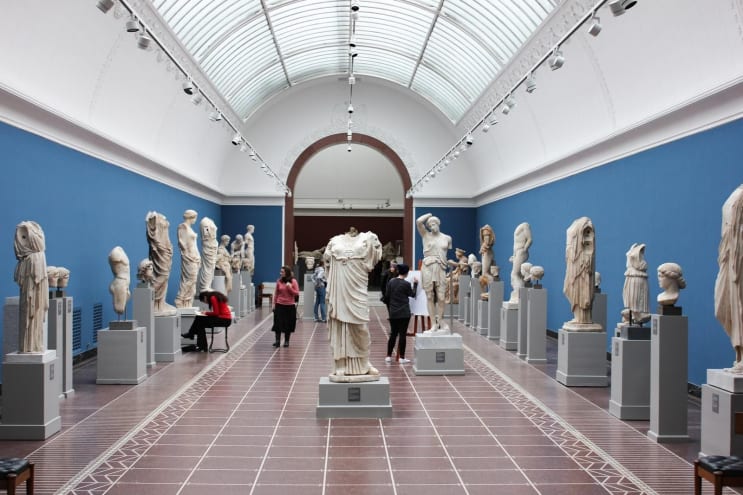 Lizzie George / Unsplash
How to apply
You apply directly to Goldsmiths using our online application system.
Before submitting your application you'll need to have:
Details of your education history, including the dates of all exams/assessments.
The email address of your referee who we can request a reference from, or alternatively an electronic copy of your academic reference.
A personal statement – this can either be uploaded as a Word Document or PDF or completed online.
If available, an electronic copy of your educational transcript (this is particularly important if you have studied outside of the UK, but isn't mandatory).
You'll be able to save your progress at any point and return to your application by logging in using your username/email and password.
Skills
By completing this programme you'll be able to:
Critically evaluate the main theories and concepts underpinning gallery and museum entrepreneurship.
Analyse complex museum structures and the way that cultural organisations operate.
Understand how museums and galleries attract sponsorship, develop marketing strategies, and communicate their brands.
Network with gallery and museum professionals.
Develop and complete an independent research project.
Careers
This programme covers many different areas and roles within museums and galleries, including:
Marketing
Communications
Programming
Fundraising/developing
You'll, therefore, finish the course with a good understanding of these areas and how they interact with each other. This could prove to be an excellent experience if you're keen to obtain employment or placement in these sectors in future.
It's also ideal for continuing professional development (CPD) for anyone already working in a museum or gallery.
Last updated Dec 2019
About the School

We're a world-class university, ranked in the world's top 350 universities by the Times Higher Education World University Rankings 2016-17, and the world's elite by the QS World University Rankings 20 ... Read More
We're a world-class university, ranked in the world's top 350 universities by the Times Higher Education World University Rankings 2016-17, and the world's elite by the QS World University Rankings 2016-17
Read less