PDGM in Banking and Financial Services
Home ›
Finance ›
PDGM in Banking and Financial Services
Program Description
PDGM Banking and Financial Services
T. A. Pai Management Institute (TAPMI) The PGDM-Banking and Financial Services (equivalent to an MBA degree) is built on a unique curriculum structure that builds a student's skills and knowledge in finance. The first year covers accounting, finance, economics and banking courses, and the second year offers specialised training in either banking or capital markets. Aided by the state-of-the-art Bloomberg Lab, this course enables students to have a managerial career in the fields of banking and financial services with leading national and multinational banks and financial institutions. Over the course of study, a student receives rigorous academic preparation, essential leadership skills through our integrated leadership program, and the opportunity to gain hands-on experience through the Bloomberg terminals and field visits to State Bank of India and NISM. Finance Lab The highlight of the BKFS program is the TAPMI Finance Lab, a world-class Lab, powered by Bloomberg India.The trading lab is equipped with 16 Bloomberg terminals and is the largest Bloomberg supported lab in India. The finance lab provides students with hands-on experience in Investments and Portfolio Management, Forecasting, Risk Management and understanding of Global Capital Markets. The state-of-the-art lab provides students the knowledge and insight into real market situations while bridging the gap between financial theory and practice. Student Managed Investment Course (SMIC) BKFS program requires students to undergo Student Managed Investment Course (SMIC) with each student provided Rs. 25000 each resulting in a corpus of Rs. 10 lakhs to invest in real markets. This fund is managed as a professionally run entity by the students selected through a rigorous process for this course. The objective of SMIC is to provide experiential learning by enabling students to make investment decisions in the BSE/NSE listed companies. TAPMI is the only business school in India to run a course where students are given real money to invest in financial markets. This unique opportunity gives TAPMI students a deeper understanding of the realities of financial markets and institutions better than the peers. The process of defending their investment decisions to a panel of senior industry experts and faculty prepares them for the challenges they will face as they step out of the confines of the academic environment. Leadership Development With changing business needs and rapidly evolving business environment,leaders need to be creative, curious and innovative. An essential combination of organisational and people skills is imperative for today's leaders. At TAPMI, we prepare students to meet these unique challenges with our leadership development program. We develop the necessary skill and character required to thrive in complex business organizations. Students learn their own strengths through self-assessments, psychometric assessments and are continuously mentored and guided throughout their time at TAPMI. Eligibility The PGDM-BKFS program is a specialized program focusing on the Banking and Finance Domain. Candidates with more than two years of professional experience and interested in specializing in the area of Banking or Capital Markets are most opt for this program. A Graduate Degree (10+2+3 or 10+2+4) in any discipline, recognized by the AIU as eligible for Post- Graduation, with not less than 50% marks is necessary. This also applies to those with professional qualifications like Chartered Accountancy, Cost Accounting, and Company Secretary. Candidates appearing for Final Year Degree examination may also apply. However, such candidates, if selected by TAPMI, are required to produce proof of completion of graduation by the time they join the PGDM-BKFS Program and submit their mark lists and other testimonials within the stipulated date.Only Indian Nationals and those who fulfill NRI eligibility criteria are eligible to apply for this program. Valid scores of CAT 2016, XAT 2017 and GMAT 2015 & 2016.
Last updated Nov 2018
About the School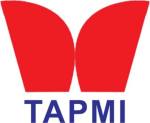 The student city of Manipal, Karnataka plays host to the T.A. Pai Management Institute, fondly known as TAPMI. With academic rigour and experiential learning at its core, TAPMI's Post Graduate Diploma ... Read More
The student city of Manipal, Karnataka plays host to the T.A. Pai Management Institute, fondly known as TAPMI. With academic rigour and experiential learning at its core, TAPMI's Post Graduate Diploma in Management Program is approved by All India Council for Technical Education (AICTE) since its constitution.
Read less
Accreditations