Oxford Direct Enrollment Course - St. Catherine's College
Home ›
Courses ›
Oxford Direct Enrollment Course - St. Catherine's College
Read more about this program on the institution's website
Program Description
Earn U.S. Credits Virtually This Summer
Get ahead! Earn extra credit through a globally recognized U.S. education program this summer on our Virtual World DiscoverIES program.
Just picture it: one day you're exploring business ethics with a professor in London and the next it's Japanese pop culture from Tokyo, studying alongside classmates from the U.S.'s highest-ranked colleges and universities. This is what it's like to take a course or two (of your choosing!) from IES Abroad's most popular centers around the world this summer.
Learn more about how you can discover the world through IES Abroad.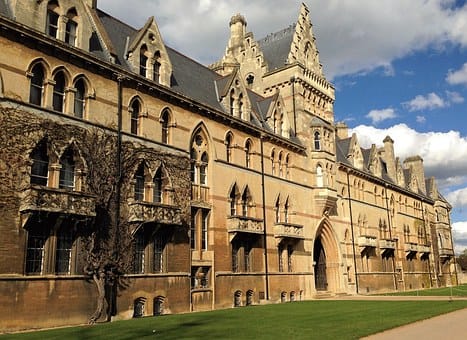 Why Oxford?
Imagine yourself sitting in class, listening to your professor lecturing about Shakespeare's plays or Winston Churchill's policies. But you're not at your home university—you're learning in England, where these famous figures lived. This is your chance to study at one of the most renowned universities in the world: the University of Oxford.
What You'll Study
Our program offers you the opportunity to directly enroll in St. Catherine's College, one of the 38 self-governing colleges that together make up the University of Oxford. In 2019, the University of Oxford ranked as the #1 university in the world, according to Times Higher Education.
Enjoy studying at one of the oldest universities in the world—teaching existed here in some form as early as 1096. Today, Oxford has a total student population of more than 20,000, with more than 140 nationalities represented in its student body, and is a renowned seat of learning and tradition. The student body at the University of Oxford is diverse, as well as its professors—about 40% of the University's academic staff are citizens of countries other than the United Kingdom.
You have the opportunity to attend St. Catherine's College for the fall term, spring/summer term, or the full academic year. Like all Oxford colleges, St. Catherine's utilizes the tutorial education system. This allows you to select a highly personalized course of study, based on previous coursework at your home institution and your academic interests. You meet with a tutor on a regular basis, either alone or with another student, to discuss the written work produced for each meeting. These tutorials are supplemented by lectures.
Daily Life
The city of Oxford will be your classroom. Enjoy the vibrant intellectual and social life that Oxford has to offer. Explore the city's stone buildings and classic cloistered colleges that are integrated into the fabric of the town center. Get to know the faculty and students who come from around the world to live and work in this beautiful city.
We want you to feel at home in Oxford, so we do everything we can to help you integrate into life in the city. From housing to cultural events, our job is to make sure you have the best, most authentic study abroad experience possible.
Academics
IES Abroad's mission is simple: to provide you with the best study abroad program possible—which includes the highest quality academic and cultural experiences. That is why we partnered with St. Catherine's College at the University of Oxford.
Academic Environment & Expectations: The Tutorial System
University education at St. Catherine's is based on the tutorial system. Typically, you have two lectures per week for each class and one tutorial, or small group meeting, for which you're expected to prepare a list of readings and topics to discuss. There is a high expectation that you will put in a significant amount of independent study in addition to the classroom, laboratory, and tutorial hours.
Because of the high academic rigor of this program, a 3.85 GPA (out of 4.0) is required to participate. St. Catherine's sometimes considers applicants with a GPA slightly below 3.85 who include an exceptional set of essays or an original and compelling personal statement. St. Catherine's will not consider applicants with a GPA lower than 3.7.
Using the resources available, you must engage in extensive independent reading and research under the broad guidance of a tutor. Your tutorial sessions require you to discuss your weekly reading and essay. This methodology sharpens the learning skills of critical evaluation and organization of ideas. You are taught by the same tutors, in the same manner, and held to the same standards as matriculated Oxford students.
Courses
IES Abroad Pre-Semester Tutorial in London
To ensure fall and academic year students receive the 15 credits per semester required by IES Abroad, we require a 3-credit, pre-semester tutorial in London. You live and study in London for three weeks prior to the start of the term in Oxford.
Designed to prepare you to succeed at the University of Oxford, this independent study tutorial sharpens your skills in oral and written rhetoric. You work one-on-one with IES Abroad London tutors (some of whom also teach at Oxford), and are held to the same standards as matriculated Oxford students. The subject for the tutorial is chosen from the standard IES Abroad courses.* While in London, you live in a residence hall.
Study abroad students usually apply to one or sometimes two academic departments and then select courses from these and/or other departments. St. Catherine's offers a wide range of disciplines.
For more details about course options, visit the "CATZ" website.
Past IES Abroad students have taken courses like:
Aesthetics in Plato & Aristotle
The American Revolution
Anglo-Norman Literature
Behavioral Economics
Behavioral Genetics
Behavioral Neuroscience
British Politics Since 1945
Cellular Signaling
Computer Architecture
Confessional Latin
Ethical Theory
Global Health Epidemiology
History of Chinese Philosophy & Religion
The Islamic Civilization/Golden Age
James Joyce
Macroeconomic Analysis
Metabolic Biochemistry
Middle Eastern Politics
Neuropathology
Probability
Radical Social Theory
Renaissance, Humanism & the Church 1300-1600
Theological Understandings of Gender
Partner Institution(s)
St. Catherine's College
St. Catherine's College, whose foundation stone was laid by Her Majesty the Queen on November 4, 1960, welcomed its first undergraduates two years later. Although St. Catherine's is the youngest college in Oxford, it is also one of the largest with 450 undergraduates and 160 postgraduates, as well as 70 fellows and lecturers.
In addition to its formal academics, St. Catherine's is known for its extracurricular opportunities in music, drama, and sports, and is generally regarded as one of the friendliest and most open colleges in Oxford.
Campus & Facilities
St. Catherine's buildings, located on the east side of Oxford, are modern—the result of an international competition won by renowned Danish architect Arne Jacobson. The college was designed to be a modern reflection of a traditional Oxford college. At the heart of the college lies a rectangular quad, its sides flanked by student rooms built in the conventional Oxford "staircase" format, its ends consisting of the dining hall and library.
The facilities also include a large junior common room with a debating pit, television and game room, small theater, and music house. Squash courts, a weight room, and punt house are also on-site. You can also use a boathouse and playing fields for rugby, soccer, and field hockey nearby.
Advising & Support
In a direct enrollment program, you are enrolled as a full-time student at one of our international partner institutions. Even though your local host institution is where you'll take your classes, we're still here to fully support you.
Advising
Choosing and directly enrolling in courses abroad can be confusing and overwhelming—we offer you predeparture advising that's specific to your needs. Our goal is to provide support and guidance throughout your application and enrollment process.
On-Site Staff
As an IES Abroad student directly enrolled at a local British university, you have access to the IES Abroad London Center and staff who are specifically dedicated to your needs. Our on-site staff work with you and your local institution to answer any questions about academic requirements, housing, or well-being and safety.
Support
Our support services for direct enrollment students are specifically designed to help you achieve your study abroad goals. We know studying abroad is an adventure, and, at times, you may need help or just someone to talk to— that's why our staff is there for you.
Field Trips & Events
Even though your adventure starts in Oxford, our field trips take you beyond the city to discover the culture and traditions of your host country. These trips are partially subsidized by IES Abroad. As these field trips typically depart from London, past Oxford students have also found it convenient to visit some destinations independently as well.
Bath & Stonehenge
2 Days | Fall Only
Visit mysterious Stonehenge and the ancient Roman baths in Bath. Marvel at the collection of world-class couture at the Fashion Museum, and explore the Jane Austen Centre.
Cambridge
1 Day | Fall Only
Visit this historic university town, with its picturesque colleges and punting (like a gondola) on the river.
Daily Life
Part of making you feel at home in Oxford is doing our best to help you feel safe and cared for. Whether it is an orientation program that makes you feel prepared, housing that is well-located and comfortable, or the field trips that take you places off the beaten path—we're all about our student services.
Orientation
Fall and Academic Year Students – The IES Abroad orientation program starts in London, and is designed specifically for direct enrollment students. The orientation program introduces you to St. Catherine's, your fellow students, and to London. You also become acquainted with the teaching methods of British professors and begin your 3-credit, pre-semester tutorial.
Following the IES Abroad orientation in London, you participate in an orientation program at St. Catherine's that covers topics like accommodation, academic policies, registration, student life, travel, and safety.
Spring Students – Fly into London, stay the night, and join the IES Abroad orientation in London. IES Abroad staff and support services, and prepares you for the transition to St. Catherine's. Then travel by coach to Oxford to participate in orientation by St. Catherine's that covers topics like accommodation, academic policies, registration, student life, travel, and safety.
Housing
As part of IES Abroad's direct enrollment services, we offer well-situated, comfortable housing for all students, since securing housing independently can be challenging. IES Abroad offers housing options that reflect the local student culture and meet our safety and security standards.
Accommodation Blocks - Live on campus in either single or double rooms with shared facilities. Wherever possible, IES Abroad and St. Catherine tries to pair a St. Catherine's student as a roommate if you select a double room. All rooms have Internet access.
You have access to basic kitchen facilities, and the college has a dining hall on campus that provides meals throughout the week. When you arrive, you are issued a pay-as-you-go photo ID card, which is debited every time you take a meal and can be added to throughout the term. You are responsible for loading money onto your own card—meals are not included in the program cost.
Like all Oxford colleges, breakfast, lunch, and dinner are cooked on-site and served in the dining hall at set times. Meals are available to all enrolled students, not just to residents living on campus.
Residence Hall (during fall and academic year pre-semester tutorial and spring orientation only) – This student residence hall is located in Central London. You and another student share a room with en-suite bathroom and access to a common kitchen or en-suite kitchenette.
There are laundry facilities and WiFi access throughout the building, and you will have access to a fitness facility. Meals are not included.
Extracurricular Activities & Cultural Events
University Clubs & Events
While you're in Oxford, joining a social or sports club is a great way to meet local students. We encourage you to get involved in the many clubs and societies covering almost every interest at St. Catherine's (www.stcatz.ox.ac.uk)—from sports and music to drama and art.
Cost
Consider these prices as a starting point. We encourage you to contact your study abroad office to determine the actual cost to you when factoring in financial aid, scholarships, your home school policies, and other factors.
Summer 2020
| | | | | |
| --- | --- | --- | --- | --- |
| Term | Tuition | Housing | Insurance | Total |
| Summer 2020 | $24,100 | $7,170 | $230 | $31,500 |
Academic year
| | | | | |
| --- | --- | --- | --- | --- |
| Term | Tuition | Housing | Insurance | Total |
| Academic year | $32,705 | $12,330 | $455 | $45,490 |
Scholarships & Aid
Program-Specific Scholarships
Dr. William Louis Gaines Need-Based History or International Relations Scholarship
Up to $1,875; awarded to 4-6 students each year
This scholarship is named in honor of Dr. William Louis Gaines, President of IES Abroad from 1974-1992. Dr. Gaines was dedicated to strengthening IES Abroad's academic framework, broadening the scope of IES Abroad locations, and securing the financial foundation of the organization.
Open to students majoring in History or International Relations.
Our Center
The IES Abroad London Center, situated in the central London neighborhood of Bloomsbury, is a two-minute walk from the British Museum.
Features include:
18th-century Georgian building
Classrooms
Library resources
Wireless Internet
Printing facilities
Outdoor patio
Staff offices
Student lounge
Gender-neutral bathrooms
The IES Abroad London Center is recognized by The Quality Assurance Agency for Higher Education (QAA) for meeting or exceeding UK expectations as a quality higher education provider.
Last updated May 2020
About the School
Everything we do is about the IES Abroad student. Our profoundly passionate team of study abroad professionals believes in creating once-in-a-lifetime educational adventures that transcend expectation ... Read More
Everything we do is about the IES Abroad student. Our profoundly passionate team of study abroad professionals believes in creating once-in-a-lifetime educational adventures that transcend expectations. Our goal is to rock the world of some 6,000 study abroad students every year.
Read less
Chicago ,
Amsterdam ,
Arles ,
Auckland ,
Barcelona ,
Beijing ,
Berlin ,
Buenos Aires ,
Cape Town ,
Christchurch ,
Dublin ,
Freiburg ,
Granada ,
London ,
Madrid ,
Milan ,
Nagoya ,
Nantes ,
New York ,
Nice ,
Paris ,
Oxford ,
Quito ,
Rabat ,
Rome ,
Salamanca ,
Santiago ,
Shanghai ,
Siena ,
Sydney ,
Tokyo ,
Puerto Ayora ,
Vienna ,
Hong Kong ,
Puerto Baquerizo Moreno ,
Cambridge
+ 35 More
Less