Read more about this program on the school's website
Program Description
Earn U.S. Credits Virtually This Summer
Get ahead! Earn extra credit through a globally recognized U.S. education program this summer on our Virtual World DiscoverIES program.
Just picture it: one day you're exploring business ethics with a professor in London and the next it's Japanese pop culture from Tokyo, studying alongside classmates from the U.S.'s highest-ranked colleges and universities. This is what it's like to take a course or two (of your choosing!) from IES Abroad's most popular centers around the world this summer.
Learn more about how you can discover the world through IES Abroad.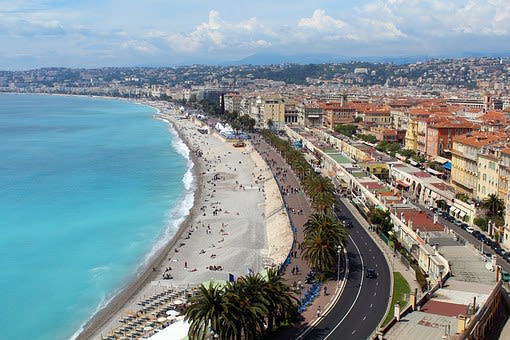 Why Nice?
The glittering blue waters of the Mediterranean Sea, the friendly ding of the tram as it passes by, the taste of fresh seafood, the smell of fresh-cut flowers at the Old Town Market—Nice is a feast for your senses, and this majestic city will enchant you, welcome you, and always leave you wanting more.
Nice's spectacular location makes it a jewel in the Mediterranean region, one of the oldest trading regions in the world. Often described as an area of mutual economic, social, and cultural exchange, this ancient trading ground is now threatened by human pressure on delicately linked social and ecological systems.
With some of the highest real estate prices in the world, a changing climate, and a vulnerable economy based on tourism, the region is a laboratory for sustainability, where crisis, adaptation, and resilience can be studied in real-time. Our program in Nice allows you to observe first-hand (through course-related trips, case studies, and field trips) some of the linked social and environmental challenges facing this fragile region.
What You'll Study
You will take your area studies courses at the IES Abroad Center. You will also have the option of supplementing your IES Abroad courses with Business courses at the AACSB- and EQUIS-accredited SKEMA Business School named one of the best European business schools by the Financial Times. The school is committed to promoting sustainability and corporate social responsibility, with more than 20% of its courses devoted to these principles. SKEMA is located in nearby Sophia Antipolis, a global research park known as the French Silicon Valley, and home to more than 1,300 high-tech companies and start-ups. Enhance your experience in Nice with an internship, which includes time spent working at your placement and an academic seminar that helps you contextualize what you're learning.
Nice and the French Riviera will be your classroom. Imagine yourself walking the medieval cobblestone streets of the Old Town, hiking the incredible biodiversity of the region, or visiting Monaco for the day. Whether you're an advanced French language student or a beginner, this program offers full immersion into the culture of Nice through course-related trips, cultural activities, and volunteer opportunities.
Daily Life
We want you to feel at home in Nice, so we will do everything we can to help you integrate into life in the region. From housing to cultural events, our job is to make sure you have the most authentic study abroad experience possible.
Academics
Our mission is simple: to provide you with the highest quality academic and cultural experience abroad possible.
We offer unique courses that explore the international business, liberal arts, French language, and more through an in-depth and hands-on approach. Our professors from the Grandes Écoles (French elite schools) and course options at SKEMA Business School enhance your academic experience and provide you with new perspectives each day in class.
While in Nice, you take 15-19 credits per semester. All courses are worth 3 credits unless otherwise specified.
Create your own academic experience by selecting from the following required and optional components:
French language courses (required, 3 credits)
IES Abroad area studies courses (optional, 3 or 4 credits)
SKEMA Business School courses (optional, most are 3 credits)
Internship placement and seminar (optional, 3 credits)
Courses
Strategic Management
Global Risks, Regional Vulnerabilities and Sustainable Development Pathways in the Mediterranean Region
Dangerous Liaisons: Cities and Water in the Mediterranean
French Language in Context: Novice Abroad
French Language in Context: Emerging Independent Abroad
French Writing Skills Workshop: Emerging Competent Abroad
A History of French Cinema
Global Risks, Regional Vulnerabilities and Sustainable Development Pathways in the Mediterranean Region
Dangerous Liaisons: Cities and Water in the Mediterranean
A Transnational History of the Mediterranean and Its European Connections, 18th-21st Centuries
Business Ethics
International and Intercultural Management
Business Ethics
International and Intercultural Management
Religion and Multiculturalism Spring
Immigration in the Mediterranean Basin
Field Research Seminar
Religion and Multiculturalism
Immigration in the Mediterranean Basin
Internships
Interning while you study in Nice gives you a rewarding job experience with a wealth of long-lasting career benefits. You will:
Gain a better understanding of the real-life, everyday culture of your host country
Add global work experience and skills to your résumé or your application for graduate school
Improve your confidence
All of our internships are supervised and earn IES Abroad credit. You participate in a 3-credit seminar to complement the practical experience you gain during the internship.
Personalized Placements
Once you indicate your interest in an internship, we work with you to find the ideal internship placement that fulfills your academic and career goals. We've placed students with a wide variety of organizations and businesses. If we don't currently work with a business or organization in your field of interest, we will search for a placement that's right for you.
Placement Examples
Past students have interned in the following fields. Don't see your field here? Just talk to your IES Abroad Advisor—we are always seeking out new opportunities for our students.
Art & Culture
Business & Marketing
Environment & Sustainable Development
Immigration & Social Inclusion
Partner Institution(s)
SKEMA Business School
Located in Sophia Antipolis, SKEMA Business School has both AACSB and EQUIS accreditation. SKEMA is for students interested in entrepreneurship, innovation, business, sustainability, and internationalization.
With high Financial Times rankings (6th in MSc Financial Markets & Investments and 25th in Master of Management worldwide), AACSB and EQUIS accreditation, SKEMA gives international students the tools they need to be current in the competitive global market.
Courses
Classes range from 1-4 credits, with most courses being 3 credits each.
2019-2021 SKEMA Course Catalog
2019-2021 SKEMA Course Descriptions
Field Trips & Events
Even though your adventure starts in Nice, our field trips and course-related trips take you beyond the city to discover the culture and traditions of your host country and beyond. These trips are partially subsidized by IES Abroad. Here are a few possible destinations.
Marseille
3 Days | Fall & Spring
Explore France's second-largest city and the biggest Mediterranean port. With its diverse population, you'll learn about the immigrant experience in France, as well as the maritime heritage of this old city's picture-perfect Vieux Port (Old Port).
Coeur Riviera
1 Day | Fall & Spring
Explore the French Riviera between Nice and the Italian border, including forts, perched villages, and seaside resort towns.
Italian Border Towns
1 Day | Fall & Spring
Visit a few off-the-beaten-path Italian medieval villages, including Bussana Vecchia, Rocchetta Nervina, and Dolceacqua.
Note: IES Abroad field trip destinations, activities, and lengths of stay may vary according to term and availability.
Course-Related Trips
Course-related trips are organized as an integral part of the IES Abroad courses and contribute to a general knowledge of French culture and society. Participation is based on course registration. Students not enrolled in these classes may participate (on a space-available basis) for an additional cost. Possible course-related trips are listed below:
Sospel
Visit the historic village of Sospel, tucked away in the mountains along the French-Italian border. You will have the opportunity to harvest the local olives that are sent to the mill to produce olive oil.
Ventimiglia
Ventimiglia is the first town across the border from France to Italy. The charming Riviera town is also a frontier of the immigration crisis. You will visit the Italian Red Cross and learn about their humanitarian relief efforts.
Daily Life
Part of making you feel at home in Nice is doing our best to help you feel safe and cared for. Whether it's the orientation program that prepares you for what's ahead, your housing that is well-located and comfortable, or the field trips that take you to places off the beaten path—we're all about our student services.
Orientation
IES Abroad Orientation
The program begins with a three-day orientation that introduces you to the IES Abroad Nice staff, your fellow students, and the city and culture of Nice. One day will be spent touring the beautiful region of Provence, with stops at medieval villages, a guided tour of a candy factory, a trip to a working perfumery, and more.
Our Comprehensive Orientation & Re-Entry Experience (CORE™) begins right when you arrive and continues through the semester with activities focusing on academic and cultural adjustment. Detailed information about housing, public transportation, culture, health and safety, and other important topics are also covered.
Following IES Abroad orientation, students interested in SKEMA Business School courses will be given a tour of the SKEMA campus and an overview of SKEMA's academic offerings.
Housing
We want to make sure that your greatest challenge is deciding which landmarks to see first or discovering the best café—not finding a place to live where you feel comfortable. We do our best to locate housing that is reflective of how the local students are living. Our goal is that when you leave Nice, it will feel like home.
Homestays – Live in a French home in Nice with a local family. One or two students live in each home. You are provided with breakfast daily and five evening meals a week. Laundry and WiFi are included.
Apartments – Apartments are available throughout the city. The fully equipped apartments house other IES Abroad students. Washing machines are available in or near the building. No meals are provided.
Residence Halls – The Student Factory is a 15-minute walk from the IES Abroad Nice Center. These private studio rooms feature a fully equipped kitchenette and en suite bathroom. Laundry facilities are located on-site. No meals included.
Extracurricular Activities & Cultural Events
Redefine the way you live and learn in Nice through our cultural events, such as:
Visits to local art museums
Tours of perfumeries
Regional cooking classes
Kayaking
Volunteer opportunities
Volunteer Abroad
When you volunteer in Nice, you have the chance to make a difference in the local community while meeting new people and gaining a new perspective on the world. If you are passionate about volunteering abroad, just let the on-site staff know at the beginning of your term. Volunteer opportunities in Nice include:
Animal shelter
Charity shop
Humanitarian aid
Soup kitchen
Cost
Consider these prices as a starting point. We encourage you to contact your study abroad office to determine the actual cost to you when factoring in financial aid, scholarships, your home school policies, and other factors.
Spring 2020
| | | | | |
| --- | --- | --- | --- | --- |
| Term | Tuition | Housing | Insurance | Total |
| Spring 2020 | $12,860 | $4,095 | $230 | $17,185 |
Academic year
| | | | | |
| --- | --- | --- | --- | --- |
| Term | Tuition | Housing | Insurance | Total |
| Spring 2020 | $22,685 | $8,085 | $455 | $31,225 |
Scholarships & Aid
Program-Specific Scholarships
Robert McNeill Need-Based International Business Scholarship
Up to $3,000; awarded to 2 students each year.
This scholarship is named in honor of Robert McNeill, a member of the IES Abroad Board of Directors for 25 years (6 years as Chairman). Open to students who have an interest in international business. Majors might include management, marketing, economics, finance, international relations, and social and behavioral sciences.
Study Abroad Scholarship for Future Engineers
Up to $10,000; awarded to 6 students each year.
The Study Abroad Scholarship for Future Engineers was established by an anonymous donor to encourage more engineering students to have the enriching, life-changing experience of study abroad.
Our Center
The IES Abroad Center is strategically located in the heart of Nice and near public transportation. Features include:
High-speed Internet
Classrooms
Offices
Student Lounge & Resource Room
Printer access
Last updated May 2020
About the School
Everything we do is about the IES Abroad student. Our profoundly passionate team of study abroad professionals believes in creating once-in-a-lifetime educational adventures that transcend expectation ... Read More
Everything we do is about the IES Abroad student. Our profoundly passionate team of study abroad professionals believes in creating once-in-a-lifetime educational adventures that transcend expectations. Our goal is to rock the world of some 6,000 study abroad students every year.
Read less
Chicago ,
Amsterdam ,
Arles ,
Auckland ,
Barcelona ,
Beijing ,
Berlin ,
Buenos Aires ,
Cape Town ,
Christchurch ,
Dublin ,
Freiburg ,
Granada ,
London ,
Madrid ,
Milan ,
Nagoya ,
Nantes ,
New York ,
Nice ,
Paris ,
Oxford ,
Quito ,
Rabat ,
Rome ,
Salamanca ,
Santiago ,
Shanghai ,
Siena ,
Sydney ,
Tokyo ,
Puerto Ayora ,
Vienna ,
Hong Kong ,
Puerto Baquerizo Moreno ,
Cambridge
+ 35 More
Less