National Higher Diploma (HND) in Textile & Fashion Design
Home ›
Diploma ›
National Higher Diploma (HND) in Textile & Fashion Design
Program Description
OBJECTIVES
The world of luxury, fashion and design, driven by the dynamism of emerging markets, is now permanent transformations. New technologies, new trends, new marketing and communication methods, and new opportunities. This program is designed to discover new trends and fashion industry in general, while developing essential skills in clothing design and accessory design. In theme and main objective, achieving each learning from its own collection, which will be his diploma project and will be presented to a selected professional jury.
Practical information
Format: mix learning
Workshops attendance-4
Admission: pot, line maintenance and work record
Tentative duration: 24 months
Registration: at any time of the year
Internship: mission company 3 to 6 months in France or abroad (not compulsory)
Diploma
Training delivers Higher National Diploma (HND) in Textile & Fashion DesignBritish state diploma level III (Bac +2) and 120 ECTS credits*, With an academic and professional recognition internationally.
* European Credit Transfer and Accumulation System credits.
Profile
People with a keen interest in fashion and his universe and the general design, with ideas, imagination, curiosity, an open mind and to undertake vocation and who wish to start a career fashion design, improve, or update their skills in this area.
What you will learn
Through this online program, according to your specialized units, you will learn to:
Understand contemporary methods and language of fashion.
Develop your creativity and style, progressing from sketch to model and sewing, adaptation to high fashion and specialized techniques.
You make a strong fashion culture (history, movements, news).
Develop techniques and processes to communicate your "way of ideas" professionally, and participate in international competitions.
Master the application areas of fashion design process, necessary for the implementation and development of a collection of fashion / complete accessories.
Understand making techniques, cutting and sewing clothes.
Knowing distinguish and evaluate different types of clothing and fabrics (and composition) to understand their applicability and performance in relation to fashion products.
Conduct independent research, analyzing and defining the markets (forecast trends, fairs).
Knowing the essentials of marketing and design a mature book that presents not only your performance qualities but expresses your vision and signature.
Design your personal collection of fashion / textiles, you will present in a professional and international jury as a graduation project.
professional opportunities and opportunities
Areas of application : Fashion woman, man fashion, children's fashion, textile design mode, linens, furnishings and decoration, fashion accessories, costumes for the events (theater, cinema, events), visual merchandising (POS and display) , fashion marketing, image and style consultant.
Or : Industries of fashion and textiles, luxury goods, linens, trend offices, design studios, beauty industry / cosmetics, soft furnishings, interior design agencies, house highly sewing, industrial ready-to-wear, creative workshop, industrial clothing, brand stores and e-commerce.
Features : Fashion designer, fashion stylist, trend / board, designer collection coordinator, designer, clothing illustrator, cartoonist, graphic designer fashion textile designer stylist, designer material / color, textile designer, fashion retail manager, press officer, purchaser.
Further education towards a Bachelor of Arts (BA) in France or abroad, in fashion design and textile for example.
Program
This HND program in animation Game is distributed on 16 teaching units. It was specifically designed to meet the needs of those who have limited time availability and lack of specific skills.
It is achievable over a period of 24 monthsAccording to the pace of work of each (can stretch up to 36 months). An average of 10-15 h working week is recommended (including staff and guided course work). In total, it represents about 960 hours of guided learning and 1,440 hours of personal work.
Details - Sessions 1-4
First year / 60 ECTS
Required units / 3 units - 22.5 ECTS
1 / Project Communication
2 / Concepts and Ideas
3 / Art History and Critical Studies
Units Specialty / 5 units to choose from - 37.5 ECTS
45 / fashion design Search
46 / Application in Fashion Design
47 / Technical and fashion design process
48 / mode Production Technology
49 / Pattern drafting
130 / and technical drawings
Details - Sessions 5-8
Second Year / 62.5 ECTS
Required units / Section 1/2 units - 17.5 ECTS
4 / Professional Practice
5 / Diploma Project
Required units / Section 2/6 units - 45 ECTS
15 / Stage
23 / Semiotics
52 / Manufacturing
54 / Marketing and advertising in fashion
58 / Culture Fashion
61 / Making a fashion collection
During your course
English
conferences
1 2 Workshops-face
1 2 Design Challenges (optional)
1 Masterclass Online
It is possible to add additional units and workshops optionally.
Included software and Turoriels
The program includes professional tutorials among the most efficient on the market.
According to specialized units, software used: Illustrator, Photoshop, Acrobat Pro, WordPress, Premiere Pro, 3ds Max, LightRoom (not exhaustive).
The software required for your program and specialization of units you choose are a student full version Cloud or download.
Recommended Equipment
Computer with 64-bit processor, 3 GHz or Mac with Boot Camp V2.0 or higher.
Windows 7 or higher, Mac OS 10.7 or higher.
Minimum RAM 4GB RAM (8GB recommended)
Graphics card compatible with AutoCAD and 3D Studio Max ®
Broadband internet access and webcam
screen resolution of at least 1080 x 900 (1280 x 1024 recommended)
Sound card, headphones and microphone
Flatbed (scanner)
Digital Camera (Smartphone or multimedia)
Basic tools and accessories for drawing and sewing (details provided)
Last updated August 2016
About the School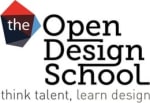 The Open Design School est née de la rencontre entre personnes passionnées d'éducation et professionnels du design engagés. Avec Icademie, groupe d'enseignement à distance qui a su développer un savoi ... Read More
The Open Design School est née de la rencontre entre personnes passionnées d'éducation et professionnels du design engagés. Avec Icademie, groupe d'enseignement à distance qui a su développer un savoir-faire solide en matière de formation à distance mixte et qui a lancé l'école de design en 2014, nous avons le même ADN : l'innovation et une vision des nouveaux enjeux de l'éducation à l'heure de la révolution numérique.
Read less