National Higher Diploma (HND) in game design
Home ›
Diploma ›
National Higher Diploma (HND) in game design
Program Description
OBJECTIVES
The video game industry is now dominating the entertainment market, but also that of the Serious game and mobile games, social networks, and Smart TV cloud gaming. The rapid evolution of its technologies, its production line more structured, and its economic models, comes new skills requirements (conceptual, artistic and technical). The purpose of this degree is to train future skilled professionals able to create a fun and exciting immersive experience using the mechanisms of interactivity.
Practical information
Format: mix learning
Workshops attendance-4
Admission: pot, line maintenance and work record
Tentative duration: 24 months
Registration: at any time of the year
Internship: mission company 3 to 6 months in France or abroad (not compulsory)
Diploma
Training delivers Higher National Diploma (HND) in Game DesignBritish state diploma level III (Bac +2) and 122.5 ECTS credits*, With an academic and professional recognition internationally.
* European Credit Transfer and Accumulation System credits.
Profile
People who are passionate about video games and the playful universe in general, who have ideas, imagination, interest in new digital technologies and an analytical mind and wish to start a career in video game design, improve, or update their skills in this area.
What you will learn
Through this online program, according to your specialized units, you will learn to:
Use brainstorming techniques to develop and formalize your ideas.
Acquire writing techniques and design own video game.
Develop a play culture gaming systems (universal, video and trays) and the psychology of the player.
Define and develop a Game concept and game play, design of game levels and an increase in difficulty (Level design).
Programmer (prototyping of online games, gameplay, game interface, middleware).
Manipulate prototyping and development tool (Unity 3d, UDK, Flash ...)
Use a digital sound (Sound Design).
Use methods and process design and project management.
Designing a game prototype (trailer) as a team with students from the HDN Game Animation training, you will present in a professional and international jury as a graduation project.
professional opportunities and opportunities
Areas of application : Design of a game world and its components (rules, environment, plot, protagonists, playful mechanisms, issues), level design (balance difficulties and levels of detail of the game resources).
Or : Production studios and video game publishers, but also the startup to large groups in the areas of mobile applications, the web, social networks, or digital communications agencies.
Features : Game designer (mono-media or multiplatform), game designer, level designer, story-boarder, multimedia writer, game tester, a fun community manager.
Further education towards a Bachelor of Arts (BA) in France or abroad, in Game design for example.
Program
HND This program is distributed on Game Design 16 teaching units. It was specifically designed to meet the needs of those who have limited time availability and lack of specific skills.
It is achievable over a period of 24 monthsAccording to the pace of work of each (can stretch up to 36 months). An average of 10-15 h working week is recommended (including staff and guided course work). In total, it represents about 960 hours of guided learning and 1,440 hours of personal work.
Details - Sessions 1-4
First year / 60 ECTS
Required units / Section 1/2 Units - 15 ECTS
1 / Economics and gaming culture
2 / Research Techniques for the production of video games
Required units / Section 2/3 units - 22.5 ECTS
9 / prototyping and development tools
14 / History of the game and game culture
52 / Game concept and creative methods
Specialty units / 3 units to choose from - 22.5 ECTS
48 / Fundamentals of computer game platforms
49 / 3D game engine
50 / Sound Design - Music and sound for video games
51 / Narrative Design
Details - Sessions 5-8
Second Year / 62.5 ECTS
Required units / Section 1/2 units - 17.5 ECTS
3 / Diploma Project
4 / Personal research on the video game industry
Required units / Section 2/2 units - 15 ECTS
18 / Features and trades in the video game industry
75 / Systems and technical game design
Required units / Section 3/4 units - 30 ECTS
74 / Production Techniques video games
77 / Scripting
79 / ergonomics and interface design
80 / Stage
During your course
English
conferences
1 2 Workshops-face
1 2 Design Challenges (optional)
1 Masterclass Online
It is possible to add additional units and workshops optionally.
Included software and Turoriels
The program includes professional tutorials among the most efficient on the market.
According to specialized units, software used: Illustrator, Photoshop, Flash, UDK, Unity, Bug Tracking, Cinema 4D, Maya, Pro Tools (not exhaustive). The topics are languages: JavaScript, Android, iApps.
The software required for your program and specialization of units you choose are a student full version Cloud or download.
Recommended Equipment
Computer with 64-bit processor, 3 GHz or Mac with Boot Camp V2.0 or higher.
Windows 7 or higher, Mac OS 10.7 or higher.
Minimum RAM 4GB RAM (8GB recommended) and 1TB hard drive
Graphics card compatible with AutoCAD and 3D Studio Max ®
Broadband internet access and webcam
screen resolution of at least 1080 x 900 (1280 x 1024 recommended)
Sound card, headphones and microphone
Flatbed (scanner)
Digital Camera (Smartphone or multimedia)
Basic tools and accessories for drawing (details provided).
Last updated December 2019
About the School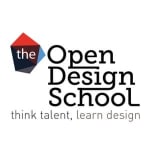 The Open Design School est née de la rencontre entre personnes passionnées d'éducation et professionnels du design engagés. Avec Icademie, groupe d'enseignement à distance qui a su développer un savoi ... Read More
The Open Design School est née de la rencontre entre personnes passionnées d'éducation et professionnels du design engagés. Avec Icademie, groupe d'enseignement à distance qui a su développer un savoir-faire solide en matière de formation à distance mixte et qui a lancé l'école de design en 2014, nous avons le même ADN : l'innovation et une vision des nouveaux enjeux de l'éducation à l'heure de la révolution numérique.
Read less