Nantes - French Language Immersion & Area Studies
Home ›
Courses ›
Nantes - French Language Immersion & Area Studies
Read more about this program on the institution's website
Program Description
Earn U.S. Credits Virtually This Summer
Get ahead! Earn extra credit through a globally recognized U.S. education program this summer on our Virtual World DiscoverIES program.
Just picture it: one day you're exploring business ethics with a professor in London and the next it's Japanese pop culture from Tokyo, studying alongside classmates from the U.S.'s highest-ranked colleges and universities. This is what it's like to take a course or two (of your choosing!) from IES Abroad's most popular centers around the world this summer.
Learn more about how you can discover the world through IES Abroad.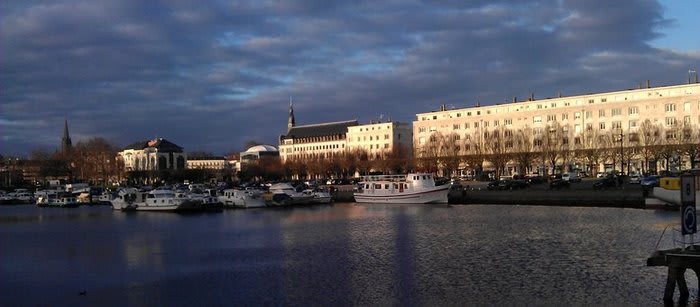 Why Nantes?
Nantes just might be the perfect place to improve your French language skills. That's because it's not a tourist destination like Paris or the French Riviera, so English is rarely spoken. But Nantes is a spectacularly beautiful city on the Loire River, featuring gorgeous architecture (including its own castle), charming (and charmingly quirky) attractions, and beautiful outdoor spaces.
Nantes is also home to some of the most delicious food France has to offer (think crêpes, fish with beurre blanc, buttery cakes, and, of course, wonderful regional cheeses.) It's also very manageable, eco-friendly, and great to bike around in.
What You'll Study
Our French Language Immersion & Area Studies Program has two important goals: to improve your written and verbal proficiency in French through language and area studies courses and to introduce you to contemporary France and its role in the European Union. A beautiful and bike-friendly city on the Loire River, Nantes offers wonderful food, outdoor spaces, and stunning modern and classic architecture. Nantes is the ideal place to improve your French—with few anglophones and a focus on full immersion, you'll have the opportunity to fully integrate into French society and function completely in French.
This program has a close relationship with the Université de Nantes, so you will have many opportunities to enroll in local university courses. IES Abroad courses are taught in French by native French faculty, many of whom are professors at the Université de Nantes. You have access to university libraries, computer labs, cafeterias, and sports facilities, and you are welcome to join student clubs and other social and sports organizations. You may also enroll in an art course at the École Supérieure des Beaux-Arts (ESBA), or take Business and Communications courses in English at the AACSB- and EQUIS-accredited Audencia Business School.
Daily Life
Nantes will be your classroom. Visit La Beaujoire Stadium to watch soccer games or I'île de Versailles to people watch and explore. Tour the museum and home of Nantes' own science fiction author, Jules Verne. Take a stroll around town or near the Erdre and Loire rivers, and explore what makes Nantes a model "green" city in France. Practice your French while ordering crêpes in the region where they were first made. You can also enroll in a teaching internship, which includes time spent working at your placement and an academic seminar that helps you contextualize what you're learning.
During your time in Nantes, you stay with a local family who can help you practice your French-speaking skills and get to know what daily life in Nantes is truly like. Get around the city on foot, by public transportation, or by bike, as Nantes was named the "biking capital city" in 2015.
We want you to feel at home in Nantes, so we do everything we can to help you integrate into life in the city. From housing to cultural events, our job is to make sure you have the most authentic study abroad experience possible.
Academics
Our mission is simple: to provide you with the best study abroad program possible—which includes the highest quality academic and cultural experiences.
We offer unique courses that explore French language, history, and culture, as well as other topics, through an in-depth and hands-on approach. Our world-class professors and course options at prestigious local institutions enhance your academic experience and provide you with new perspectives each day in class.
While in Nantes, you take 15–19 credits per semester and all courses are worth 3 credits unless otherwise specified. All courses are taught in French.
Create your own academic experience by selecting from the following required and optional components:
IES Abroad French language course (required, 3-4 credits)
French-taught area studies courses (required, 3 credits each)
French-taught courses at a local university (optional, 3 credits each)

Université de Nantes
Audencia Business School
École des Beaux-Arts de Nantes Sant-Nazaire

Teaching Internship and seminar (optional, 3 credits)
Courses
These courses are taught at the IES Abroad Center by local faculty. All courses are offered both fall and spring semesters unless otherwise noted. After you are accepted, you will see a list of final course offerings for your term in your MyIESabroad account. The final course list for each term will depend on faculty availability, students interested in each course, and discipline diversity.
French Classicism: Art And Architecture
French 19th and 20th Century Art
French Cooking and Gastronomy: Food, Wine, and Etiquette
French Overseas Territories: A Model of Diversity Management
International Trade And Globalization
The European Union and France
Nantes Green Capital: A Model for Understanding the Green Economy
French Language in Context: Emerging Independent Abroad
Phonetics and Conversation
French Language in Context: Emerging Competent Abroad
French Language in Context: Competent Abroad
History of French Cinema
France And The Atlantic World
Religion, Society and the State in Modern France
Nantes Between Revolution and Counter-Revolution. Political and Religious Controversies of the French Revolution: the Example of Nantes (1780-1832)
International Marketing
Teaching Internship Seminar
Panorama of French Theater
French Writers and Foreign Nations: Encounters with the "Other" in 19th and 20th Century Literature
French Romanticism
French Poetry At The Turn Of The Century
Construction of a European Union from 1945 to the Present
Government and Politics in France since 1958
The European Union and France
French Overseas Territories: A Model of Diversity Management
Nantes Green Capital: A Model for Understanding the Green Economy
Religion, Society and the State in Modern France
Contemporary French Society: French Identity In The European Union Fall
French Overseas Territories: A Model of Diversity Management
Theater Production
Partner Institution(s)
The amount of credit awarded by local universities varies between 2-4 credits depending on the course. Course offerings vary from semester to semester, and course listings and syllabi are not available until shortly before the beginning of the academic year.
Université de Nantes
You are automatically registered at the Université de Nantes and are encouraged to enroll in at least one university course provided you have the appropriate prerequisites.
Courses
Most university courses are assigned 3 credits for a semester. At the Université de Nantes, most courses consist of a cours magistral (lecture course) and a travaux dirigés (discussion sessions). The lecture course is taught by a professor or a maître de conférences, and the travaux dirigés are generally taught by an associate professor.
You may select French-taught courses in:
Art History
Business & Economics
Education
Geography
History
Humanities
Languages & Literature
Political Science
Psychology, Sociology, Philosophy
Sciences: Biochemistry, Biology, Chemistry, Computer Science, Mathematics, Physics
Location & Commute Time
The main campus, called Tertre Campus, hosts the colleges of Language, Literature, Geography, History, Art History, Humanities, Political Science, Business, Economics and Management, Education, and Psychology. The Tertre campus, situated on the Erdre River, is located on the outskirts of Nantes, in the northern part of the city. The Tertre Campus of the Université de Nantes can easily be reached by tram and buses. It is only a 20-minute tram ride from the city center and approximately 25 minutes from the IES Abroad Center.
The Lombarderie Campus hosts all courses in the sciences, and is a 10-minute tram ride from the city center and the IES Abroad Center, in the same direction as Tertre Campus.
Audencia Business School
Consistently ranked as one of the world's top 100 institutions for Business and Management, the Audencia Business School is one of France's elite Grande École institutions, ranked sixth in the nation. Audencia has AACSB and EQUIS accreditation and offers several French-taught courses that IES Abroad students can enroll in. Classes are available in:
Business & Management
Communications
École des Beaux-Arts de Nantes
Fall and academic year IES Abroad students may enroll in one course at this fine arts school, with priority given to students who have experience in Studio Art. As registration takes place in September only, spring students may enroll only if a spot becomes vacant. Classes are available in:
Courses
École des Beaux-Arts courses are practical workshops - you work alone with advising from the class instructor. Your evaluation and grade are based on your work and progress in class. École des Beaux-Arts offers you opportunities in:
Live Model Drawing
Painting
Drawing
Watercolor
Oil
Courses typically earn 2 credits.
Location & Commute Time
École des Beaux-Arts is located in downtown Nantes, a 10-15 minute walk from the IES Abroad Nantes Center.
Internships
Interning while you study in Nantes gives you a rewarding job experience with a wealth of long-lasting career benefits. You will:
Gain a better understanding of the real-life, everyday culture of your host country
Add global work experience and skills to your résumé or your application for graduate school
Improve your confidence
All of our internships are supervised and earn IES Abroad credit. You participate in a 3-credit seminar to complement the practical experience you gain during the internship.
Teaching Placements
Participating in a teaching internship in Nantes as part of your study abroad experience gives you the opportunity to learn about the French education system and teach English to French students. No prior teaching experience is required. A teaching internship abroad will help distinguish your application for graduate school or a job opportunity. It's an exhilarating challenge, and we're here to help guide you in securing your placement and succeeding in your internship.
You complete at least four hours of supervised teaching each week. Placements are available in écoles primaires (elementary schools), collèges (junior high schools), and lycées (high schools) in Nantes.
Field Trips & Events
Even though your adventure starts in Nantes, our field trips take you beyond the city to discover the culture and traditions of your host country. These trips are subsidized by IES Abroad. Here are a few possible destinations.
Caen & The Normandy Beaches
2 Days | Spring
Stay overnight in Caen, city of William the Conqueror. Visit the Mémorial de Caen, the historic D-Day beaches, and the American Cemetery to learn more about Normandy's role in World War II. Discover Bayeux and the incredible 11th-century tapestry depicting the story of the Norman conquest and the Battle of Hastings.
Tours & The Loire Valley Castles
2 Days | Fall
Visit several of the most famous châteaux in the heart of the Loire Valley, which is a UNESCO World Heritage Site. This region is known for its wine production and for being the former playground of the French kings, who came here to hunt. More than 300 castles dot the landscape.
Clisson & The Muscadet Vineyards
1 Day | Fall & Spring
Tour this small, charming town dating back to antiquity and known for its distinctive Tuscan-inspired architecture. Explore the Château de Clisson and the 15th-century market, one of the oldest functioning markets in France. Visit a vineyard to discover how the local Muscadet wine is made and enjoy a tasting.
Mont Saint-Michel & Saint-Malo
1 Day | Fall & Spring
Visit the famous abbey on the island of Mont Saint-Michel, and explore Saint-Malo, a walled port city on the English Channel.
IES Abroad field trip destinations, activities, and length of stay may vary according to term and availability.
Course-Related Trips
Course-related trips are organized as an integral part of the IES Abroad courses and contribute to a general knowledge of French culture and society. For instance, as part of our French Cooking & Gastronomy course, students travel to Bordeaux to visit cheese and wine producers and sample local specialties, like cannelés.
Participation is based on course registration and may involve an additional fee. Students not enrolled in these classes may participate, if space allows, for an additional cost.
Past course-related trips include:
Making baguettes at a local boulangerie (bakery)
A visit to the Memorial to the Abolition of Slavery
A trip to the Salon du Vin et de la Gastronomie (a food and wine expo)
A walking tour of the monuments in Nantes
Watching a French movie at the Cinéma Gaumont
Exploring the Marché de Talensac (a local farmers' market)
Daily Life
Part of making you feel at home in Nantes is doing our best to help you feel safe and cared for. Whether it's the orientation program that prepares you for what's ahead, your housing that is well-located and comfortable, or the field trips that take you to places off the beaten path—we're all about our student services.
Orientation
The program begins with a 10-day orientation that introduces you to the IES Abroad staff, your fellow students, and the city of Nantes, plus a language-intensive session that prepares you for full French immersion.
A portion of your orientation takes place off-site in a coastal resort town, such as Vannes in the fall and the Touraine in the spring. The rest of the IES Abroad orientation program takes place in and around Nantes.
Our Comprehensive Orientation & Re-Entry Experience (CORE™) begins right when you arrive and continues through the semester with activities focusing on academic and cultural adjustment. Detailed information about housing, public transportation, culture, health and safety, and other important topics are also covered.
Housing
We want to make sure that your greatest challenge is deciding which landmarks to see first or discovering the best café—not finding a place to live where you feel comfortable. We do our best to locate housing that is reflective of how the local students are living. Our goal is that when you leave Nantes, it will feel like home.
Homestay - Live in a private room with a local family in a homestay. Many host families have been welcoming IES Abroad students into their homes for years. Only one IES Abroad student is housed with each family. You receive breakfast daily and five evening meals per week.
Extracurricular Activities & Cultural Events
Redefine the way you live and learn in Nantes through our cultural events, such as:
French table lunches with Center staff and professors
Trips to local opera and theater productions
Visits to museums, local industries, and exhibitions
Student theater performances
A weekly conversation club for French and IES Abroad students
University Clubs & Events
Upon enrolling in the IES Abroad Nantes Program, you are automatically registered at the Université de Nantes and have access to join student clubs and other social and sports organizations.
Volunteer Abroad
When you volunteer in Nantes, you have the chance to make a difference in the local community while meeting new people and gaining a new perspective on the world. If you are passionate about volunteering abroad, just let the on-site staff know at the beginning of your term. Past volunteer opportunities in Nantes include:
Relief organizations
Food banks
Schools
Cost
Consider these prices as a starting point. We encourage you to contact your study abroad office to determine the actual cost to you when factoring in financial aid, scholarships, your home school policies, and other factors.
Spring 2020
| | | | | |
| --- | --- | --- | --- | --- |
| Term | Tuition | Housing | Insurance | Total |
| Spring 2020 | $14,560 | $4,180 | $230 | $18,970 |
Academic year
| | | | | |
| --- | --- | --- | --- | --- |
| Term | Tuition | Housing | Insurance | Total |
| Academic year | $25,670 | $8,200 | $455 | $34,325 |
Scholarships & Aid
Program-Specific Scholarships
Robert McNeill Need-Based International Business Scholarship
Up to $3,000; awarded to 2 students each year.
This scholarship is named in honor of Robert McNeill, a member of the IES Abroad Board of Directors for 25 years (6 years as Chairman). Open to students who have an interest in international business. Majors might include management, marketing, economics, finance, international relations, and social and behavioral sciences.
Dr. William Louis Gaines Need-Based History or International Relations Scholarship
Up to $1,875; awarded to 4-6 students each year
This scholarship is named in honor of Dr. William Louis Gaines, President of IES Abroad from 1974-1992. Dr. Gaines was dedicated to strengthening IES Abroad's academic framework, broadening the scope of IES Abroad locations, and securing the financial foundation of the organization.
Open to students majoring in History or International Relations.
Kathleen Kervin Diamond Endowed Scholarship
Up to $2,000 each; awarded to 4-6 students each year
Kathleen Diamond is a consultant, entrepreneur, and business leader in the language services industry. In 1979, she founded Language Learning Enterprises, Inc. (LLE®), a full-service language company based in Washington, D.C. She is recognized as an early pioneer in Telephone Interpreting, launching LLE-LINK in the early 1990s. Over the next 20 years, under her leadership, the company grew into a dynamic, multimillion-dollar corporation, serving a wide range of clients, in both the private and public sectors, across the United States, and worldwide. In 2009, Ms.
The Sam McQuade Nantes Endowed Scholarship in Memory of Mme Suzanne Hugues
Up to $1,000; awarded to 2 students each year.
The Sam McQuade Nantes Endowed Scholarship in Memory of Mme. Suzanne Hugues was established by Sam W. McQuade, Nantes 1967-68. Mme. Suzanne Hugues, who Mr. McQuade remembers fondly as "La Directrice" of the Nantes Center, greeted him when he first arrived in Nantes and was his advisor during his academic year abroad. She passed away in December 1969.
Our Center
The IES Abroad Nantes Center is located in a gorgeous 19th-century residential building that is located just steps from the historic center of Nantes and the Passage Pommeraye—a narrow passageway of galleries that fill three levels and is covered by a canopied glass ceiling.
Features include:
WiFI access
Computer stations and printer
A student lounge and TV room
Classrooms, offices, and a library
A kitchen for student use
Last updated May 2020
About the School
Everything we do is about the IES Abroad student. Our profoundly passionate team of study abroad professionals believes in creating once-in-a-lifetime educational adventures that transcend expectation ... Read More
Everything we do is about the IES Abroad student. Our profoundly passionate team of study abroad professionals believes in creating once-in-a-lifetime educational adventures that transcend expectations. Our goal is to rock the world of some 6,000 study abroad students every year.
Read less
Chicago ,
Amsterdam ,
Arles ,
Auckland ,
Barcelona ,
Beijing ,
Berlin ,
Buenos Aires ,
Cape Town ,
Christchurch ,
Dublin ,
Freiburg ,
Granada ,
London ,
Madrid ,
Milan ,
Nagoya ,
Nantes ,
New York ,
Nice ,
Paris ,
Oxford ,
Quito ,
Rabat ,
Rome ,
Salamanca ,
Santiago ,
Shanghai ,
Siena ,
Sydney ,
Tokyo ,
Puerto Ayora ,
Vienna ,
Hong Kong ,
Puerto Baquerizo Moreno ,
Cambridge
+ 35 More
Less