Program Description
Duration of training: 1 year.
The Motion Design is one of the new professions of the XXI century. "This is the art of giving life to graphic animation. "At the crossroads of new technologies that cover the entire visual arts, this discipline helps design and implement tailored communications to mobile devices, incorporating the concept of motion with the combination of video, special effects, of 2D and 3D animation, typography and graphics.
The Motion Graphic Design and Motion DesignIs the animation of graphic elements like pictures, pictograms, or typography, synchronized sound.
Motion design is a relatively new discipline: the pioneers of this type of videos were the creators of film credits 60s but the technique has become widespread in the last 5 years with the advent of digital and software called "compositing "as After Effects, which could be defined simply as photoshop video.
Motion design covers a broad stylistic panel that there are motion designers, and constantly changing: what is modern already a month can not be six months later, and it is not uncommon revolutionary technology is exceeded in less than a year.
Today, motion design is everywhere, on television of course (generic JT or various TV games, titled headbands screen below) but also on the internet (corporate videos, web pages, animations, banners) and even the menus of our smartphones.
• His role :
The motion-designer is an artist who expresses himself through the art form according to customer demand. It is capable of performing and studying the specifications, find the creative solution, with or without constraint, the more responsive.
• Types of work:
Achievements of Internet videos, generic TV & Cinema, Blue Ray DVD menus, skins TV, commercials, broadcast, video arts, event-digital.
Opportunities
motion Designer
Art director
graphic artist
Activity area
communications agency specializing Agency Web Agency and production studio, all business categories developing its communication via a digital medium
TRAINING PROGRAMME
Concept design
Rough / Storyboard
Adobe CC
Alternative editing & sound
scenarios
2D / 3D: After-effects
3D: Cinema 4D
3D Augmented Reality
Broadcast & Finalization
2D / Culture image
3D:
3D Generalist (modeling, animation, texture / lighting & rendering)
augmented reality: Unity / unreal
Post-production & finalization: Installation & sound design
2D:
COM (concepts and visual codes)
Drawing / rough / storyboard (organizaton project and cutting)
light shooting (Photo & Video)
ADMISSION TO SCHOOL
BAC or equivalent.
Notions of drawings, rough, storyboard, Adobe CC, alternative arrangements and sounds, after-effects notions notion 2D / 3D. According to one interview with one of our consultants training.
For former ITECOM:
Possibility of specialization, out of our courses students: Visual communication, video editing, 3D Animation & Production, Web design, Computer Graphics, Interior Design and Decoration. According to interview with your conseilllère.
TRAINING AVAILABLE
Initial training
linked training (professional contract)
Further education (CIF / CPF ...)
Last updated Mar 2020
About the School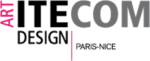 Situated in Nice, in Cimiez area, between the Matisse and Chagall museums, our institution covers an area of 1000 square meters.
Situated in Nice, in Cimiez area, between the Matisse and Chagall museums, our institution covers an area of 1000 square meters.
Read less