Milan - Fashion Design & Merchandising
Home ›
Courses ›
Milan - Fashion Design & Merchandising
Read more about this program on the school's website
Program Description
Earn U.S. Credits Virtually This Summer
Get ahead! Earn extra credit through a globally recognized U.S. education program this summer on our Virtual World DiscoverIES program.
Just picture it: one day you're exploring business ethics with a professor in London and the next it's Japanese pop culture from Tokyo, studying alongside classmates from the U.S.'s highest-ranked colleges and universities. This is what it's like to take a course or two (of your choosing!) from IES Abroad's most popular centers around the world this summer.
Learn more about how you can discover the world through IES Abroad.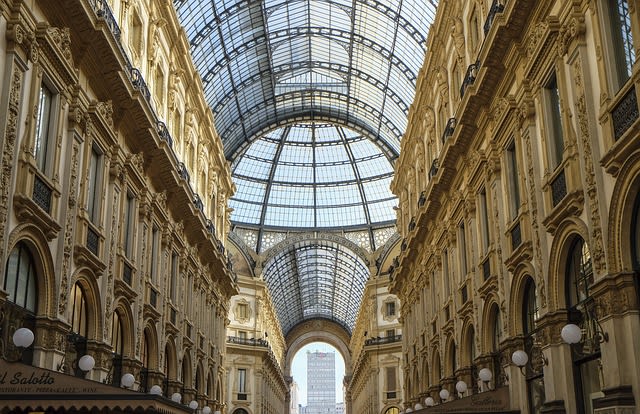 Why Milan?
Fashion is in the air in Milan. As one of the "big four" fashion capitals (along with London, New York, and Paris), Milan is home to many high-end fashion houses such as Armani, Dolce & Gabbana, Miu Miu, and many others; and nearly all of the "big names" are represented. Prepare to be inspired by the Milanese standards of elegance and obsession with style—from the runway to the street.
Our Fashion Design & Merchandising Program offers a holistic fashion experience. Encounter the sources of global trends in business, design, tailoring, fabrics, and materials, modeling, and marketing. Learn about the business of fashion from local experts and professors from the best universities in Milan. Join the Milanese design and tailoring scene through practicum courses at professional fashion institutes offering hands-on lessons in clothing and accessory creation.
What You'll Study
Diversify your fashion studies with an elective course from our Italy Today Program. Courses include History, Political Science, Literature, Music, and much more.
As part of this once-in-a-lifetime experience, you also have the opportunity to enroll in a fashion-related internship and accompanying an academic seminar that helps you contextualize what you're learning hands-on at your placement.
Daily Life
Milan will be your classroom. Imagine exploring design and the use of fabrics in the classroom and then attending a runway show during Fashion Week as part of your coursework, or visiting the headquarters of high-end fashion houses and luxury brands after lectures on business, branding, and merchandising from local experts in the field. Everything you do in Milan will be part of your learning experience.
We want you to feel at home in Milan, so we do everything we can to help you integrate into life in the city. From housing to cultural activities, our job is to make sure you have the most authentic study abroad experience possible.
Academics
Our mission is simple: to provide you with the best study abroad program possible—which includes the highest quality academic and cultural experiences.
While in Milan, you take 15–19 credits per semester and all courses are worth 3 credits unless otherwise specified.
You are also placed in a required Italian language course tailored to your proficiency level. Language courses are taught in Italian, and all other courses are taught in English or Italian.
Create your own academic experience by selecting from the following required and optional program components:
IES Abroad Italian language course (required, 4 or 6 credits)
English-taught IES Abroad area studies courses (optional, 3 credits each)
Fashion-related courses (in English or Italian) at partner institutions (optional, credits vary)
Internship and seminar (optional, 3 credits)
Service-learning placement and seminar (optional, 3 credits)
IES Abroad Italy Today Program elective courses (optional, 3 credits each)
Courses
This is a potential list of courses offered in Milan. After you are accepted, you will see a list of final course offerings for your term in your MyIESabroad account. The final course list for each term will depend on faculty availability, students interested in each course, and discipline diversity.
Italian
IT 101 - Italian Language in Context: Novice Abroad I (Formerly IT100 Beginning Italian) (Fall, Spring)
IT 102 - Italian Language in Context: Novice Abroad II (Formerly IT 150 Advanced Beginning Italian) (Fall, Spring)
IT 301 - Italian Language in Context: Emerging Independent Abroad I (Formerly IT 200 Intermediate Italian) (Fall, Spring)
IT 351 - Italian Language in Context: Independent Abroad II (formerly IT 250 Advanced Intermediate Italian) (Fall, Spring)
IT 403 - Italian Language in Context: Emerging Competent Abroad III (formerly IT 350 Advanced Italian II) (Fall, Spring)
Design
DS 223 - Italian Design: Theory and Practice (Fall, Spring)
Environmental Studies
ES/SO 330 - Social Innovation: Strategies of Social and Environmental Sustainability
International Business
IB 335 - Managing Fashion and Luxury Companies
Sociology
SO/ES 330 - Social Innovation: Strategies of Social and Environmental Sustainability
Partner Institution(s)
Enrolling in a partner institution course is a great way to meet Italians and experience the Italian education system first-hand. As a student in the Fashion Design & Merchandising program, two partner institution courses are included in the program cost, provided that you meet the institution's requirements. Any additional enrollments will carry an additional fee.
Most partner institution courses are worth 3 credits. Specific course listings and descriptions are not available on the institutions' websites until shortly before the beginning of the term and may be updated frequently. The IES Abroad staff will assist you with the partner institution enrollment process.
Choose from the following partner institutions in Milan:
Arsutoria
Istituto di Moda Burgo
Milano Fashion Institute (MFI)
Università Cattolica del Sacro Cuore
Università IULM
Istituto Europeo di Design (IED)
Istituto di Moda Burgo
Fashion & Design
Students interested in pursuing options in fashion may enroll in a limited number of courses at the Istituto di Moda Burgo, a local and well-known school of fashion. Courses are taught in both Italian and English on a semester or academic year basis. You may select from courses in two categories:
Fashion Design - Jewelry Design, Men's Wear, Women's Wear, Children's Wear, Beach Wear, Underwear, Theater Costume, Accessories, and Shoe Design
Pattern Making - Computer Cad-Cam, Pattern Making, Men's Wear, Women's Wear, Children's Wear, Beachwear, Underwear, Wedding Dress
Milano Fashion Institute (MFI)
Fashion (spring only)
For students interested in pursuing options in Fashion, a limited number of courses are available at the Milano Fashion Institute, an inter-university consortium founded by three Italian Universities: Università Bocconi, Politecnico di Milano, and Università Cattolica. While the Politecnico faculty teach classes that explore the design, style and materials-related aspects of the fashion industry, the Bocconi faculty teach classes that study marketing, economics, branding, financial aspects of the fashion business and the Cattolica faculty focus on the sociological as well as communication trends connected to all fashion-related phenomena.
Courses are taught in English and are offered in the spring semester only. Course topics include fabrics & materials, product design, experience & store design, buying and visual merchandising, and fashion press & PR.
Arsutoria School
Fashion & Design
For students interested in expanding their knowledge of fashion and design and learning more about the field of leather making, Arsutoria offers a limited number of courses uniquely to IES Abroad students.
Courses at Arsutoria are taught in English and are offered during the Fall and Spring semesters. The courses available to IES Abroad students are:
Footwear Design
Handbag Design
Università IULM
Communication and Media, Tourism, Gender Studies
Università IULM was founded in 1968 by Senator Carlo Bo and Professor Silvio Baridon. From the very beginning, the idea behind the project was to satisfy the demands of the labor markets based on analyses of current trends. With two campuses throughout Italy (Milan & Rome), Milan IULM University enrollment nears approximately 4,300 students. The IULM campus in Milan fosters an academic community of three departments and two research centers.
Università IULM offers a variety of English-taught courses in Communication, Media, Tourism, and Gender Studies. For a sample course listing, please see the IULM website. Please note that course offerings will change each semester.
Italian-taught courses are available in the following disciplines:
Accounting
Art History
Business
Communications
Language & Literature
Economics
Foreign Languages and Literature
Humanities
International Economy and Relations
Literature
Psychology
Istituto Europeo di Design (IED)
Fashion & Design
Founded in 1966, Istituto Europeo di Design (IED) has several locations in Italy (Milano, Roma, Turin, Venice, Florence, Cagliari) and around the world (Barcelona, Madrid, Sao Paulo, Rio de Janeiro, Beijing, Shanghai). IED has reached an enrollment of over 8000 students who operate in the fields of design, fashion, and visual communication.
Four customized courses are available to IES Abroad students:
History of Fashion
Textiles and Trends
Design Material Culture lab
Design Research & Methods Workshop
Service Learning
Participating in a service-learning experience in Milan is one of the best ways to gain a deeper understanding of the city's culture and society. Working alongside local people toward a common goal, you experience first-hand some of the social issues that affect Milan while contributing your skills toward a community-driven solution.
A service-learning placement consists of time spent with a local organization, accompanied by a weekly academic, for-credit service learning seminar. Through the seminar, you have structured time for reflection, discussion, and research on the issues of your host community.
IES Abroad Milan partners with the local city government's immigration department to provide a range of service-learning opportunities from working to grant asylum to migrants to developing job-training programs.
Field Trips & Events
Even though your adventure starts in Milan, our field trips take you beyond the city to discover the culture and traditions of your host country. You share a portion of the cost with IES Abroad. Here are a few possible destinations:
Sicily
3 Days | Fall
Experience the cradle of Western Civilization, the home of Magna Grecia, a unique place full of art, archaeology, myth, history, folklore, and breathtaking scenery. Visit baroque Catania; Europe's highest active volcano, Etna; and the magical mountaintop town of Taormina.
Tuscany
3 Days | Fall
Tour the Tuscany countryside and visit the medieval towns of Pisa, Siena, and Montalcino. Hear the Gregorian chant of the monks of Sant'Antimo Abbey and savor unique wine and cheese while admiring the Tuscan countryside.
Alps Ski Trip
3 Days | Spring
A charming town in the Alps is your destination for skiing in Europe's highest mountain range.
Culture & Cuisine of Northern Italy
3 Days | Spring
Dive into the music, culture, and cuisine of Northern Italy with guided tours of Cremona and its violin makers, Parma and its parmesan cheese factory, and a family-run agriturismo for dinner.
Secrets of Hidden Lombardy
1 Day | Spring
Explore the Romanesque and Gothic heritage of Lombardy by visiting abbeys and castles located in the Lombardy region.
IES Abroad field trip destinations, activities, and lengths of stay may vary according to term and availability.
Course-Related Trips
We organize course-related trips that complement IES Abroad courses and contribute to a better understanding of the Italian culture and society. Possible course-related trips may include:
Sit in on IES Abroad Milan's prestigious guest lecture series with noted local scholars and public figures.
Study the works and projects of Leonardo da Vinci, then see his painting, "The Last Supper."
Visit the headquarters of Italian daily newspapers (Corriere della Sera and Gazzetta dello Sport) and attend a TV show taping (Mediaset).
Fashion show and Milan Fashion Week events.
Daily Life
Part of making you feel at home in Milan is doing our best to help you feel safe and cared for. Whether it is an orientation program that prepares you, housing that is well-located and comfortable, or the field trips that take you to places off the beaten path—we're all about our student services. This is just one of the things we're known for.
Orientation
The program begins with a short orientation to help you become familiar with the IES Abroad Milan staff, your fellow students, and the city of Milan. Topics such as academics, housing, transportation, and health and safety are covered during orientation.
After orientation, you participate in a three-week intensive language program designed to help you gain practical language skills and to acclimate you to the local environment. IES Abroad schedules several excursions and tours to introduce you to the history, culture, and districts of Milan.
Additionally, CORE™, IES Abroad's Comprehensive Orientation & Re-entry Experience, begins during orientation and continues throughout the semester with activities focusing on cultural adjustment, goal achievement, and preparing for the return home.
Housing
We want to make sure that your greatest challenge is deciding which landmarks to see first or discovering the best café—not finding a place to live where you feel comfortable. We do our best to locate housing that is reflective of how the local students are living. Our goal is that when you leave Milan, it will feel like home.
Homestays
Placements are available in Milanese homes throughout the city. This is a priceless opportunity to learn about Italian families first-hand and engage directly with Italian culture.
You have a private or shared room at your homestay and receive breakfast and dinner daily. Enjoy your other meals at university cafeterias bars, or restaurants. Commuting time from a typical homestay to the IES Abroad Milan Center can range from five to 40 minutes.
Apartments
Share a furnished apartment located in a safe and lively district with three to six IES Abroad students. These apartments are single-sex, and you generally share a bedroom with another student. Single rooms in an apartment carry an additional fee.
Some apartments are also shared with a live-in Italian roommate called a Community Assistant (CA). These assistants can help you improve your Italian language skills, get to know the city of Milan, and integrate more fully into the local culture. The Italian CAs also spend time at the IES Abroad Center answering questions and working for the program. If improving your Italian is your priority, you may request to live in an Italian-language only apartment.
Meals are not included, so you normally eat lunch at a local café or a university cafeteria, and prepare your own breakfast and dinner at home. Located on main public transportation routes near the Center, apartments offer fully-equipped kitchens, Internet access, a dishwasher, and a washing machine.
Collegio di Milano - Residence Hall
This residence for Italian and international honors students offers single rooms with private bathrooms and balconies. The facilities include a computer room, library, small gym, cafeteria, private park, security system, kitchenette, and an auditorium for special cultural programs.
Breakfast and dinner are provided daily and lunch is available on weekends. Space is limited and students are chosen by the Collegio based on academic merit. Because of the extra amenities, this option carries an additional fee.
Extracurricular Activities & Cultural Events
Redefine the way you live and learn in Milan through cultural events, such as:
Attending business-related guest lectures and excursions
Participating in language exchange with native Italian speakers
Attending performances at Teatro Alla Scala Opera House
Going to soccer games
Visiting museums, sporting events, and local fairs sponsored by Italian peers
Taking cooking lessons
Cost
Consider these prices as a starting point. We encourage you to contact your study abroad office to determine the actual cost to you when factoring in financial aid, scholarships, your home school policies, and other factors.
Spring 2020
| | | | | |
| --- | --- | --- | --- | --- |
| Term | Tuition | Housing | Insurance | Total |
| Spring 2020 | $14,900 | $3,800 | $230 | $18,930 |
Academic year
| | | | | |
| --- | --- | --- | --- | --- |
| Term | Tuition | Housing | Insurance | Total |
| Academic year | $26,285 | $7,440 | $455 | $34,180 |
Scholarships & Aid
Program-Specific Scholarships
Dr. William Louis Gaines Need-Based History or International Relations Scholarship
Up to $1,875; awarded to 4-6 students each year.
This scholarship is named in honor of Dr. William Louis Gaines, President of IES Abroad from 1974-1992. Dr. Gaines was dedicated to strengthening IES Abroad's academic framework, broadening the scope of IES Abroad locations, and securing the financial foundation of the organization.
Open to students majoring in History or International Relations.
Adelyn Dougherty Leander Need-Based Urban Issues Scholarship
Up to $3,000; awarded to 4-6 students each year.
Open to students who have an interest in urban studies (a major in urban studies is not required).
Our Center
The IES Abroad Milan Center is located in the city's bustling historic center, within walking distance of the Duomo, DaVinci's "Last Supper" and the Università Cattolica del Sacro Cuore.
Features include:
High-quality multimedia classrooms
Music practice rooms
Student lounge
Digital photo facility
Video editing lab
Library and reading rooms
WiFi Internet access
Student computer lab and printers
Last updated May 2020
About the School
Everything we do is about the IES Abroad student. Our profoundly passionate team of study abroad professionals believes in creating once-in-a-lifetime educational adventures that transcend expectation ... Read More
Everything we do is about the IES Abroad student. Our profoundly passionate team of study abroad professionals believes in creating once-in-a-lifetime educational adventures that transcend expectations. Our goal is to rock the world of some 6,000 study abroad students every year.
Read less
Chicago ,
Amsterdam ,
Arles ,
Auckland ,
Barcelona ,
Beijing ,
Berlin ,
Buenos Aires ,
Cape Town ,
Christchurch ,
Dublin ,
Freiburg ,
Granada ,
London ,
Madrid ,
Milan ,
Nagoya ,
Nantes ,
New York ,
Nice ,
Paris ,
Oxford ,
Quito ,
Rabat ,
Rome ,
Salamanca ,
Santiago ,
Shanghai ,
Siena ,
Sydney ,
Tokyo ,
Puerto Ayora ,
Vienna ,
Hong Kong ,
Puerto Baquerizo Moreno ,
Cambridge
+ 35 More
Less