Middle School (grades 7 & 8) Courses
Program Description
Get ready for Middle School!
Get ready to learn. Get ready to push yourself. Get ready to have fun. And get ready for high school.
The LAS middle school provides a solid background in core academics and the freedom to explore individual talents in a variety of 5-week courses. We mix traditional and innovative education to mold interested – and interesting – young people.
The goal of the Middle School is to give students a strong base on which to build their success in later grades through the LAS values of academic challenge, balanced program, community harmony, and international understanding.
A Self-Contained Program
The Middle School is largely a self-contained program where students interact mostly with other grade 7 and 8 students and their faculty. Students enjoy scheduled activities, as well as special programs for the weekends. Middle School cultural trips will only be for students in grades 7 and 8.
Integrated Life at LAS
Middle School students interact with older students through their faculty family, sports, school-wide assemblies, and some excursions.
Learning Environment
7th and 8th graders study on the Savoy campus. They participate in one hour of supervised study per day. Some classes have two teachers to provide extra instruction and support. Core subjects are taught each day and academic exploration lets students discover many stimulating and useful new skills.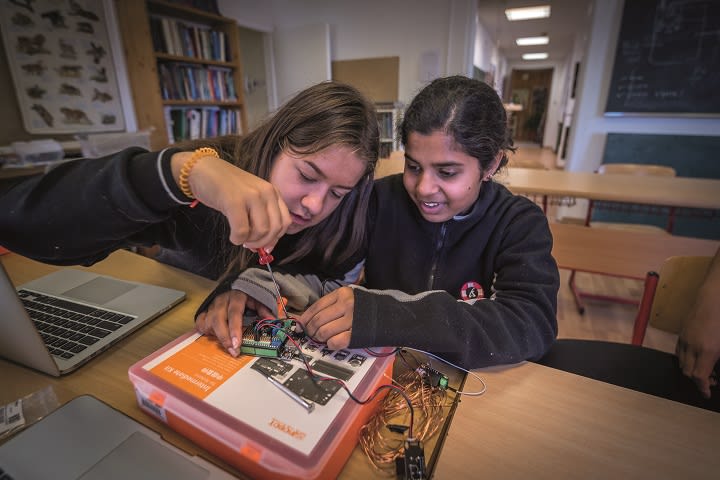 Academics
Academic Core
Five courses provide the necessary academic core for middle school students to meet the future challenge of LAS grades 9 and 10. Students focus on English through developing good habits of reading and writing. Students focus on mathematics and science to practice analysis and reasoning. And students practice healthy living in physical education.
English
Reading & Writing
Science
Math
PE & Health
Academic Exploration
We introduce students to a variety of subjects through daily academic exploration. These 5-week courses provide students, in a trusting environment, new skills leading to stage presence, innovation, environmental awareness, working with one's hands, and more. Friday field trips provide context for new ideas and skills.
Academic exploration courses change from one year to the next. At 2017-2018 we offer:
Adventure Science
DIY Language (an introduction to linguistics)
French 1
French 2
Gardening
Introduction to Digital Imaging (e.g. Photoshop, iMovie)
Introduction to Engineering
Introduction to Theater
Life skills
Project Innovate and Simulations
Science, Technology, Engineering, and Math (STEM)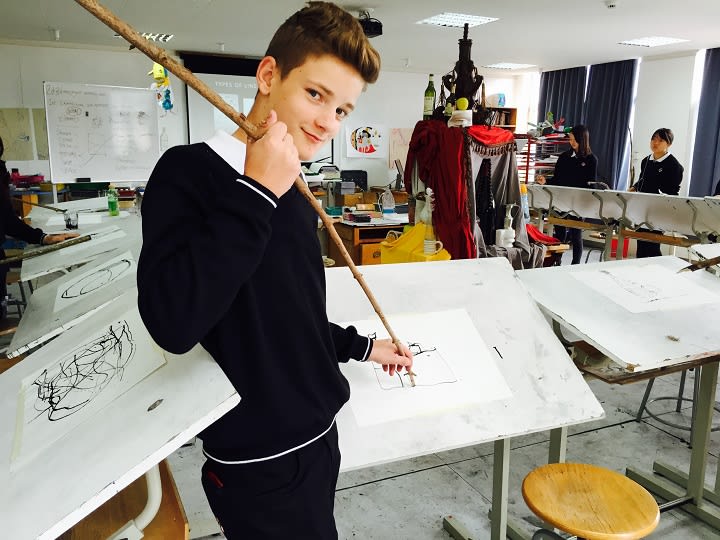 Residential Life
Supervised Dormitories
Middle school students are housed together by gender. Live-in LAS faculty provide emotional and social support outside of the classroom.
Activities
After class, middle school students have an afternoon activity, for example, athletic teams, recreational sports, strength, and conditioning, outdoor leadership, yoga, horseback riding, computer programming, choir, jazz band, and theater.
Supervision
Middle school students have extra levels of care: mandatory breakfast and dinner check-ins; Monday through Thursday activities after school; mandatory Saturday excursions in fall and spring terms; and a supervised ski program in the winter term.
Friday Field Trips
Middle school students have educational field trips on Friday afternoons in fall and spring terms.
Ski Term
During the winter term, students ski every Tuesday and Thursday afternoon. Lessons are provided by the Swiss Ski School. Middle school students have an extra skiing session on Saturday with the option of skiing on Sunday as well.
Power of Parenting
Parents have access to their student's grades, teachers comments and discipline and health information through the parent portal and bi-weekly dashboard updates.
Faculty Family
Students meet weekly as part of a group of students with their faculty "parents" to celebrate special events and to discuss school or personal issues.
Arrival, Orientation & Departure
Students are met at Geneva Airport and taken by bus to the LAS Campus.
Admissions Procedure
Application Form - Completed in BLOCK CAPITAL LETTERS and signed by one of the student's parents or legal guardians. The application can also be filled out online.
Application Fee - There is a 500 CHF non-refundable application fee, payable when the Application Form is submitted.
School Transcripts - Transcripts or school reports should be submitted for the last 3 academic years. (Note: All non-English transcripts must be officially translated and submitted in English.)
Passport & Passport-style Photo - Scan the pages indicating the passport number, expiration date, and place of issue. We also need a digital passport-style photo.
Essay - The student essay portion must be handwritten independently by the applicant in English. The question can be found on page 7.
Recommendations - Completed by Math and English teachers and a school counselor/ administrator or another teacher.
Placement Tests - A Math test must be taken before any decision can be made as well as an English-as-a-Second Language test for non-native speakers. An English Proficiency Test such as the IELTS or TOEFL will also be accepted.
Interview - An interview with a member of the Admissions Team is required. It can be performed on or off campus, via Skype or telephone.
Visit (optional) - Applicants are invited to spend a day on campus to familiarize themselves with the school, meet the Admissions Team, be interviewed and sit assessment tests.
Candidate Evaluation and Acceptance - Applications are assessed by the Admissions Committee before a final acceptance decision is made. Decisions will be conveyed to applicants within ten working days of receipt of a fully completed file, including test results and interview comments. Accepted students will receive the acceptance package, electronically and/or by courier/postal services.
Enrollment - In order to guarantee a student's place at LAS the payment of a security deposit is required within 10 business days following the acceptance date. The enrollment process is complete when the Admissions Office receives all required documents.
Financial Info
| | | | | | |
| --- | --- | --- | --- | --- | --- |
| | Application Fee | Security Deposit | Tuition | Capital Improvement Fund | Personal Account |
| Price | 500 CHF | 8,000 CHF | 91,000 CHF | 3,000 CHF | 8,000 CHF |
| Payable by | Upon submitting the application form | Within 10 days of acceptance | May 1st or within 10 days of acceptance | May 1st or within 10 days of acceptance | Before student arrival |
| Info | One time fee | Refundable approximately within 3 months after student permanently leaves LAS. | Yearly Fee | New students only. Used for development and beautification of LAS campuses. | This account covers students' personal expenses and is managed by the Accounting Office (see pg 3). |
*LAS payment details and bank information will be provided together with the invoice.
Last updated Apr 2018
About the School
LAS is a Swiss boarding school with US high school diploma International Baccalaureate and ESL program. Students enjoy extra-curricular schedules with sports, arts, drama and music, a ski term and cul ... Read More
LAS is a Swiss boarding school with US high school diploma International Baccalaureate and ESL program. Students enjoy extra-curricular schedules with sports, arts, drama and music, a ski term and cultural travel. University counseling is important for students attending the best universities in the US and around the world. Our boarding school community provides a stable, caring and supportive family-like environment.
Read less