Program Description
The Campus Italian Language School offers Italian language and general culture courses for students, managers and citizens from all over the world. Our highly qualified teaching staff all have vast experience in teaching Italian to foreign students.
The Campus Italian Language School in Lucca is affiliated with the University of Siena , and is responsible for teaching Italian language and culture to students, including those from abroad, in particular to students in the MARCO POLO and TURANDOT projects. It prepares them for the CILS B1/B2 Italian language proficiency examinations The exams are taken at the school, a recognized examination centre and, according to an intergovernmental agreement laid down between Italy and China, proficiency at this level allows Chinese students access to Italian universities.
The Campus Foundation for Mediterranean Studies offers Italian language courses and organises courses aimed at preparing students not only to achieve linguistic competence but also in other specific subjects according to the faculty chosen. Courses last for ten months, for a total of 1000 hours, of which 80 hours of classroom teaching per month and 80 hours ( spread over the whole formative period) of general support and assistance.
In collaboration with Academies, Institutes, Artist workshops and high profile Professional workshops, The Campus Italian Language School organizes courses in music, art, fashion, wine and food, and Made in Italy, which are designed to familiarize the student with Italian culture.
Last updated Jan 2019
About the School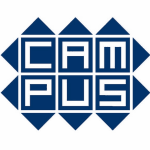 The Campus Language School was founded with the aim of supplying to all those wishing to acquire the knowledge of a foreign language, a competitive instrument in an
The Campus Language School was founded with the aim of supplying to all those wishing to acquire the knowledge of a foreign language, a competitive instrument in an
Read less